FORZA Corner Flag/Pole Bases [3 Styles] - 4 Pack
FORZA Corner Flag/Pole Bases [3 Styles] - 4 Pack
FORZA Corner Pole Bases – Stability On All Surfaces
STANDARD BASES
Suited to 25mm diameter poles, these bases are perfect for corner poles & boundary poles. The bases weigh 1.2kg for excellent stability on all surfaces.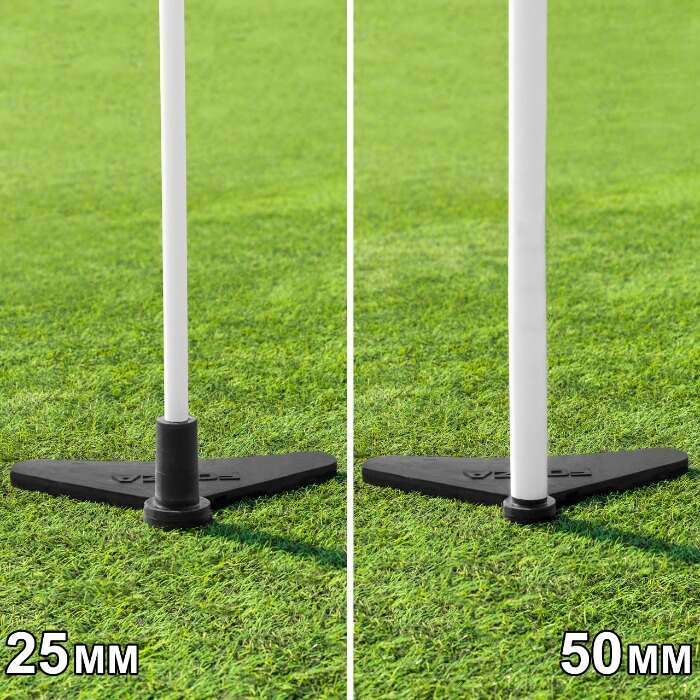 PRO BASES
These bases support both 25mm & 50mm poles. The 25mm poles fit inside the base hole whilst the 50mm go round the outside. 9kg for supreme stability.
SPIKED BASES
Suited to spiked bases on corner flags & slalom poles, these are ideal for situations where ground insertion isn't possible. Suited to 8mm spikes & weigh 2.3kg.
Description
FORZA Corner Pole Bases – Perfect For 3G/4G Sports Pitches
This range of FORZA Corner Pole Bases is the ideal solution for sports pitches where insertion into the ground isn't possible. Available in 3 styles (Pro, Standard or Spiked), these corner flag bases are perfectly suited to the FORZA Corner Flag range, as well as being suitable for other styles of corner flag too (see table below). All bases are created using heavy-duty moulded rubber which provides excellent stability during play – even during windy conditions.
Which Base Is Best For Me?
| | | |
| --- | --- | --- |
| Base Style | Weight | Fits Pole |
| Pro | 9kg (20lbs) | 25 & 50mm (1 & 2in) Diameter |
| Standard | 1.2kg (2.6lbs) | 25mm (1in) Diameter |
| Spiked | 2.3kg (5lbs) | 8mm (0.3in) Thick Spike End |
Specifications
FORZA Corner Pole Bases Specifications
FORZA Pro Corner Pole Base:
Materials: Heavy duty moulded rubber
Weight: 9kg | 20lbs
Suitable For: 25mm & 50mm (1in & 2in) diameter corner poles
Pack Size: 4x bases
FORZA Standard Corner Pole Base:
Materials: Heavy duty moulded rubber
Size: 20cm | 8in diameter
Weight: 1.2kg | 2.6lbs
Suitable For: 25mm (1in) diameter corner poles
Pack Size: 4x bases
FORZA Spiked Corner Pole Bases:
Materials: Heavy duty moulded rubber
Size: 27cm | 10.5in diameter
Weight: 2.3kg | 5lbs
Suitable For: Poles with an 8mm thick spiked end
Pack Size: 4x bases
Recently Viewed
Speed & Agility Training Ladder
SG$19.99
Mannequin Carry Bag
SG$69.99
METIS Reflex Reaction Ball [2 Sizes]
SG$19.99
FORZA Plastic Shelter & Stadium Sports Seats
SG$79.99
FORTRESS Plastic Garden Cricket Set [3 Sizes]
SG$69.99