ULTRA-ABSORBENT GOLF CLEANING TOWEL
PORTABLE GOLF TOWEL
The carabiner allows for the FORB Golf Towel to easily attach to your golf bag, for improved portability between locations.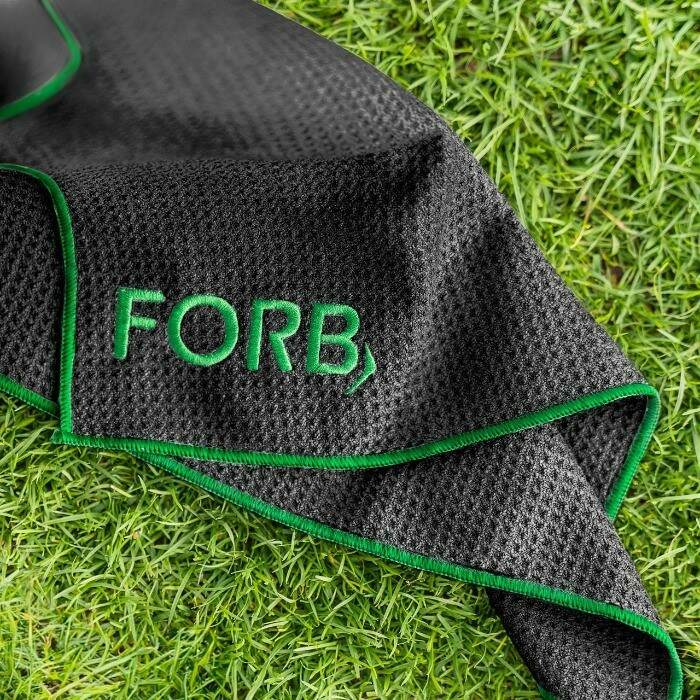 DURABLE STITCHING
Thanks to the reinforced stitching, our 3-fold golf towel is guaranteed to last, allowing you to maintain the appearance of your golf equipment for years to come.
COLOUR OPTIONS
This premium grade golf towel is available in a choice of three different colours. Choose from White, Grey, or Black, to match your golf bag.
Description
PREMIUM QUALITY GOLF TOWEL – FOR IMPROVED CLEANING PERFORMANCE
Our 3-fold microfibre golf towel is an essential piece of equipment, designed to meet the needs of all golfers. Measuring 40cm x 40cm, the golf towel comes with a carabiner clip, allowing you to easily attach it to your golf bag. Manufactured using the highest quality materials, the microfibre waffle material allows for maximum moisture absorption and enhanced performance when cleaning. The premium accessory can be utilised to clean clubs and golf balls during golf rounds to ensure maximum spin, accuracy and performance with every shot. During excessive heat or rainy days, the golf towel can also be used to keep your grips dry, improving grip and reducing slipping mishaps. Designed to match your golf bag, the FORB Golf Towel is available in three colours – White, Grey, and Black.
FORB Golf Towel – Suitable for golfers at all levels
The trifold design allows the towel to be compact & easy to transport
Features a carabiner clip for quick & easy attachment to all golf bags
The microfibre waffle material effectively cleans & dries golf accessories
Available in White, Grey and Black
Specifications
FORB GOLF TOWEL SPECIFICATIONS
DIMENSIONS:
Size: 40cm x 40cm │15.8in x 15.8in (L x W)
Weight: 105g │0.2lbs
MATERIALS:
Microfibre waffle material for greater absorbency
MISCELLANEOUS:
Available in White, Grey & Black
Tri-fold construction for compact size
Effectively cleans & dries golf accessories
Provided with a carabiner clip to easily attach the towel onto your golf bag