Vermont Strike Table Tennis Bat [Intro]
Vermont Strike Table Tennis Bat [Intro]
Premium Vermont Strike Table Tennis Bat – Ultimate Intro Bat
All Rounder Bat
Solid 7ply table tennis bat reduces the flexibility to maximise handling & control making it the best bat for beginner players. Learn both attacking & defensive skills using a bat with reliable consistency.
ITTF Approved
Complete with approved rubbers by the International Table Tennis Federation making the bat suitable for competitions. The premium wood & sponge construction ensures players can practice precision.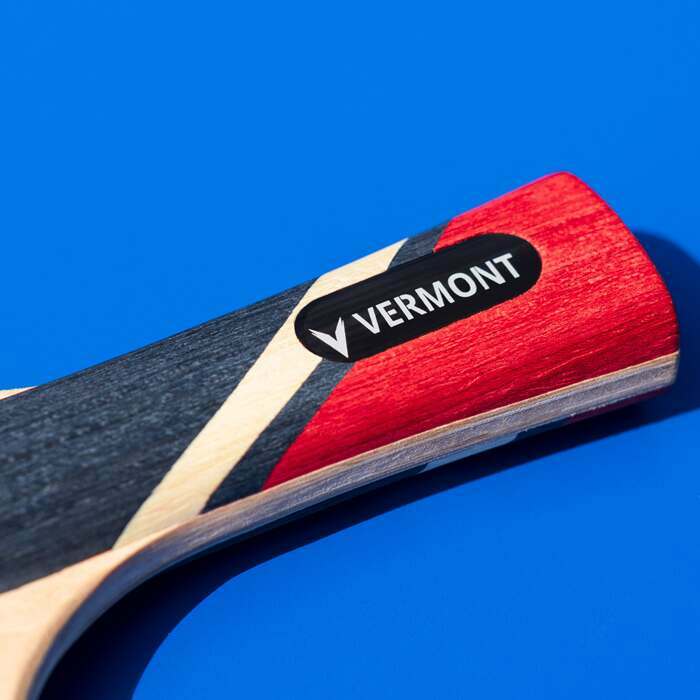 Comfortable Handle
Expertly designed with an ergonomic flared handle for increased comfort & grip. A starter table tennis bat with an excellent long-wearing design & includes a premium carry case ideal for storage & protection.
Description
Top-quality Vermont Strike Table Tennis Bat – Ideal For Beginners
An excellent choice for beginner table tennis players, the Vermont Strike delivers a smooth ball contact with excellent consistency. A premium construction provides increased control, allowing players to develop both their offensive & defensive skills. Designed with an ergonomic flared handle for exceptional grip regardless of the user's hand size. Lightweight & durable 7ply blade reduces flexibility for maximum handling. The International Table Tennis Federation approved rubbers maked the paddle suitable for competitions & a carry bag is included for storage & protection of the bat.
Solid 7ply table tennis bat for faultless control & precise shot placement
Ideal beginner bat complete with ITTF approved competition rubbers
Ping pong paddle has a premium construction for excellent durability
Ergonomic flared handle creates supreme grip & a comfortable hold
Includes a luxury carry case to eaily protect & store the table tennis bat
At Net World Sports we have all the table tennis essentials you require for both beginners & professional players. Please check out the essentials above.
Specifications
Vermont Strike Table Tennis Bat Specifications
Performance Stats:
Speed: 90
Spin: 87
Control: 85
Dimensions:
Table Tennis Bat Thickness: 6.1 +/-3 mm
Table Tennis Bat Weight: 95 +/-3 g
Sponge: #12 - 1.8mm thickness for better control & medium speed levels
Rubber: Pips height 0.7mm
Sheet thickness: 0.8mm
Materials:
Table Tennis Blade: Basswood face & paulownia wood core - Strong & lightweight feel
Handle: Pale ayous wood handle – Flared design for superior grip & comfort
Miscellaneous:
ITTF approved competition rubbers
Includes luxury carry case for protection & storage
Store in a dry place & keep away from damp
Do not expose the bat to direct sunlight or moisture
Recently Viewed
METIS Foam Interlocking Gym Floor Mats [60cm²]
SG$34.99
Football Carry Bag
SG$19.99
FORZA Multi-Boot Hanger
SG$199.99
FORZA Rugby Post Protector Pads
SG$314.99
3.7m x 1.8m FORZA Alu110 Freestanding Football Goal
SG$3,299.99