Multi-Sport Kit Bags [6x Options]
Multi-Sport Kit Bags [6x Options]
Durable Sports Kit Bags - Hold All Your Training & Matchday Equipment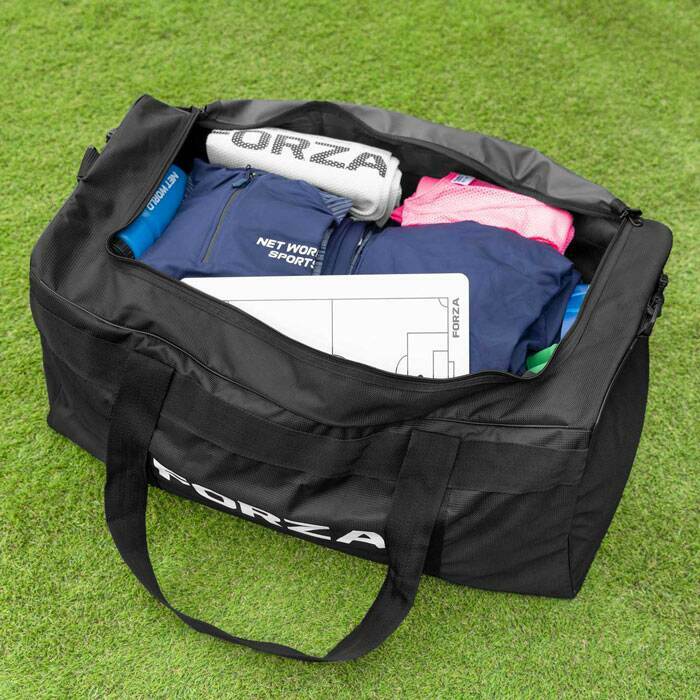 ULTRA-DURABLE SPORTS BAGS
Manufactured from increased strength & lightweight black material which provides increased durability for long-lasting use. Complete with strong drawstring/zip closures to ensure your belongings are secure.
COMFORTABLE CARRY STRAPS
Each sports bag features soft & comfortable straps which are easy to hold for long periods - Excellent option to store all your sports kit/equipment for both training session & matchdays.
CHOOSE YOUR SIZE
Available in six styles, these premium multi-sport carry bags will efficiently store & transport all your important matchday equipment. Ideal for all sports including football, rugby, tennis & more.
Description
LIGHTWEIGHT MULTI-SPORTS KIT BAG FOR YOUR SPORTS EQUIPMENT
Storing and transporting your sports kit and matchday equipment has never been easier. Thanks to these long-lasting premium sports bags, you can keep organised for the whole season. Manufactured from ultra-durable Polyester Oxford Fabric, these sports holdalls will last you for seasons to come. Available in four sizes ranging from small to extra-large, you can find the perfect sized equipment bag for you and your sporting needs. The smaller bags feature a drawstring closure which can effortlessly be worn over the shoulder, whereas the larger duffle bags are made from 600D Polyester Oxford Fabric for increased strength and allowing for more storage space. The versatile nature of these multi-sports bags means you can use them as a netball equipment bag, rugby equipment bag, cricket equipment bag and more.
All four sports bags are fabricated from lightweight Polyester Oxford Fabric
The two smaller styles are made with drawstring straps, keeping your sports bag fastened
Larger styles have heavy-duty carry straps and metal zips to keep your equipment secure
The extra-large style features robust plastic wheels and a pulley for ground transportation
Sports bags are suited for all sports including rugby, cricket, netball and hockey
Net World Sports offers a wide range of matchday equipment. For Resistance Bands, FORZA Speed & Agility Training Ladder and more, please see the essentials above.
Specifications
MUTI-SPORTS CARRY BAGS [4X SIZES] SPECIFICATIONS
DIMENSIONS:
Small: 76cm (30in) L x 36cm (14in) W
Medium: 76cm (30in) L x 49cm (19in) W
Large: 89cm (35in) L x 46cm (18in) W x 36cm (14in) H
Extra-Large: 92cm (36in) L x 38cm (15in) W x 36cm (14in) H
MATERIALS:
Small: Ultra-durable 210D Polyester Oxford Fabric material
Small: Drawstring closure & strap
Medium: Ultra-durable 210D Polyester Oxford Fabric material
Medium: Drawstring closure
Medium: Webbing strap/handle for added comfort
Large: Increased Strength 600D Polyester Oxford Fabric material
Large: Ultra-durable metal zips keep the bag secure
Large: Woven carry handles & shoulder straps
Extra-Large: Increased strength 600D Polyester Oxford Fabric material
Extra-Large: Reinforced base panel
Extra-Large: Ultra-durable metal zips keep the bag secure
Extra-Large: Plastic wheels & pulley handle for easy ground transportation
MISCELLANEOUS:
All four sports holdalls are black with white branding
Available in Small, Medium, Large or Extra-Large
You may also like
Team Hygiene Water Bottle (1 Litre)
SG$14.99
Sports Ball Carry Bag
SG$19.99