RapidFire Mega X Football Rebounder
RapidFire Mega X Football Rebounder

Adjustable Dual-Angle Multi-Skill Football Rebounder Training Net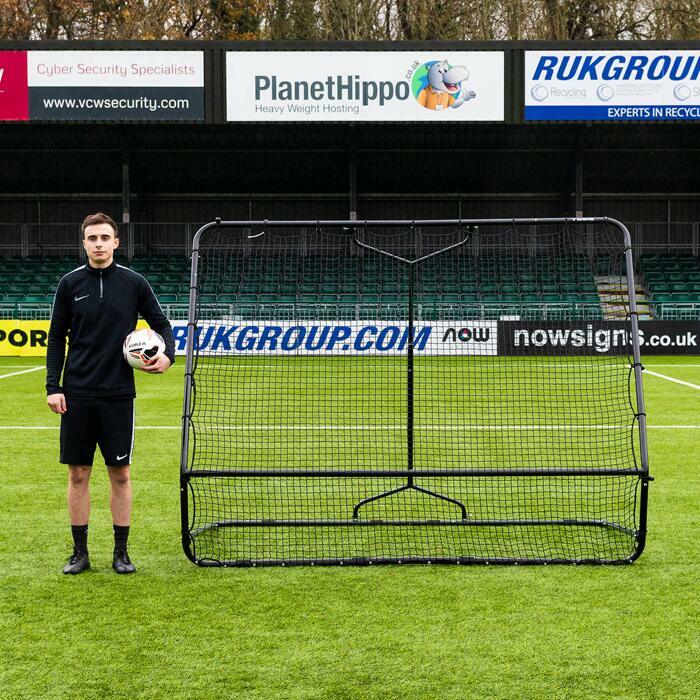 Two Pro Rebounder Sizes
The RapidFire Mega X Rebounder comes in two sizes to provide professional training drills to all age groups, with a small and large rebound net on offer.
Adjustable Dual-Angle Rebounder
Innovatively designed for high and low rebound deliveries, the angle of the multi-skill football rebound training wall can be altered to suit any drill.
Strong Weatherproof Materials
The football bounce back rebounder comprises of black powder coated 38mm galvanised steel with snap button joints and a 2mm PE net for durability.
Description
RapidFire Mega X Football Rebounder – Dual-Angle Football Rebound Net For Multiple Training Drills
Expertly designed for ground and aerial passing drills, the RapidFire Mega X Football Rebounder is a premium piece of training equipment for clubs of all standards. Improve your first touch, passing and shooting technique with this professional football rebounder wall, available in two sizes for youth and senior team skill coaching sessions.
Fully adjustable angle functionality with high and low dual-angle rebound sections
Two rebound net sizes to choose from – Small (1.5m x 1.8m) and Large (2.1m x 2.4m)
Weatherproof black powder coated 1mm thick 38mm OD galvanised steel frame with anti-slip rubber feet
Rebound net manufactured from 2mm knotless polyethylene with a 28mm mesh size and net saving technology
Football rebounder frame has snap button joints for quick assembly with no-tools required
Quick and easy to assemble, this revolutionary double angle football rebound wall features snap button assembly joints which bond the components of the rebounder together, enhancing strength and stability throughout use. To make the no-tools required assembly process easier, it is recommended that two people set up the football skill training rebounder.
Designed to provide a firm and springy bounce, the football rebound net is highly responsive, resulting in heavier rebounds the harder you strike the ball. Made from 2mm knotless polyethylene with a 28mm mesh, the football rebounding net is exceptionally durable and easy to attach due to the included bungee net cords.
The heavy-duty football bounce back net features a strong galvanised steel frame which has been powder coated in a stylish black for optimal weather protection. To fully maximise your usage of the weatherproof football rebound board, the rebounder is suitable for being left assembled outdoors all year-round without falling foul to rust or corrosion.
Suitable for a wide variety of football training drills, the dual-angle rebounder wall is fully adjustable, allowing the trajectory to be altered for heading, ball control, volleying, shooting passing and goalkeeper catching drills. Whether you require a high or low rebound, the versatile football rebounder is an essential accompaniment to your training sessions.
Specifications
RapidFire Mega X Rebounder Specifications
Size Options
Small - 1.5m x 1.8m (4.9ft x 5.9ft)
Large - 2.1m x 2.4m (6.9ft x 7.9ft)
Materials
Rebounder Frame - 1mm thick 38mm OD galvanised steel powder coated black
Rebound Net - Made from 2mm knotless polyethylene with a 28mm mesh
Miscellaneous
Rebounder angle is fully adjustable
Weatherproof and freestanding
Features revolutionary net saving technology
Anti-slip rubber feet on the frame
Snap button assembly joints for quick assembly
Dual-angle rebounder with and low rebound sections
Bungee ties included
It is recommended that the rebounder is assembled by 2 people
You may also like
FORZA Football Rebound Wall
SG$454.99
Jumbo Football Rebounder Net [2.7m x 2.2m]
SG$409.99