FORZA Mini AFL Aussie Rules Football Goal Posts
FORZA Mini AFL Aussie Rules Football Goal Posts
Ultra-Durable PVC Goal Posts For AFL Kicking Practice
3kg Rubber Bases
Designed to provide a high level of stability throughout all weather conditions, these posts are supplied with four heavy-duty rubber bases. Weighing 3kg each, the post bases reduce the risk of strong winds knocking over your AFL goals.
Ultra-Durable PVC
Suitable for kicking practice and junior matches, these AFL goal posts are made from high-quality PVC. This ultra-durable material ensures the Aussie Rules football goals can effortlessly withstand the impact of a football.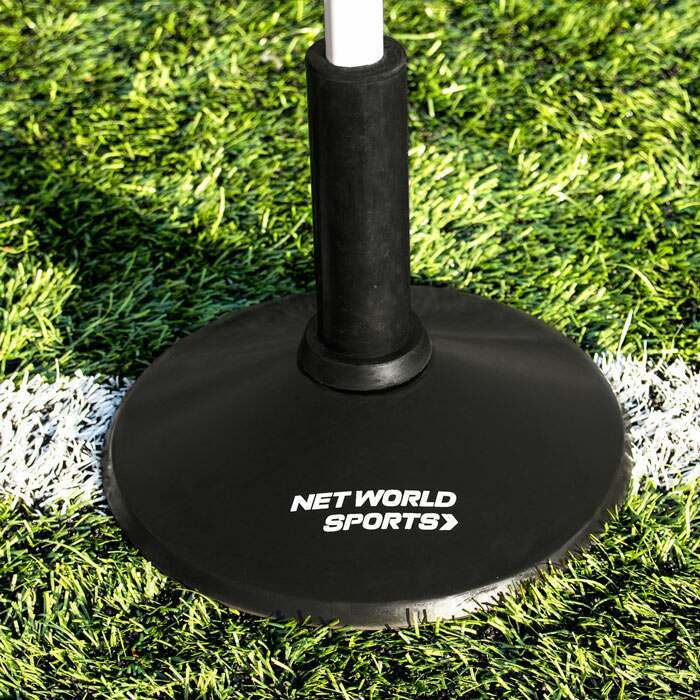 Telescopic AFL Goal Post
Measuring 2m and 1.8m tall, these Aussie Rules football goal posts are manufactured with a telescopic design. This unique feature ensures the posts are incredibly easy to store after training sessions and junior AFL matches.
Description
Mini Aussie Rules Football Goals With Heavy-Duty Rubber Bases
Incredibly easy to set up, these telescopic AFL goal posts are the perfect height for junior matches or kicking practice in your back garden. The set is comprised of two goal posts and two point posts which stand at heights of 2m and 1.8m (7ft and 6ft) respectively. Both sets of posts are manufactured from high-quality PVC. This ultra-durable material ensures your goal posts will not crack if they are struck by an Aussie Rules football, providing you with years of high-quality performance. Choose between a single set or a pair to suit your needs.
2m (7ft) tall AFL goal posts and 1.8m (6ft) tall Aussie rules football point posts. Available as a single set or a pair
Goal and point posts are manufactured using ultra-durable PVC
Telescopic design reduces the size of the posts for easy storage
4 x heavy-duty rubber bases which weigh 3kg (7lbs) each
Hard-wearing Aussie rules goal carry bag measures 1.2m x 0.3m x 15cm (4ft x 1ft x 6in)
Suitable for use on all surfaces, each goal post is supplied with its own heavy-duty rubber base. Weighing 3kg (6.6lbs) each, the AFL goal post bases will provide the optimum level of stability across grass and artificial turf, lessening the risk of your posts tipping over during windy junior Aussie rules football matches.
Made with a telescopic design, you can effortlessly reduce the height of these mini AFL goals for easy storage. This adjustable height allows you to slot your goals inside the included carry bag, which measures 1.2m x 0.3m x 15cm (4ft x 1ft x 0.5ft). The bags' large size guarantees you can neatly store you entire mini Aussie Rules football goal post set in one place after use, reducing the likelihood of misplacing or losing your equipment.
PLEASE NOTE - Net World Sports stocks an extensive range of AFL training equipment which can be used to improve your hand passing and kicking technique, including the FORZA Aussie Rules Football Kicking Net and the FORZA Aussie Rules Football Handpass Target Net.
Specifications
Junior AFL Goal Post Specifications
Dimensions
Goal Posts – 2m (7ft)
Point Posts – 1.8m (6ft)
Carry Bag – 1.2m x 0.3m x 15cm (4ft x 1ft x 6in)
Materials
Poles – PVC
Base – Heavy-duty rubber
Miscellaneous
Available as a single set or as a pair
Set is comprised of 2 x goal posts, 2 x point posts, 4 x rubber bases and 1 x carry bag
Telescopic design reduces the height of the posts for easy storage
Rubber bases weigh 3kg (6.6lbs) each
Suitable for hard and soft surface
You may also like
10 AFL Hygiene Water Bottles [1 Litre] & Foldable Carrier
SG$129.99
FORZA Aussie Rules Football Mannequins
SG$149.99
FORZA AFL Aussie Rules Football Kicking Net
SG$314.99
FORZA Grand Match AFL Ball
SG$34.99
Recently Viewed
3.7m x 1.8m FORZA Alu60 Football Goal
SG$1,014.99
FORZA Flash Pop-Up Football Goal (Pair)
SG$54.99
Stainless Steel Referee Whistle & Lanyard
SG$14.99
FORZA Pro Training Vests [5 - 15 Packs]
SG$24.99
FORZA A4 Magnetic Football Coaches Tactics Folder
SG$34.99