METIS Adjustable Weight Bench [Commercial]
METIS Adjustable Weight Bench [Commercial]

Premium Gym Bench for Lifting in Professional Style
Professional Design
Heavy-duty steel tubing provides a solid steel construction with a high weight capacity for your workouts, whilst a smart matt-black powder coating protects against scratches & general wear.
Variable Position
Offering 10 backrest & 3 seat positions, this adjustable weight bench can be positioned at various angles – perfect for customising your gym setup to suit whichever exercise you need.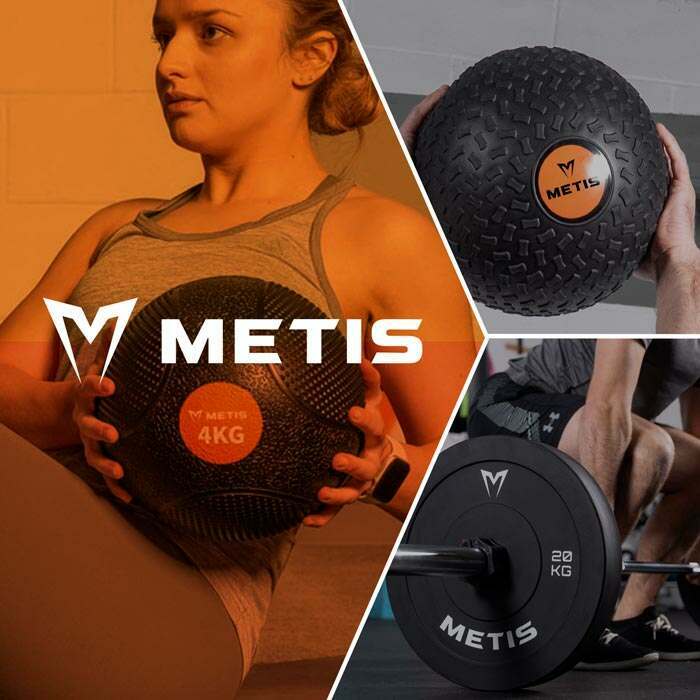 EXPLORE THE METIS RANGE
Set your goals & achieve them with the dynamic METIS fitness range. A range that covers all types of fitness & exercise, METIS is a brand that delivers professional quality for everyone.
Description
METIS Adjustable Weight Bench [Semi Commercial] – Bench Press Exercise Bench
Ideal for your home or commercial gym, this METIS workout bench makes the ultimate FID bench (flat, incline, decline), featuring 10 backrest positions & 3 seat positions. Not only with varying angle options, handy rear wheels allow you to transport the gym weight bench to wherever you prefer. Top-quality materials are used to create this durable gym bench, with heavy-duty steel tubing for strength & extra thick pads to keep you comfortable when benching weights. For enhanced longevity, a powder coating protects the weight lifting bench against wear & tear whilst providing a stylish matt-black finish. The high-quality leather used is moisture resistant to keep your home gym bench looking pristine for longer, protecting it against damage from sweat.
METIS Adjustable weight bench – Suitable for home gym setups & commercial gyms
Matt-black powder coated finish & moisture resistant leather – Excellent longevity
Portable & adjustable – Has FID capabilities with rear wheels for transport
Extra-thick cushions offer increased support when working out
Strong steel tubing provides a maximum capacity of approximately 300kg
Easy-wipe leather surface – Simple to maintain excellent hygiene
Safety Notes:
We recommend that you seek professional advice to ensure lifting/pressing technique before using.
We recommend you always lift with a partner or spotter. This product is not recommended for use alone.
Do not exceed maximum weight capacity of the weight training bench.
Always ensure the bench is on a flat surface & that the wheels are not touching the ground before use.
Specifications
METIS Adjustable Weight Bench Specifications
Dimensions
Product footprint – 120cm x 63cm x 45cm | 47in x 25in x 18in
Seat pad – 28cm x 30cm x 6cm | 11in x 12in x 2in
Head pad – 50cm x 28cm x 6cm | 20in x 11in x 2in
Back pad – 32cm x 29cm x 6cm | 13in x 11in x 2in
Materials
Heavy-duty 2.5mm (0.01in) thick steel oval tubing – 100mm x 50mm | 4in x 2in
Moisture resistant leather seat, backrest & head pad – 6.5cm | 2.6in thick
Miscellaneous
Product weight: 37kg | 82lbs
Max. weight capacity is approx. 300kg | 661lbs
Rear wheels for easy transportation
Flat, incline & decline (FID) capabilities – easy-adjust pull-handle for seat & backrest
Recently Viewed
6 x 4 (1.8m x 1.2m) FORZA Football Goal Post
SG$219.99
Team Hygiene Water Bottle (1 Litre)
SG$14.99
FORZA Pro Football Captains Armband
SG$11.99
Speed & Agility Football Training Ladder
SG$19.99
Ice Hockey Training Agility Spring Loaded Slalom Poles
SG$309.99