METIS Junior Dodgeball Pack [12qty]
METIS Junior Dodgeball Pack [12qty]
The Ultimate Foam Dodgeball Set for Schools and Clubs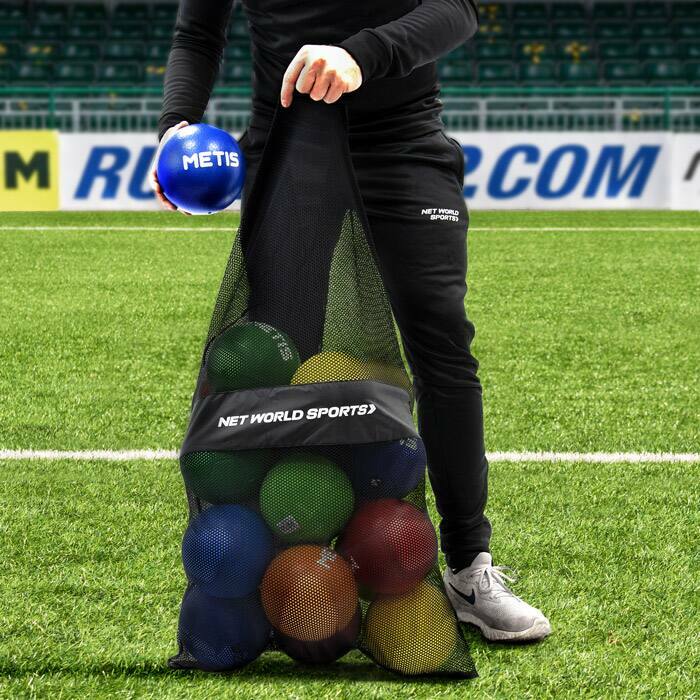 Ball and Bag Set
Featuring a drawstring fastening to keep your dodgeball set secure, the included mesh carry bag is ideal for easy transportation and compact storage, saving precious store-cupboard space.
Ultra-Safe
These dodgeball balls are designed with an innovative non-sting technology perfect for primary & junior schools or clubs. A premium foam core controls the bounce to ensure safer play.
EXPLORE THE METIS RANGE
Set your goals & achieve them with the dynamic METIS fitness range. A range that covers all types of fitness & exercise, METIS is a brand that delivers professional quality for everyone.
Description
METIS JUNIOR DODGEBALL PACK – PACK OF 12 SOFT FOAM BALLS (SIZE 1)
This set of 12 lightweight foam balls is excellent for schools and clubs and is designed for youngsters, with innovative anti-puncture technology that is ideal for reducing painful encounters during play. Made from a latex-free exterior with a PU coating, these balls are tear-resistant and designed to withstand regular use, making them suitable for primary and secondary schools. A controlled rebound is easy to achieve thanks to the highly durable foam core, and despite this, these dodgeball foam balls are still lighter than traditional balls. Designed with a smaller 15cm diameter for easier handling and textured surface for easy catching, this is the perfect dodgeball for kids. For easy portability, each METIS junior dodgeball pack is sold with a mesh carry bag for easy transport and storage.
Set of 12 soft foam balls perfect for clubs and schools
The anti-puncture technology guarantees the safety of all players
Tear-resistant PU coating makes these dodgeballs durable
15cm diameter (size 1) and textured surface make it easy to grip
The foam core is ultra-resilient and creates a controlled bounce for safe play
The pack contains a variety of 6 vibrant colours
Includes a handy mesh carry bag for easy transport and storage
Specifications
METIS Junior Dodgeball Pack Specifications
Dimensions:
Dodgeball Size: 6in | 15cm
Dodgeball Weight: 110 - 120g | 3.8 - 4.2oz
Materials:
Dodgeball: 25k density foam with PU coating – Durable and tear resistant for longevity
Mesh Carry Bag: Drawstring design to secure contents
Miscellaneous:
Foam core creates a controlled bounce for safer play
Size 1 dodgeballs suitable for primary & junior schools
Use in a large indoor space or outdoors
Assorted Colours: Red, Blue, Yellow, Green, Purple & Orange
Sold as a set of 12 dodge balls with carry bag
Includes high-quality mesh carry bag for easy transport & storage
You may also like
FORZA Mini Target Goal
SG$129.99
Pop-Up STOP THAT BALL™ - Ball Stop Net & Posts [5x Sizes]
SG$79.99