Harrier Premium Parasol Covers [3 Shapes/Sizes]
Harrier Premium Parasol Covers [3 Shapes/Sizes]
Premium Waterproof Covers To Protect Overhanging Parasols
Waterproof Design
High-quality cover complete with a weather resistant design to ensure your cantilever parasol is protected outdoors throughout the off-season. The large coverage prevent the parasol becoming exposed.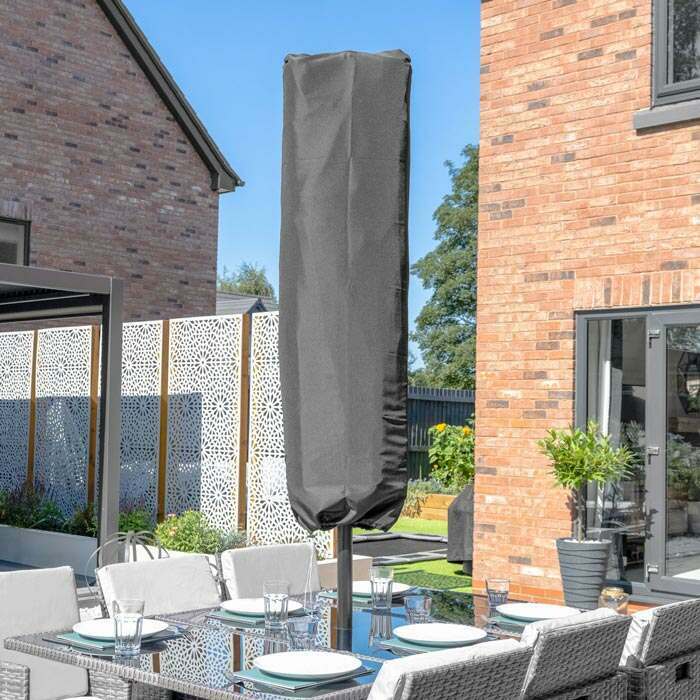 Durable Design
Ultra-durable cover is tear-resistant for long-lasting use. Perfectly suited to fit 2.7m, 3m & 4.6m wide garden parasols to keep the sun umbrella in pristine condition all year round.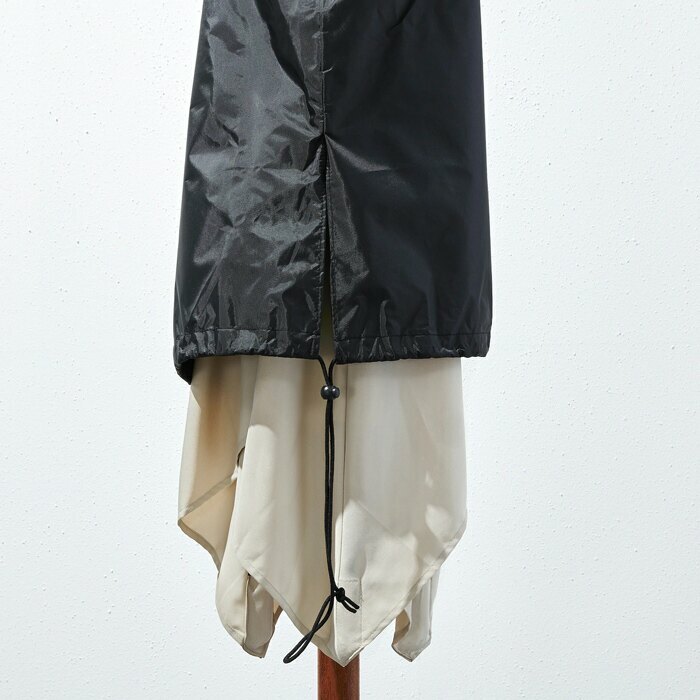 Drawstring Closure
A drawstring rope closure at the bottom securely locks the umbrella cover to prevent it from ballooning or getting blown away by the wind. Easy to install & remove when required.
Description
GARDEN PARASOL COVER – GARDEN UMBRELLA COVER FOR VARIOUS PARASOLS
Various parasol covers available for your patio parasol. Covers to fit 4.6m Double Sided Parasols, 2.7m Crank & Tilt Parasols and 3m Overhanging Parasols. The 4.6m Double Parasol cover boasts a weatherproof & UV treated 180gsm polyester construction, whereas the 2.7m Crank & Tilt and 3m Overhanging Parasol covers are manufactured from weatherproof, heavy-duty PVC. Complete with drawstring fastening, this securely keeps the garden parasol covers in place and prevents parasol exposure. Thanks to this protection, your outdoor parasol will remain in pristine condition for longer. Users can simply install and remove the cover when required. Perfect for off-season protection. All parasol covers come in black.
Harrier Parasol Covers – Suitable for 4.6m Double Parasols, 2.7m Crank & Tilt Parasols and 3m Overhanging Parasols
All covers are weatherproof and designed to protect your parasol from the elements
Secure drawstring fastening prevents parasol exposure for better protection and longer-lasting use
4.6m Double Parasol Cover manufactured from weatherproof & UV treated 180gsm polyester
2.7m Crank & Tilt and 3m Overhanging cover made from heavy-duty PVC
PLEASE NOTE: Cover ONLY – Garden Parasol NOT included
Specifications
Harrier 4.6m Double Sided Parasol Cover Specifications
DIMENSIONS:
Compatible Parasol Size: 9ft x 15ft | 2.7m x 4.6m (H x W)
MATERIALS:
Made from weatherproof & UV treated 180gsm polyester
Complete with a drawstring hem & adjustable toggle to secure the parasol
MISCELLANEOUS:
Colour: Black
Perfect for off-season storage
Easy to install & remove
Compatible with the Harrier 4.6m Double-Sided Parasols
PLEASE NOTE: COVER ONLY – Garden parasol not included
Harrier 3m Overhanging Parasol Cover Specifications
Dimensions:
Compatible Parasol Size: 2.4m H x 3m W | 8ft H x 10ft W
Materials:
Weatherproof PVC for durability & long-lasting use
Miscellaneous:
Drawstring hem closure with an adjustable toggle to firmly secure the cover
Easy to install & remove from the parasol
Perfect for storage in the winter
Colour: Black
PLEASE NOTE: COVER ONLY – Garden parasol not included
Harrier 2.7m Crank & Tilt Parasol Cover Specifications
Dimensions:
Compatible Parasol Size: 2.4m H x 2.7m W | 8ft H x 9ft W
Materials:
Heavy-duty PVC cover which is weather resistant
Miscellaneous:
Complete with a drawstring hem & an adjustable toggle to firmly secure the cover
Easy to install & remove from the parasol
Perfect for off-season storage
Colour: Black
PLEASE NOTE: COVER ONLY – Garden parasol not included