Harrier Fruit Cage Kits – Tailor Your Cages To You Specs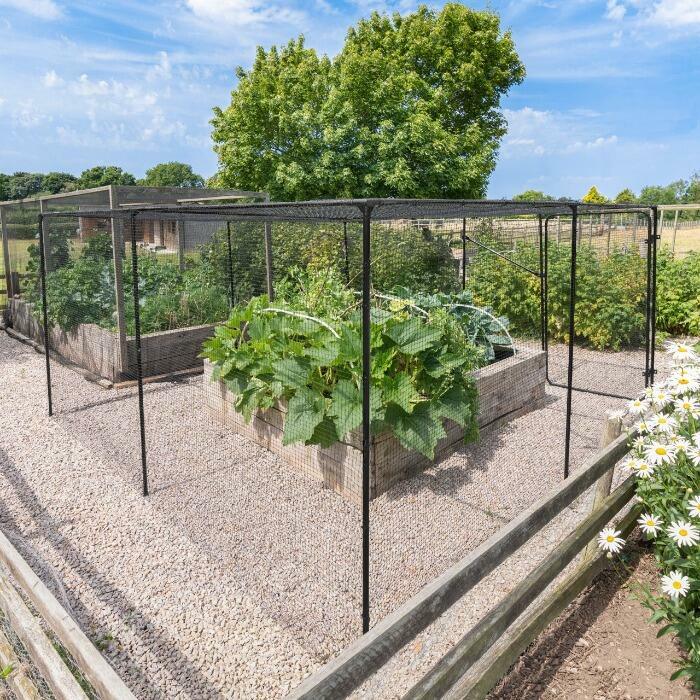 MODULAR DESIGN
These fruit cages allow you to create any size you like thanks to the unique 2mx2m modular design. All of these high-quality kits we offer can combine to create the ultimate growing set-up.
WHAT DO I NEED?
Unsure of what kits you require to build your very own custom Harrier Fruit Cage? Use the graphic above which tells you what ratios you'll need. Create squares, rectangles & even L-shaped cages.
ADAPTABLE DOOR KITS
Our fruit cage doors feature a braced design (prevent sagging) & come with netting cut to the exact dimensions of the cage door. The door features a lockable latch. Harrier cages allow for multiple doors.
Description
HARRIER FRUIT CAGE KITS – EXTEND & MODIFY YOUR HARRIER FRUIT CAGES
Choose from our range of Harrier Fruit Cage Kits to ensure you have a fruit & vegetable growing set-up designed specifically for your garden. Designed for our professional Harrier Garden Cages, these kits allow you to extend to whatever size you desire & even create an 'L-Shaped' fruit cage if you outdoor growing area requires it. The master kit, extender kit & corner extender kits all allow you to increase your fruit & veg growing capacity, whilst the innovative fruit cage door kits give you easy access to anywhere in your fruit cage. Each door kit comes with a braced design (to prevent sagging) & a locking latch for increased security. Whichever kit you choose, world-class longevity is guaranteed, thanks to the & rust & corrosion-resistant galvanised steel construction.
FRUIT CAGE MASTER KIT: 2m x 2m unit that is the foundation of your fruit cage – always in the corner & features all components needed for a 2m x 2m walk-in garden cage.
FRUIT CAGE EXTENDER KIT: Allows you to extend your fruit cage in modules of 2m x 2m. Specifically designed to suit the master kit & can be extended by as many modules suitable.
FRUIT CAGE CORNER EXTENDER KIT: Features 5 way connectors designed to complete your cage when extenders are used. For corner kit to extender kit ratio, see graphic above.
FRUIT CAGE DOOR KIT: Innovatively designed to prevent sagging & features a locking latch for security. Can go anywhere on cage & cage design allows for multiple doors. Taiilored netting for door included.
INSTRUCTIONS:
For full instructions on how to use these kits on your Harrier Fruit Cage, please click here.
Specifications
Harrier Fruit Cage Kits Specifications
MASTER KIT:
4x 3-Way Corner Connectors
4x Ground Spikes
16x Ground Pegs
8x Steel Tubes
100x Cable Ties
EXTENDER KIT:
2x 4-Way Corner Connectors
2x Ground Spikes
12x Ground Pegs
5x Steel Tubes
50x Cable Ties
CORNER EXTENDER KIT:
1x 5-Way Corner Connectors
1x Ground Spikes
8x Ground Pegs
3x Steel Tubes
25x Cable Ties
DOOR KIT:
2x Clamp Connectors
2x Ground Spike
2x Steel Tubes
2x Support Bars
1x Door
1x Tailored Door Net (designed to fit door frame)
20x Cable Ties
MATERIALS:
Framework: Heavy-duty 25mm OD steel (1.6mm thick)
Frame features a galvanised satin black powder-coating – increased protection against rust/corrosion
Corner Connectors: Welded steel triangular support plates with spring buttons – increased robustness
MISCELLANEOUS:
This listing is for fruit cage kits only, it IS NOT FOR THE FULL CAGE
Kits allow you to extend your fruit cage by 2mx2m modules
Recently Viewed
Replacement Netball Post Hoop
SG$119.99
Baseball Batter's Eye Screen
SG$269.99
FORZA Pro Training Vests [5 - 15 Packs]
SG$24.99
Football Net Clips
SG$11.99
Ice Hockey Training Agility Spring Loaded Slalom Poles
SG$309.99