FORZA Throwdown Pitch Line Markers [10 QTY]
FORZA Throwdown Pitch Line Markers [10 QTY]
PREMIUM THROWDOWN LINE MARKERS FOR SPORTS PITCHES
EXCELLENT GRIP
Manufactured using premium rubber with an anti-slip underside providing exceptional grip on all surfaces. Reducing the risk of players slipping and causing injury during training.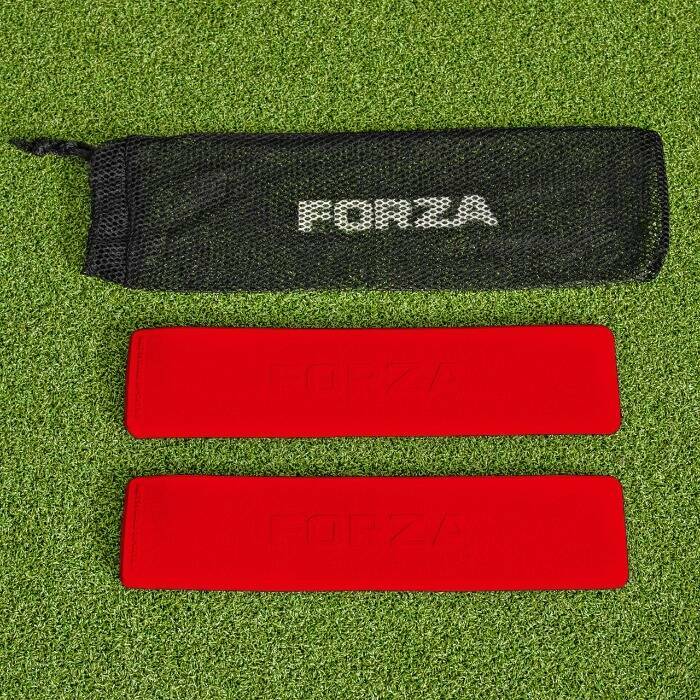 NON-PERMANENT MARKING
Marking out pitches or training sessions with these line markers has never been easier. The rubber line markers can be thrown down into position & simply picked up leaving no marks.
CARRY BAG INCLUDED
The durable mesh carry bag provides maximum portability. A safe place to store your line markers when not in use or when being transported to and from training sessions & matches.
Description
FORZA THROWDOWN PITCH LINE MARKERS - 10 VIBRANT COLOURS AVAILABLE
These line markers have been specifically designed to mark out your training sessions. Create non-permanent pitches & training perimeters on any surface. Each pack of FORZA Throwdown Pitch Line Markers are available in 10 highly visible & vibrant colours. These colours are excellent for visibility indoors & outdoors for all players. Created from ultra-durable rubberized material, the markers can withstand high impact without being damaged. The strength & versatility of these pitch markers mean they can be used in any weather condition on any surface all year round. Designed with a pimpled underside which provides excellent grip to the floor to reduce the risk of players slipping on them during training sessions. Pitch markers are lightweight & easy to transport, thanks to the durable mesh carry bag included. Elevate your training sessions by creating unlimited configurations for all drills & training exercises.
Ideal for use in schools, all sports clubs & leisure centres – Suitable for all ages
Manufactured from ultra-durable weatherproof rubberized material
Markers feature pimpled underside for reduced risk of slipping under foot
Available in packs of 10 with a choice of 10 highly visible colours
Mesh carry bag included to transport markers easily for all training sessions
Black, White, Red, Claret Red, Sky Blue, Electric Blue, Fluro Yellow, Fluro Pink, Fluro Green & Fluro Orange
Specifications
FORZA THROWDOWN PITCH LINE MARKER SPECIFICATIONS
DIMENSIONS
Pitch Line Markers – 34cm x 8cm | 13in x 3in
MATERIALS
MISCELLANEOUS
Non-permanent solution for line marking
Pimpled underneath provides excellent grip
Mesh carry bag included
Packs of 10
10 colours available