FORZA Stadium Football Goal Packages (FIFA/UEFA Standard)
FORZA Stadium Football Goal Packages (FIFA/UEFA Standard)
UEFA STANDARD BOX GOAL PACKAGES WITH PREMIUM 5MM BRAIDED NETS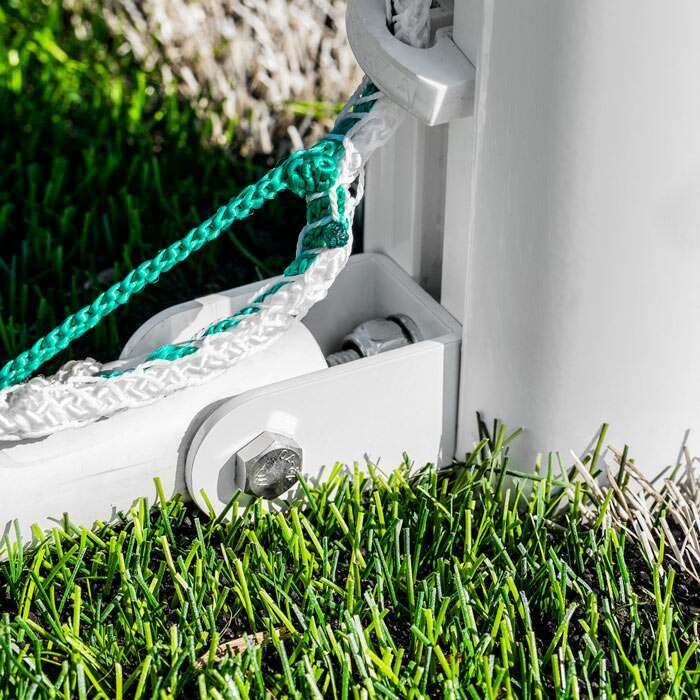 Hinged Bottom Bar
Stadium goal packages feature a hinged bottom bar that weighs the football net down but can also be lifted for pitch access during ground maintenance.
Free Hanging Goal Nets & Supports
These stadium goal packages include aluminium free hanging net supports supplied with a ratchet and strap system to keep the net taut.
Professional Stadium Goals
With goals installed in several prestigious clubs and venues, these stadium goal packages provide the ultimate upgrade to any professional football club.
Description
STADIUM GOALS - 2 STADIUM GOAL PACKAGES FOR YOUR FOOTBALL CLUB
Stadium Football Goal Packages available for your football club. Whether you are a semi-professional or top tier football club, choose between our Club & Pro Stadium Goal Packages to find the right setup for your club. The Club Stadium Football Goal Package has been installed in various stadiums that have hosted Champions League and even Premier League action. The package consists of a crossbar supplied in multi-sections, standard hinged frame, net supports and ratchet tension system. The Pro Stadium Football Goal Package allows your goals to comply with FIFA & UEFA international tournament regulations, suitable for hosting a football match at any level. This package provides you with a 1-piece crossbar, upgraded hinged frame, net support, ratchet/wire tension system and rear net support safety pads as standard. The nets for both packages are available in White, Black, Blue, Green, Orange, Red, Yellow, Blue/White, Green/White and Red/White.
FORZA Stadium Football Goal Packages – Full Stadium Goal Package for 24 x 8 goals
Choose between the Club Stadium Package and FIFA/UEFA Elite Stadium Package
Club Stadium Goal Package features a standard hinged frame, net supports & ratchet tension system
Elite Stadium Goal Package boasts upgraded hinged frame, net supports and ratchet/wire tension systems
In both packages, the goals are available as a single/pair and nets available in a wide range of colours
Specifications
Club Stadium Football Goal Package Specifications
DIMENSIONS:
Football goals are full size 24ft x 8ft (7.3m x 2.4m) with a 6ft (1.8m) runback
MATERIALS:
Goal posts made from 100mm (3.9in) x 110mm (4.3in) elliptical reinforced aluminium, powder coated white for corrosion resistance
457mm (18in) deep zinc plated steel ground sockets
Each socket needs to be professionally set into minimum 0.6m x 0.6m x 0.6m (24in) of concrete into the ground (concrete not included)
33mm (1.3in) galvanised steel hinged bottom net frame weighs box net to the ground
80mm (3.1in) aluminium free hanging net supports are powder coated black
Each goal comes with a heavy duty 5mm braided UEFA box net
MISCELLANEOUS:
Goals are independently tested to BS EN 748 safety standards and comply to FA, UEFA and FIFA regulations
Product will be delivered 'flat packed' and will require assembly
FIFA/UEFA Elite Pro Stadium Football Goal Package Specifications
DIMENSIONS:
Goal size = 24ft x 8ft (7.3m x 2.4m) with a 6ft (1.8m runback)
MATERIALS:
Posts made from heavy duty 102mm (4in) x 112mm (4.4in) elliptical aluminium
45cm (17.7in) deep aluminium ground sleeve sockets with metal drop in lids provided
Each socket requires professional concreting into ground
60mm OD aluminium hinged bottom net frame weighs box nets to the ground
Hinged frame boasts a tough, scratch resistant powder coated finish in optic white
80mm OD reinforced aluminium rear net support post stanchions
Each goal is supplied with braided 5mm thick HDPP FIFA World Cup grade stadium box nets
Nets have 120mm (5in) knotless mesh size
MISCELLANEOUS:
Goals conform to BS EN 748 Safety Standards (exceeds 180kg strength test)
Complies to UEFA & FIFA Match Regulations (FORZA labels on upright may need removing)
Colours available: White, Black, Blue, Green, Orange, Red, Yellow, Blue/White, Green/White and Red/White
Clear step-by-step instructions provided
Recently Viewed
6.5m x 2.1 FORZA Alu110 Stadium Football Goal | Net World Sports
SG$6,599.99
METIS Adjustable Weight Bench
SG$229.99
FORTRESS Baseball Sock Net Screen
SG$534.99
FORZA Superdome Cone Hurdle Set
SG$99.99
Spring Back Football Free Kick Mannequins [3 Pack]
SG$229.99