FORZA Solo Football Kick Trainer
FORZA Solo Football Kick Trainer
Essential Piece of Individual Football Training Equipment
Fully adjustable waist band
Features fully adjustable neoprene waist band that fits waists 20in to 36in in size
Full Solo Kick Trainer
This solo kick trainer provides all the training equipment required for solo practice sessions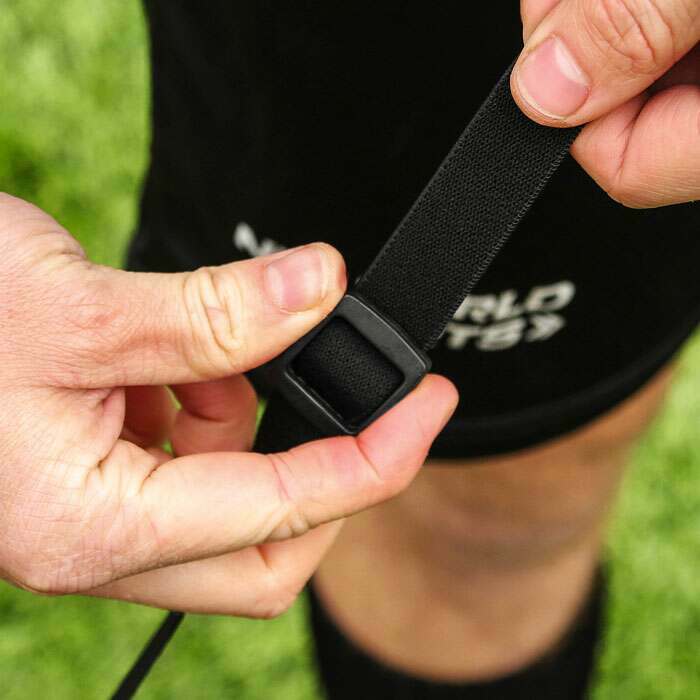 Adjusted Ball Tether
Kick trainer features adjustable tether for varied and more difficult training sessions
Description
Train Your Passing And Reactions With This Football Training Belt
Perfect for any player looking to improve as an individual, this piece of football training equipment is specifically designed to offer hands-free and independent training by reducing the time spent collecting balls. Perfect as a gift for any young player, this football skills trainer can improve you passing, control and reactions to help develop your overall game. Featuring a neoprene tethered ball holder attached with an elasticated cord to the neoprene belt, this football kick up trainer is built to last.
Features neoprene adjustable waistband that fits 50cm to 90cm waists
Include neoprene ball holder that securely holds size 3, 4 and 5 balls
Elastic attachment allows ball to travel up to 5.5m away
Specifically designed to provide hands-free and independent training
Ideal for use in the garden or at a park
Available as trainer belt only or with FORZA backyard soccer ball & pump
Manufactured from hard-wearing neoprene, this solo football training aid provides long lasting quality no matter the weather. Featuring waterproof and weather resistant qualities, this piece of football training gear excels in the harshest of elements and allows high-quality individual training sessions season after season. Supplied with an adjustable neoprene waist belt, this football kick return trainer is suitable for use by any player of any age with a waist size between 50cm and 90cm.
Designed to eliminate the need of retrieving the ball, this essential piece of football trainer kit uses a securely fastened football on a string that has been elasticated to provide realistic game-like ball trajectories to help improve reactions and control. The football training belt ensures that the ball returns to the prospective player at an appropriate height for control and is ideal for close control training.
With a hook and loop fastening system on the football holder and training belt, this football trainer is easily set up to ensure that you can start practicing faster. With the securely fastened football on a bungee cord like return system, the balls return speed is proportionate to the speed that it is kicked and therefore is capable of providing more difficult individual training sessions the harder the ball is kicked.
Net World Sports offers a wide variety of football training equipment that perfect for any player of any age and any ability. From Football Goal Target Sheets to FORZA Pro Football Air Mannequins, we are sure to meet your every need and requirement.
Specifications
Dimensions
Waistband suitable to fit waists 50cm to 90cm in size
Ball holder securely fastens size 3, 4 and 5 balls
Stretch distance of 5.5m
Materials
Neoprene adjustable waistband
Neoprene ball holder
Miscellaneous
Designed to offer hands-free and independent training
Features hook and loop fastening system
Perfect as a gift for any young footballer
Ideal for use with the FORZA Garden Football
PLEASE NOTE: This product is non-returnable due to hygiene reasons, this does not affect your statutory rights
You may also like
FORZA Pro Football Goal Target Sheets
SG$249.99
RapidFire Football Rebound Board
SG$399.99
Football Goal Target Sheets
SG$59.99