FORZA Rainbow/Pride Armbands
FORZA Rainbow/Pride Armbands
FORZA Rainbow/Pride Armbands - For All Teams, Schools & Events
Stretchy Elastic Armbands
Premium elasticated material is designed to easily stretch over all sports clothing, suits & shirts so team members, managers & coaches can wear them throughout matches.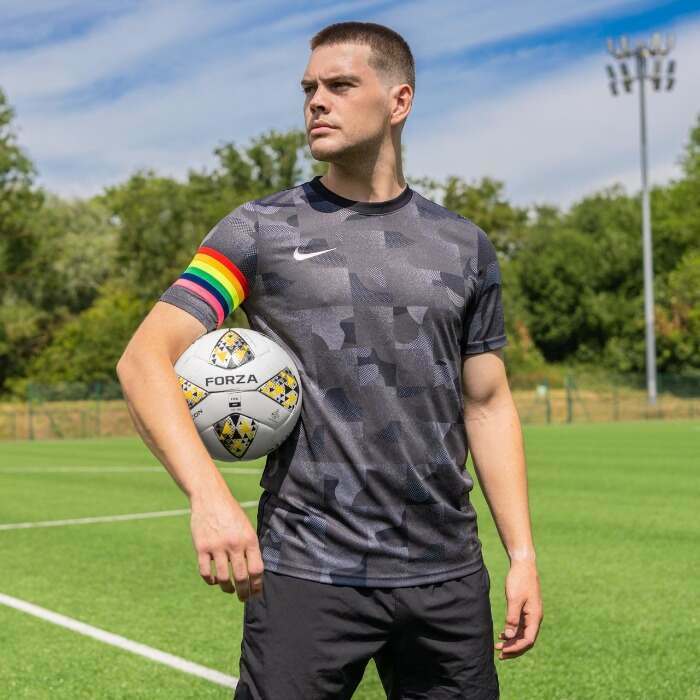 Comfortable Design
The fabric used for these football rainbow captain armband is soft & designed to ensure maximum comfort for the whole game. The secure fit ensures it will not move or slide down whilst running.
Rainbow Football Armband
The rainbow armbands are perfect for all sports including football, rugby & hockey. Designed to show your support for the LGBT community - PLEASE NOTE: Colours may vary.
Description
FORZA Sports Rainbow Armbands – Comfortable & Secure Design
An excellent option for all sports, these FORZA Rainbow Armbands are designed to fit adults. Made from elasticated material to prevent it sliding down & slipping whilst performing sports. The football captain armbands are comfortable to wear & do not disturb play. Ideal for football, rugby, hockey & more, these thick football rainbow captains armbands are available in one size & sold individually.
FORZA Rainbow Armbands – Perfect for all sports including football, rugby, hockey & more
Elasticated football captain armband is designed to fit for comfort & reliability
Easily fits over any sports clothing as well as suit jackets & shirt sleeves
Thick rainbow coloured armband is an ideal option for teams to wear on the pitch
Specifications
FORZA Rainbow Armbands Specifications
Dimensions:
Captain armband size: 13cm W x 9cm H | 5in W x 3.5cm H
Materials:
Made from high quality elastic polyester that easily stretches
Miscellaneous:
Colours: Rainbow - Please Note: Colours may vary.
Sold individually
Recently Viewed
METIS Hex Dumbbells [2.5kg-30kg] - Pair
SG$39.99
FORZA 3ft/6ft Slalom Training Poles [34mm] - 8 Colours
SG$79.99
METIS Rubber Barbell Weights [10kg-30kg]
SG$179.99
1.5m x 1.2m Replacement Football Goal Nets
SG$59.99
METIS Foam Roller
SG$29.99