PRO FUTSAL BALL FOR OFFICIAL MATCHES
HIGH ENERGY RETURNS
The futsal balls are fitted with two air cushions made with 2.5mm EVA foam, providing high energy returns ideal for rebounds and playability.
INCREASED PASSING SPEED
The casing of the official futsal ball is manufactured using high quality coated PU material to provide increased passing speed and longevity.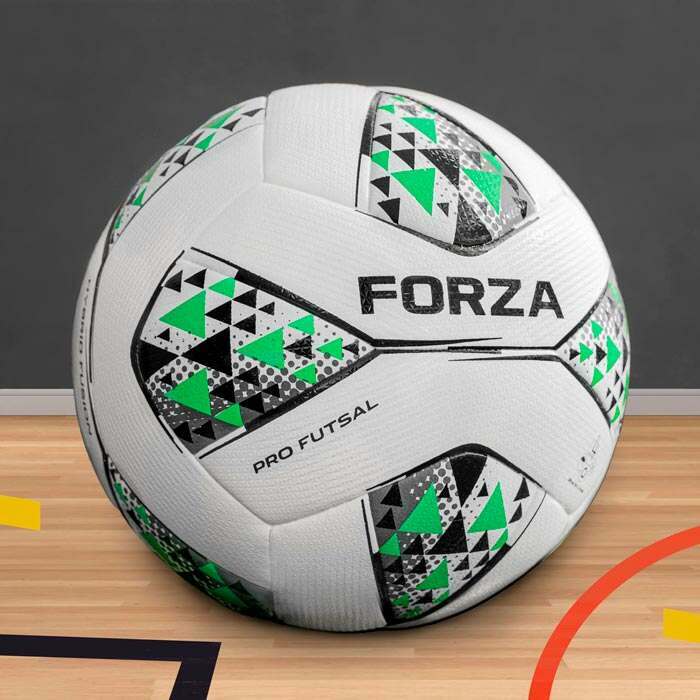 PERFECT BOUNCE & CONTROL
The Butyl bladder construction offers an optimal low bounce for players, which is ideal for indoor games and controlling the ball.
Description
FUTSAL MATCH BALLS - FUTSAL FOOTBALL AVAILABLE IN VARIOUS PACK SIZES
Add a touch a class to your next futsal game with the FORZA Pro Futsal Balls. The balls are available in size 3 and size 4 (regulation size and weight) and are supplied in packs of 1, 3 & 12. First touch & ball control is a key skill in futsal, which is why the FORZA Pro Futsal balls are fitted with a Butyl bladder filled with polyester fibres to provide optimal air retention, making a perfect bounce whilst providing excellent control. Supplied in a sleek green/white/black design, the futsal balls have a hi abrasion PU casing, which makes the ball suitable to use on multiple playing surfaces, such as AstroTurf, grass and indoors. The PU material of the ball is water & tear resistant, meaning it is a common material choice for premium level balls. Reinforced with a layer of PV, manufactured using an interweaving method and laminated with high ammonia latex, the ball is then treated with 60% dry rubber to provide bacteriostatic protection and longevity.
FORZA Pro Futsal Ball – Futsal ball size 3 and futsal ball size 4 both available in packs of 1, 3 & 12
Each futsal match ball is made with hi abrasion PU casing for consistent performance on multiple playing surfaces
The indoor futsal ball offers a perfect bounce and excellent control
Get an official futsal ball with the size 4 ball option, or get the size 3 ball for younger players
The coated PU material of the ball provides players with increased passing speed
Specifications
FORZA Pro Futsal Ball Specifications
DIMENSIONS:
Size 3 (L x W x H): 20cm x 20cm x 20cm (7.9in x 7.9in x 7.9in)
Size 4 (L x W x H): 22cm x 22cm x 22cm (8.7in x 8.7in x 8.7in)
Surface Layer Thickness: 1.1mm (0.04in)
MATERIALS:
Reinforced with a layer PV & made using an interweaving method
Laminated with high ammonia latex and treated with 60% dry rubber for longevity
Print of the ball is made using reactive & cross-linked PU ink for scratch resistance
Material Composition: Polyurethane based material on microfibre backing
PU material allows for high level of performance due to the elasticity of the material
PU is also water & tear resistant, meaning it is a common choice of material for premium balls
Bladder: Butyl 2200y of polyester for better air retention than latex balls
The use of high percentage of butyl for the bladder allows the ball to retain its shape better
Casing Material: Hi abrasion PU for multi-surface use and provides consistent performance
MISCELLANEOUS:
24 Panel ball in green/white/black
Size 4 ball conforms to official Futsal Match regulations