FORZA Football Free Kick Mannequins [3 Sizes]
FORZA Football Free Kick Mannequins [3 Sizes]

Football Free-Kick Mannequins For Set-Piece Training Drills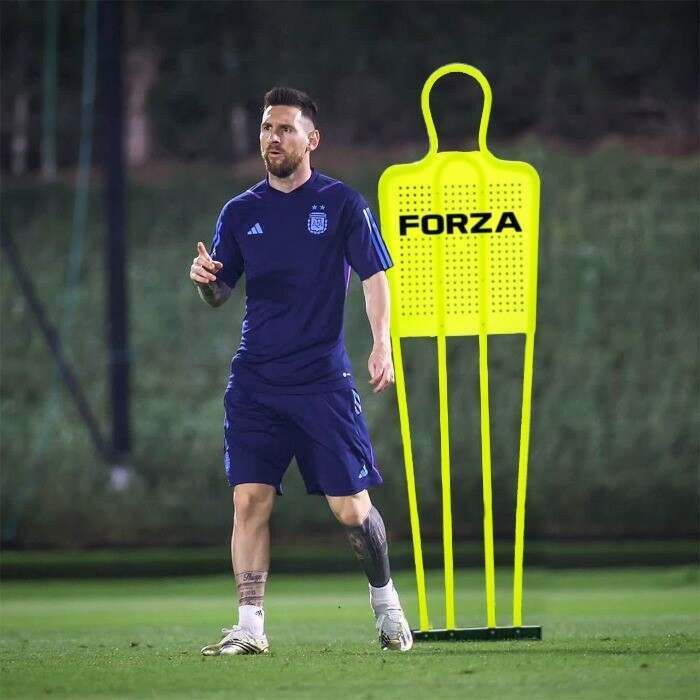 Heavy-Duty Mannequins
Completely life-size in both width and height, these football mannequins are tough enough the deal with the hardest of hits.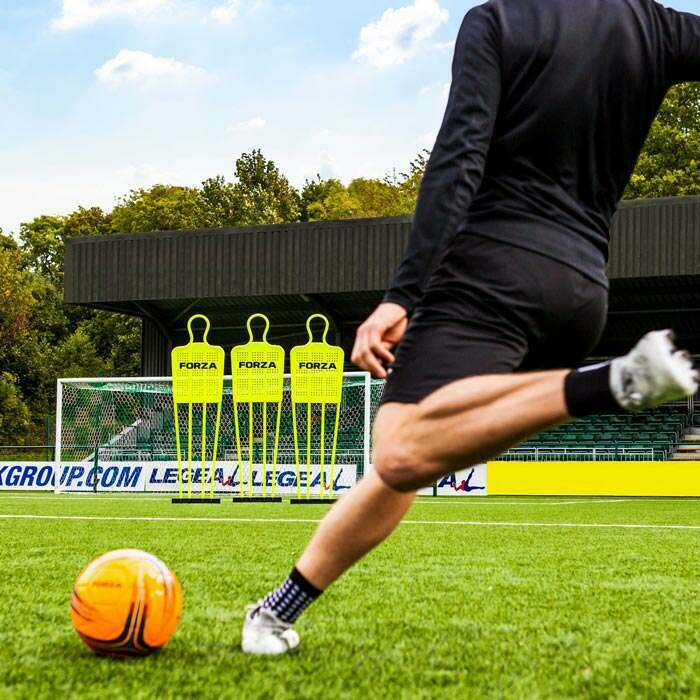 Professional Training Aid
Tried and tested football training equipment by professional clubs, these mannequins are the best way to improve your free kick technique.
Premium Training Dummies
Manufactured from robust, durable PVC and built-in steel ground spikes, these free kick mannequins will last for season after season.
Description
TOP OF THE RANGE FOOTBALL FREE KICK MANNEQUINS WITH OPTIONAL UPGRADES
Elevate your football skills with our FORZA Football Free Kick Mannequins. Available in 3 sizes and in packs of 1 or 3, the mannequins are ideal for players of all ages and abilities. Designed to obstruct the free-kick taker's view of the goal, the sturdy football training equipment set is perfect for effective set-piece drills. Manufactured with a shatterproof PVC body and moulded chest plate, the mannequins offer increased support and long-lasting use. Each mannequin is highly visible in all weather conditions, thanks to the UV protected fluorescent yellow design. Featuring four integrated ground spikes on the base, the football set-piece mannequins insert into soft grass surfaces with ease. They can be adapted to suit astroturf and hard ground surfaces through purchasing our FORZA Rubber Base for Free Kick Mannequins (sold separately). Add our optional heavy-duty carry bags to your order for a safe storage solution and easy transportation.
Available in 3 sizes – Mini (4ft/1.2m), Junior (5.4ft/1.6m) & Senior (6ft/1.8m)
With a pack of 1 or 3 available, you can choose to construct a defensive football wall for your free-kick drills
Free kick wall dummies are fluorescent yellow in colour for excellent visibility in all conditions
Easy to insert into soft surfaces, such as grass, due to the four steel spikes
Manufactured from heavy-duty PVC and boasting a moulded chest plate for durability
Specifications
FORZA FOOTBALL FREE KICK MANNEQUINS [3 SIZES] SPECIFICATIONS
DIMENSIONS:
Mini (Inserted into ground): 4ft (3.8ft) | 1.2m (1.15m)
Junior (inserted into ground): 5.4ft (5.2ft) | 1.6m (1.58m)
Senior (inserted into ground): 6ft (5.8ft) | 1.8m (1.76m)
Mannequin Carry Bag (L x W x H): 197cm x 13cm x 54cm | 78in x 5in x 21in
MATERIALS:
Each mannequin has a sturdy PVC body with a moulded chest plate (60cm/24in wide)
MISCELLANEOUS:
Colour: Fluro Yellow
Each mannequin incorporates 4 ground spikes so they can be solidly skewered onto soft surfaces, such as grass
For even greater stability, these free kick mannequins can also be used with weighted rubber bases (sold separately)