FORZA Agility Rings [12 Pack]
FORZA Agility Rings [12 Pack]
MULTI-SPORT SPEED & FOOTWORK TRAINER FOR SPEED LADDER DRILLS
QUICK & EASY SET UP
Supplied with clips to attach the football agility rings together, it is simple to set up your training course in multiple ways to get the most out of your players.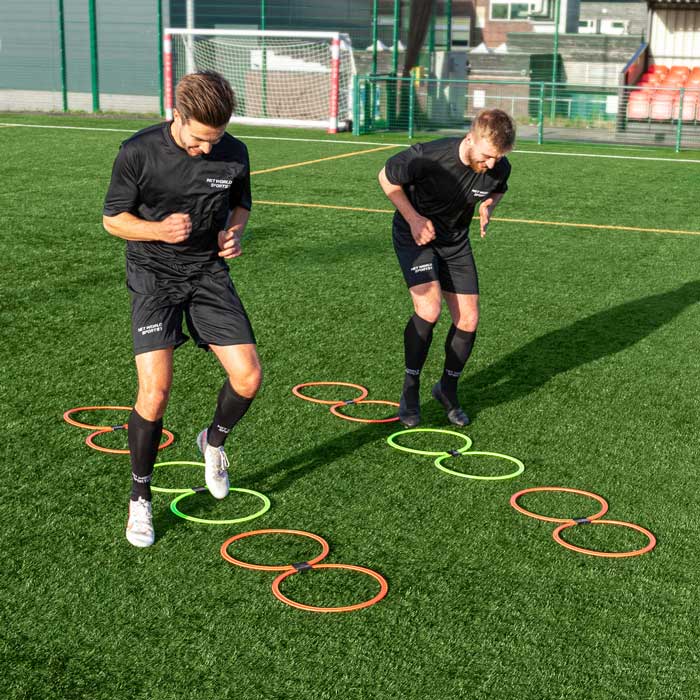 MULTI-SPORT AGILITY TRAINER
This versatile sports agility training kit can help improve the footwork of players in any sport, including football, rugby, cricket, tennis and much more.
Used By The Elite
Like a lot of the FORZA training range, these agility rings are used by the very best in the game including Premier League Champions, Manchester City.
Description
FOOTBALL FOOTWORK TRAINER – PACK OF 12 SPEED & AGILITY RINGS
The speed rings come in a pack of 12 and in multiple colour options (orange/yellow, yellow, orange, pink, white, black, red, claret red, sky blue & electric blue), so you have a good supply of equipment to perform your speed & agility drills. The versatile hoop agility rings can be used for speed & acceleration training to aid the athleticism of your players in multiple sports, such as football, rugby, tennis, cricket, athletics & more. Several agility rings drills can be performed thanks to the ctouch fastening straps supplied with your speed & agility kit. The straps are easily attachable to the rings & allow for different speed & agility training exercises/speed training drills to be worked on. A drawstring carry bag is included with the agility training supplies for ease of transportation between training sessions & storage. Made from ultra-durable plastic, the rings can withstand regular agility ring exercises & remain in excellent condition, even when faced with inevitable kicks that come with any agility ring workouts.
FORZA Agility Rings – Pack of 12 footwork training hoops in 10 colour options
Agility speed rings suitable to use in any sport that requires speed & quick footwork
Manufactured from ultra-durable plastic to withstand regular agility hoop drills
Clips included to attach the hoops together - Perfect for speed training drills
Supplied with a carry bag for storage & portability to all training areas
Specifications
FORZA AGILITY RINGS SPECIFICATIONS
WHAT YOU GET:
12x Agility Rings (10x Colour Options: Fluro Yellow, Fluro Orange, Fluro Yellow/Orange, Fluro Pink, White, Black, Red, Claret Red, Sky Blue & Electric Blue)
Pack of clips to attach the agility training equipment together
Carry bag included
DIMENSIONS:
Agility Ring Diameter: 420mm | 16.5in
Agility Ring Weight: 0.7kg | 1.54lbs
MATERIALS:
Made from ultra-durable PP plastic
MISCELLANEOUS:
Suitable for use on both hard & soft surfaces
Speed and agility training kit is fully weatherproof, suitable to use in all conditions
Recently Viewed
Spring Loaded Aussie Rules Football Training Slalom Poles
SG$99.99
3.7m x 1.8m FORZA Match Football Goal Post
SG$399.99
3.7m x 1.8m FORZA Steel42 Football Goal
SG$579.99
3.7m x 1.8m FORZA Football Goal Post
SG$329.99
7.3m x 2.4m FORZA Alu60 Football Goal
SG$1,924.99