FORTRESS Pro Softball Pitching Screen [Nimitz Edition]
FORTRESS Pro Softball Pitching Screen [Nimitz Edition]
THE PRO SOFTBALL PITCHING SCREEN FOR UNBEATABLE PROTECTION
THICK FOAM PADDING
The 1in thick foam padding increases the lifespan of your screen and absorbs the impact from ricocheting baseballs and softballs, keeping your players and equipment safe.
HEAVY DUTY NETTING
The FORTRESS Nimitz Softball Pitching Screen boasts our most formidable baseball netting – the top-spec #62 grade knotted HDPE twine with a 45mm mesh.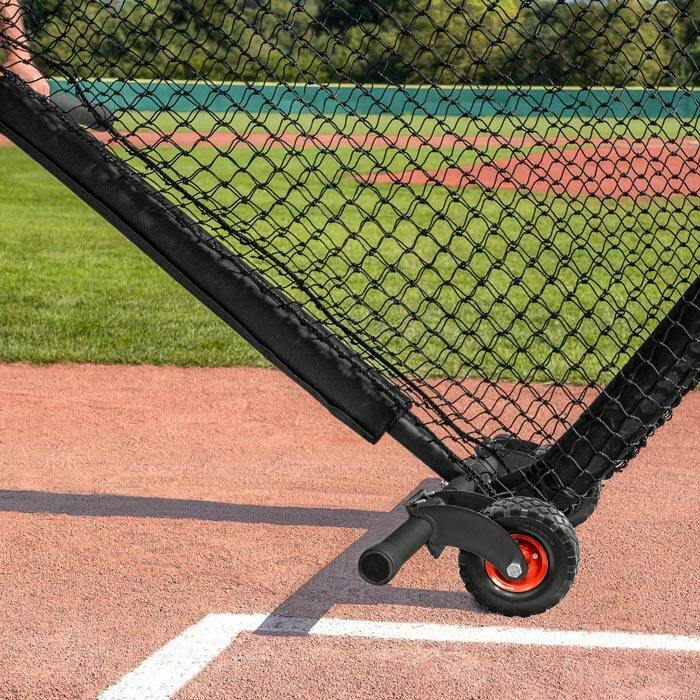 TRANSPORT YOUR SCREEN
Quickly and easily transport your softball pitching screen with our attachable pair of wheels, providing the support need to move your screen from storage to the field.
Description
PRO SOFTBALL PITCHING SCREEN FOR FAST PITCHERS AND HARD HITTERS
Softball players are known for their hard hits and fast pitches, which is why we offer top quality protection during training drills with this softball pitching net. With a padded edge acting as a safeguard, no loose balls will be hitting your pitchers when using this softball pitcher protective screen! By giving your players the best equipment to train with, you give them the best possible chance of reaching their full potential on the field. This softball protective screen will do just that by protecting your players and unleashing your hitters to swing without fear. This softball front toss screen will stand up to the hardest hits, year after year. The double layered #62 weight net is specially designed to take hits from professional players without the need to replace this softball screen every season, which highlights the quality of this softball screen.
Formidable frame made from black powder coated 2in steel tubing
1in thick foam padding covers edges of the screen to protect players and frame
Top-spec #62 grade netting is UV stabilised and 100% rot proof
Wide steel feet for complete stability under consistent, powerful impact
Assembles quickly with double bolts on all corners for super strong joints
PLEASE NOTE: This product is available with wheels.
Specifications
FORTRESS Pro Softball Pitching Screen [Nimitz Edition] Specifications
DIMENSIONS:
Height: 7ft (2.13m)
Width: 7ft (2.13m)
MATERIALS:
Net: Ultra-durable, black powder coated 2in steel tube frame
Heavy duty #62 weight black netting in a pillowcase style
Thick 1in foam covers the screen edges and protects players and the frame from damage
Steel feet for the ultimate stability
MISCELLANEOUS:
Cut-out at mid height positioned to one side
Netting is UV stabilised and rot proof as standard, all edges are overlocked with 1/4 inch thick rope
Available with wheels