Foldable Drinks Bottle Carrier
Foldable Drinks Bottle Carrier
Foldable Drinks Water Bottle Carrier for Sports Teams
Compact Foldaway Design
Easily store your sports bottle carrier away when not in use. The carrier folds into a 2in thick, flat package - making it easy to store for those with little space.
Fist Grip Handle
The water bottle carrier's handle has a fist grip handle is designed to prevent strain on the user's hand when carrying the sports bottle carrier.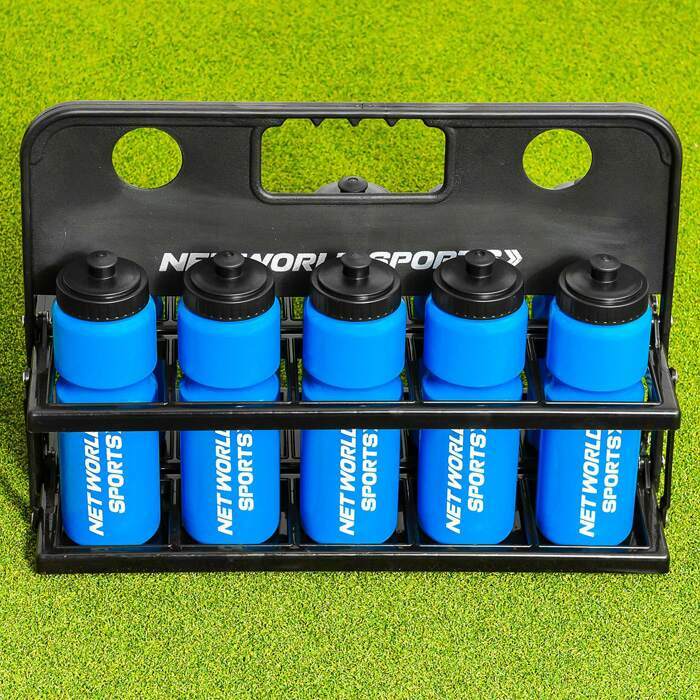 Carry 10 Bottles At Once
Take 10 water bottles at once to your team with this carrier. Each bottle has its own 3in x 3in square 5.5in slot deep to keep the bottles from spilling in transit.
Description
Carry up to 10 water bottles with this hardwearing durable foldable water bottle carrier.
Easily hydrate your team mates with this foldable plastic sports water bottle carrier. Made from sturdy plastic this carrier holds up to 10 sports bottles and folds into a compact 2in wide package, the perfect size to store on the back of the team bus on matchday or transport bottles at the training ground.
Holds up to 10 water bottles at once for teams on the go.
Each bottle has its own individual square section which measures 3in x 3in & 5.5in deep.
Includes ergonomic fist grip handle to make carrying sports drinks bottles comfortable.
Sports bottle carrier is manufactured from durable & strong PVC plastic.
The water bottle carrier measures 19in x 8.4in when unfolded & 2in wide when folded.
Manufactured from sturdy black PVC this carrier has an ergonomically designed fist grip, each finger has its own groove to ensure carrying 10 water bottles feels as natural as possible. The lightweight plastic is also easy to clean meaning you can take this carrier onto even the muddiest of pitches without the worry of ruining your matchday equipment.
Each sports bottle has its own individual square section which is designed to be secure and keep the bottles in place whilst on the go. Each section measures 3in x 3in square and 5.5in deep which will keep your bottles in place. This allows you to run over to your team mates and supply them with water during pivotal stoppages in play without the risk of your team's sports bottles tumbling out of the carrier.
Keep your sports team hydrated has never been easier thanks to this foldable water bottle carrier. At Net World Sports we also offer a wide range of water bottles including 1 litre hygiene bottles, 500ml running bottles and 750ml sports bottles.
Specifications
Strong plastic carrier with carry handle
Foldable for easy storage
The dimensions of each water bottle space is approximately 8cm x 8cm and is 14cm deep
Capacity: 10 Bottles
You may also like
10 Water Bottles (750ml) & Foldable Bottle Carrier
SG$49.99
Team Hygiene Water Bottle (1 Litre)
SG$10.99
FORZA Pro Training Vests [5 - 15 Packs]
SG$19.99
FORZA Resistance Speed Chute
SG$24.99