FORZA Complete Collegiate American Football Package
FORZA Complete Collegiate American Football Package
AMERICAN FOOTBALL FORZA DOWN MARKER AND CHAIN SET
Distinct Down Marker Numbers
Down box numbers come in high visibility orange and finished with white edging to ensure visibility during low light situations.
Complete Down And Distance Set
Set includes one ultra-durable down box marker and one robust galvanised steel sideline chain set, which easily helps officials with ball placement.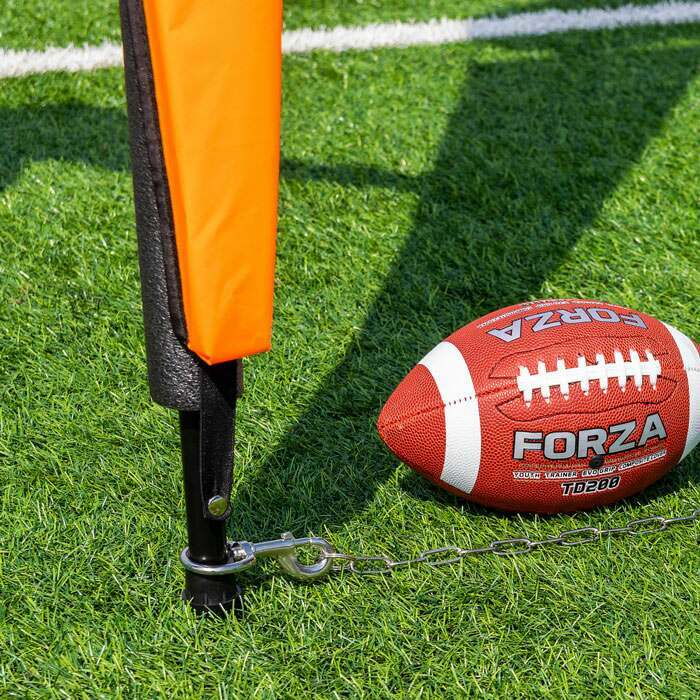 Weather Resistant Markers
Both down box marker and sideline chain feature weatherproof materials that ensure quality and performance no matter the weather.
Description
Highly Visible Collegiate American Football Down and Distance Marker For All Ages And Skill Levels
Highlight that all important first down location with this complete down and distance package. Comprised of one ultra-durable American football down box and one robust sideline chain set, this package is will ensure a professional look and feel to your field. Manufactured from weatherproof materials, this collegiate American football kit is suitable to be used in all conditions all year round
Complete set includes one American football down box and one sideline chain set
Markers are fully padded with PVC vinyl casing
Features highly visible orange numbers with white edges
Sideline galvanised steel chain measures 10 yards in length and end poles measure 2.4m in height
Down box marker and sideline marker are made from weatherproof PVC
Down box and sideline chain can also be purchased separately
American football down box features 29cm high visibility numbers that stand out during low light situations such as friday night games. The numbers large size work in combination with the orange colour with white edging that provides additional visibility. This vibrant American football down box marker sits atop a padded two-piece powder coated aluminium pole that is also weather resistant. This highly durable post will not rust or suffer from wear due to the powder finish while the protective padding on the post significantly reduces the risk of injury from collisions
The sideline distance chain is manufactured from a robust galvanised steel which will not rust or suffer from wear after heavy rainfall. Each sideline banner features weatherproof and wipe clean PVC vinyl which ensure the distance chain is protected from the harshest of weather conditions. This unique combination of materials allows you to use this down and distance set consistently all year round. The banners design features multiple chevrons that further increase visibility, aiding officials, coaches and players to clearly see the distance required before a first down.
Specifications
Dimensions
Down Box Marker Height: 2.2m (7ft 4in)
Sideline Chain Set Height: 2.4m (8ft)
Materials
Down Box Marker: Padded box
Down Box Marker Support Pole: Powder coated two-piece aluminium pole
Sideline Chain Set: Fully padded PVC vinyl banner with a galvanised steel chain
Sideline Chain Set Support Pole: Powder coated two-piece aluminium pole
Miscellaneous
Orange numbers with white edging provide exceptional stability
American football groundsman equipment is weatherproof
Complete set comprises of a down box marker and a sideline chain set
Sideline chain set and down box marker available separately in the drop down
You may also like
FORZA American Football Goal Posts [Pair]
SG$22,349.99
3m x 1.8m FORZA American Football/Football Combination Goal Posts
SG$449.99
2.4m x 1.5m FORZA Steel42 American Football/Football Combination Goal Posts
SG$599.99
FORZA American Football Tackle Shield With Double Wedge [Pro Model]
SG$239.99