2.44m x 1.54m FORZA American Football/Football Combination Goal Posts
2.44m x 1.54m FORZA American Football/Football Combination Goal Posts
Emulate the stars of the Premier League and NFL with this FORZA Combination Goal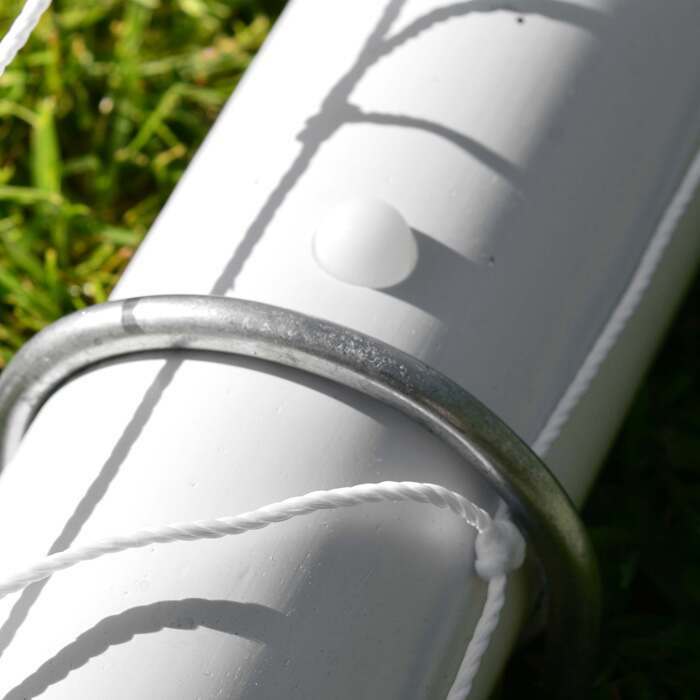 Essential Locking System
The unique essential locking system secures the goal parts together to keep the back garden entertainment safe during goal mouth action.
Superb Adaptability
Whether you're aspiring to be Cam Newton or Harry Kane, the 8ft x 5ft FORZA goal is suitable for both American football and football use for hours of fun.
Goal Accessories Included
The 2.44m x 1.54m FORZA combination goal comes with net clips and anchor pegs included to make installation as simple as possible to give you more play time.
Description
Double Your Efforts With The American Football And Football Combination Goal Post
The best garden goal for kids looking to replicate the skills of their favourite heroes. This combination goal net allows practice for both football and American football and is an ideal size for the back garden. Manufactured from sturdy uPVC, not only is this goal post durable but it is also lightweight for easy movement.
Weatherproof football and American football combination goal
Manufactured from uPVC for a lightweight and durable frame
FORZA essential locking system provides rigidity and strength
Easy and speedy assembly allows you to practice in minutes
3mm braided HDPP goal net with 50mm mesh to withstand the fiercest of shots
Measuring 2.44m x 1.54m (8ft x 5ft) in size, this FORZA combination goal post is designed with garden practice in mind. A uPVC frame and 3mm braided HDPP net create a long lasting and strong garden goal post that can withstand stray kicks or the harshest weather conditions. The weatherproof materials used in this dual-purpose goal post allow use all year round and prevents rot and wear for years to come
This American football and football garden goal features the FORZA essential locking system that allows quick and simple assembly to get kicking practice underway sooner. The lightweight and portable American football and football goal also comes with net clips and ground pegs included which help make installation as fast and easy as possible.
Specifications
Dimensions
Size: 2.44m x 1.54m (8ft x 5ft)
Upright Size 1.24m (4.1ft)
Materials
Manufactured from a strong uPVC
Goal net made from 3mm braided HDPP, 50mm knotless mesh netting
Miscellaneous
Net clips and anchor pegs are included
Designed for all ages
Unique FORZA essential locking system ensures all components of the goal slot securely together
You may also like
FORZA Pro Rugby Training Bibs/Vests
SG$24.99
Speed & Agility Training Ladder
SG$19.99
FORZA Pump That Ball™ - Ball Pump and Needle
SG$24.99
FORZA American Football Resistance Speed Chute
SG$34.99
Recently Viewed
6.4m x 2.1m (21ft x 7ft) FORZA Alu110 Socketed Football Goal
SG$2,299.99
Football Tactics/Coaching Board Replacement Carry Bags
SG$19.99
5m x 2m (16ft x 7ft) FORZA Alu110 Socketed Football Goal
SG$1,924.99
Black Armband (Remembrance / Respect)
SG$8.99
FORZA TD100 American Football Game ball
SG$29.99