5m x 2m FORZA Steel42 Football Goal
5m x 2m FORZA Steel42 Football Goal

5m x 2m Steel42 Football Goal - Premium Steel Garden Goal For Juniors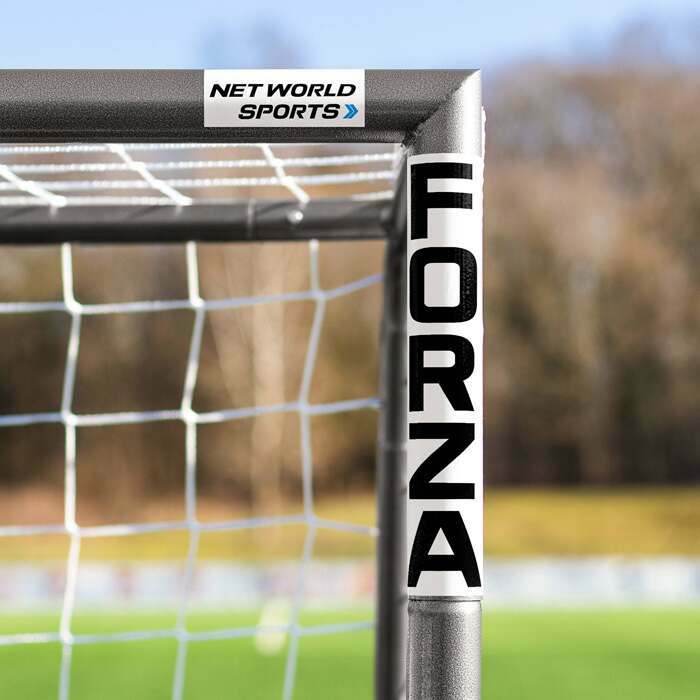 Formidably Strong Frame
Manufactured from thick 42mm galvanised steel, this premium garden goal is ideal for those wanting a goal for the garden or to train with
5m x 2m FORZA Steel42
The 5m x 2m goal frame is ideal for children up to the age of 12. This 9-a-side football goal will allow juniors to light up the garden training pitch
Weatherproof Garden Goal
The galvanised steel frame is rust and corrosion proof and can be stored outdoors while the UV treated goal net is perfect for use all year round
Description
5m x 2m Steel42 Football Goal – Steel Premium Garden Goal For Junior 9-A-Side Training Sessions
This 5m x 2m steel football goal is a premium garden goal for use by juniors. 5m x 2m goals are the regulation size for 9-a-side matches, and this top of the range strong steel goal has been designed to bring a professional touch to training sessions. The striking black galvanised steel frame provides a revolutionary and stylish edge while simultaneously cultivating the weatherproof nature of the goal and solidifying its durability. The best football goal for juniors, the FORZA Steel42 can be utilised for years upon years with the toughness and weather-resistance to be left set-up outdoors without becoming damaged.
High-strength 5m x 2m premium steel garden football goal for training use by 9-a-side playing juniors
Ultra-durable goal posts are made from 42mm galvanised steel with 2mm thick pipe tubing
3mm thick heavy-duty goal net which is UV stabilised and rot-proof for use in all weather conditions
The 5m x 2m garden goal is 100% weatherproof with the capability to be left outside without incurring damage
The steel tubing fits together and locks into place with the need for any tools during the assembly process
A truly premium garden goal for juniors, the 5m x 2m Steel42 has been manufactured from the finest materials to provide a durable and reliable goal. The goal frame has been harnessed from high quality 42mm galvanised steel, providing protection against the elements as well as hard impacts. Similarly, the goal features a straight crossbar which is conducive of a matchday goal due to its resistance to sagging and breaking. The weatherproof football goal won't come unstuck whatever the weather, and with ground anchor u-pegs included as standard, the steel garden goal can be securely rooted to the ground all year round.
Giving this 5m x 2m steel goal the full professional treatment is the included premium goal net. The heavy duty extra thick 3mm HDPE twisted goal net is incredibly strong and weatherproof due to the UV treatment that it has undergone. Adding a traditional touch to the black steel goal posts, the white net gives the 5m x 2m goal a classy finish. For secure attachment to the steel football goal, easy-to-operate bungee net ties are included. Due to its freestanding design, the steel garden goal can be deployed on any playing surface, while it can also be lifted and moved by two people. Highly strong and durable, there's no need for tools when assembling the goal, as the tubular frame simply locks into place.
PLEASE NOTE - The FORZA Steel42 range of football goals are premium quality steel goals which can be used in the garden. These unique and expertly manufactured goals are available in three sizes. If you require another size please click here.
Specifications
Dimensions
• Goal Size (length x height) 4.88m x 2.13m (16ft x 7ft)
• Top depth - 0.91m
• Bottom depth - 1.98m
Material
• Manufactured from quality 42mm round galvanised steel
• White heavy duty 3mm thick net with 100mm mesh
Miscellaneous
• Weight: 40kg / 88lb
• Goals are freestanding so retain portability, but require 2 people to move them
• Pipe wall is approximately 2mm thick
• Set Comprises of: steel frame, heavy duty football net, bungee cord net attachments and anchor u-pegs
You may also like
5m x 2m FORZA Match Football Goal Post
SG$599.99
5m x 2m FORZA Alu60 Football Goal
SG$1,234.99
Freestanding STOP THAT BALL™ - Ball Stop Net & Posts [10ft High]
SG$229.99
5.6m X 2m FORZA Alu60 Football Goal
SG$1,564.99
5.6m x 2m FORZA Alu110 Freestanding Football Goal
SG$4,399.99