5m x 2m FORZA Alu110 Freestanding Stadium Box Football Goal
5m x 2m FORZA Alu110 Freestanding Stadium Box Football Goal

Add Intensity To 9 v 9 Matches With This 5m x 2m Box Football Goal
Double Ratchet Net System
Lining up with a 5mm braided twine box goal net, the 5m x 2m box goal features a unique double ratchet system which keeps the net taut. Stability is further enhanced by the extra back bracing bars.
Portable Freestanding Goal
The optional high lift wheels raise the goal 100mm off the ground to glide smoothly when used on any surface. The box goal has been designed with welded corners which are stronger than mitred joints.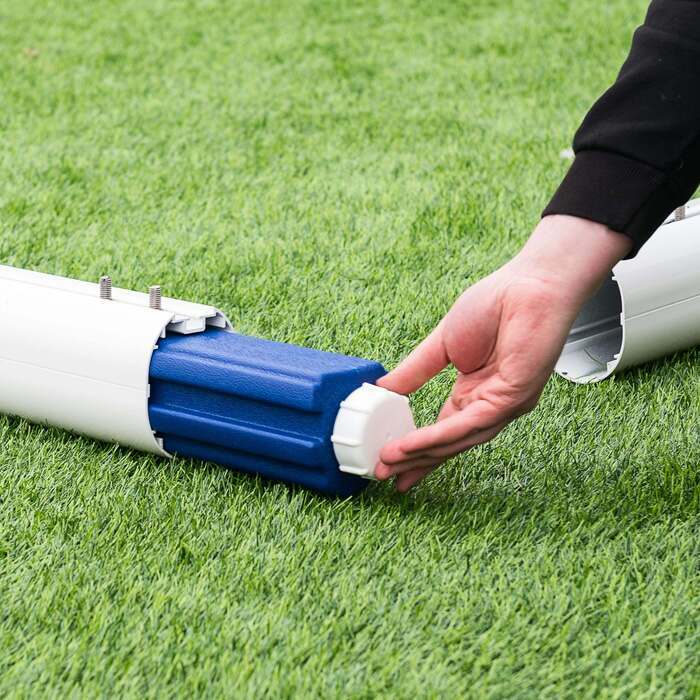 Add Weights For Extra Safety
While this box goal has passed all relevant safety checks, you may choose to take further precautions by adding internal counterbalance weights to your goal. Slide the weights into the frame for stability.
Description
This 5m x 2m Freestanding Stadium Box Football Goal Is The Ultimate Football Goal For Junior Matchdays
Youth teams with their sights firmly set on making a mark within the game require the same high levels of football equipment which is bestowed upon the seniors. This freestanding 5m x 2m box stadium football goal brings a touch of professional class to junior matchdays, while also harbouring the versatility to perform at its peak during club training sessions. High in quality, strength and portability, this is the best junior football goal on the market, making each matchday come alive with the intensity of a World Cup tie.
Eye-catching stadium box goal net shape which remains taut throughout use without sagging in the middle
Double ratchet system and extra back bracing bars combine to maintain the perfect box net shape
Goal framework is manufactured from 110mm reinforced weatherproof aluminium with a powder coat finish
Provide perfect portability with the optional heavy-duty lever type football goal wheels
Option to add internal counterbalance weights to prevent overturning and enhance safety measures
Youth team matchdays will never be the same again when this revolutionary 5m x 2m box stadium football goal is thrust into the action. Its professional quality box goal net shape is reminiscent of the conditions of high level matches, enhancing the environment which juniors play within. The impressive football box goal net stays strong and perfectly shaped no matter what punishment is sent its way, offering longevity and reliability which is second to none. Perfect for seasons worth of use, this long-lasting stadium football goal is a true table-topper.
Whether it's being used a top of the range youth team football goal, or helping a first team reach peak match preparation levels, this 5m x 2m football goal hits the back of the net. Painstakingly manufactured to avoid common flaws of inferior goals, the pristine box goal net doesn't sag down the middle, maintaining perfection until the final whistle is blown. The top of the range double ratchet system and stable back bracing bars keep the heavy duty, rot-resistant goal net in place, providing unparalleled performance during all weather conditions.
High intensity junior matches and full-throttle training sessions can take their toll on weaker goals. Only the best 110mm reinforced aluminium has been used in the manufacturing of this 5m x 2m stadium box football goal, ensuring that the goal stays upright and unblemished regardless of collisions with the ball. Finished off with a premium white polyester powder coating, the weatherproof football goal is equally adept at shrugging off the impact of the elements. Suitable for use on all surfaces, this versatile freestanding football goal is a premium choice for football clubs.
Shifting your goal between pitches can result in needlessly exerted energy which would be better spent out on the pitch. Our optional lever type football goal wheels do the hard work for you, raising the goal up to 100mm off the ground and gliding along the ground without the need for heavy lifting. Designed with longevity in mind, the heavy duty, puncture proof wheels won't come unstuck on variable surfaces, providing the same high levels of performance of 3G, 4G and indoor pitches as it does on classic grass fields.
You can rest assured that all relevant safety measures have been carried out on this 5x2 stadium football goal, as they have been independently tested to BS EN 748/8462 safety standards as well as complying with worldwide match regulations. To take safety measures to the next level, there is the option to add high quality internal counterbalance weights to your goal. These innovative weights slot into the goal, preventing overturning and ensuring guaranteed safety. Loaded with match-winning quality, this 5m x 2m stadium box football goal is the best football goal for youth teams.
PLEASE NOTE - Custom coloured goal nets are available upon request. Please contact our friendly customer support team for further information.
Specifications
5m x 2m FORZA Alu110 Freestanding Stadium Box Football Goal
Size
Design
Premium box goal net shape
5mm HDPE braided box stadium goal net
Net is tensioned by a unique double ratchet system
Extra back bracing bars for enhanced stability
Net does not sag in the middle, providing the ultimate goal net
Goal Frame Materials
Club spec goal is manufactured from 110mm diameter reinforced aluminium and powder-coated white
Aluminium goal frame provides fantastic protection against rust and corrosion
Fully weatherproof and highly durable
Optional Extras
Heavy duty lever type anti-puncture wheels for easy portability
Internal counterbalance weights for enhanced safety measures
Miscellaneous
Goals will be delivered in flat pack form and will require assembly
It is advised that the following tools would be useful to help with assembly: mallet, wrenches, ratchet with sockets
1 year guarantee as standard with all FORZA football goals
Please Note: This goal has been independently tested to BS EN 748 safety standards. To view the video please click here.
Goals are independently tested to BS EN 748 safety standards and comply to FA, UEFA and FIFA regulations
Goals conform to FA Match standards. Net World Sports is recognised by the FA as a suitable supplier of football goals
Recently Viewed
METIS Olympic Hex Bar
SG$299.99
Vermont Mini Green Tennis Balls [Stage 1]
SG$14.99
FORZA Hurdle/Agility Poles & Clips
SG$29.99
Sports Drink Water Bottles (750ml)
SG$7.99
Football Kit Bags [7x Options]
SG$29.99