4.9m x 1.2m FORZA Alu110 Freestanding Football Goal
4.9m x 1.2m FORZA Alu110 Freestanding Football Goal

The Ultimate Football Goals For Fast-Paced 5-A-Side Action!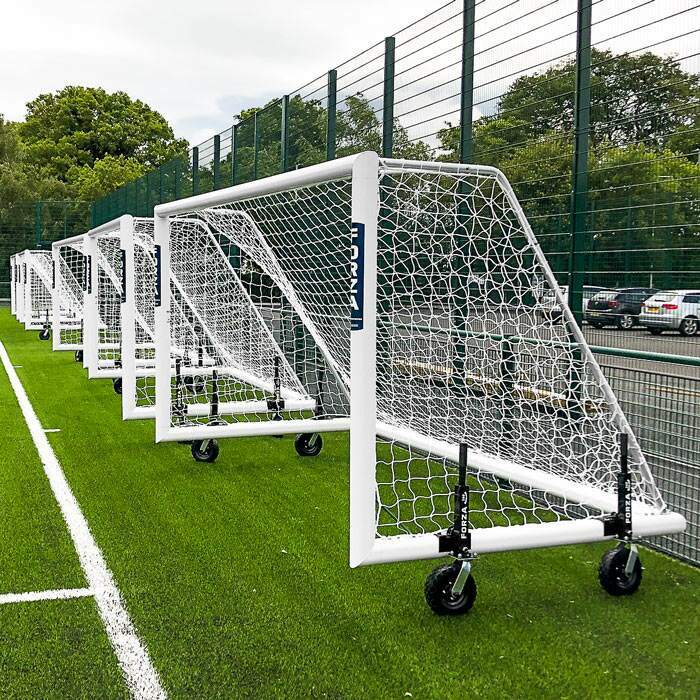 Upgrade To 360° Wheels
Add our revolutionary 360 degree wheels and move your football goal into any direction with ease. Developed alongside Manchester United, the wheels are a must-have for any football groundsman.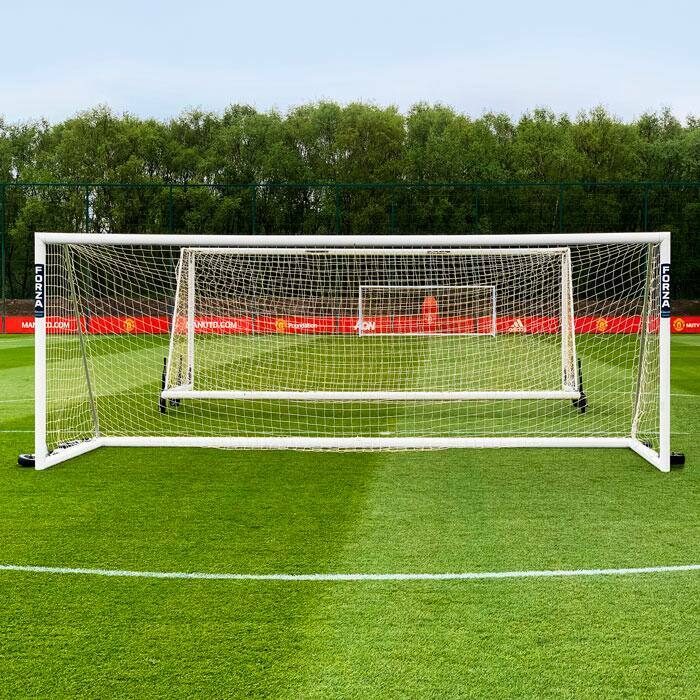 Full-Size Professional 5 v 5 Goal
Manufactured using professional-grade materials, the top of the range alu110 football goals have been applied to training sessions held for Manchester United's squad.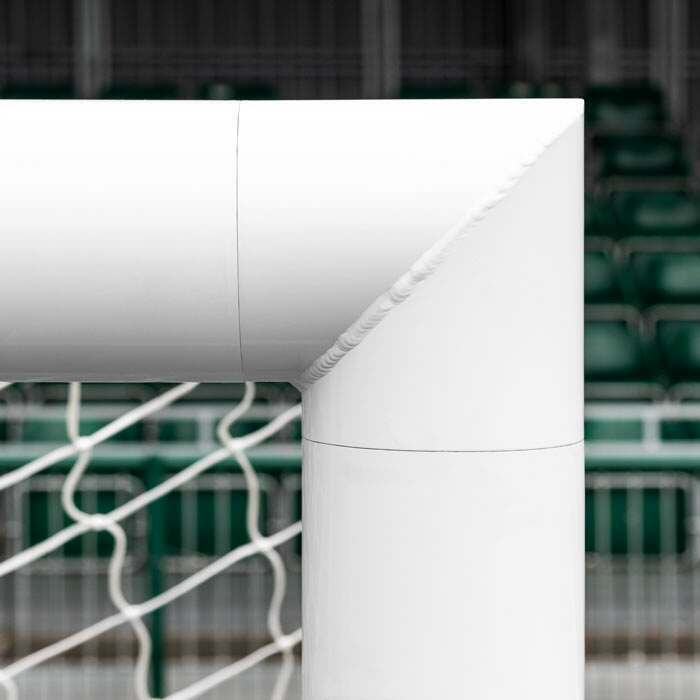 Robust Welded Corner Joints
Having been manufactured with substantial levels of durability, the heavy duty goal features welded corner joints which are stronger than mitred corners.



Description
Bring Professionalism To The 5-A-Side Pitch With This Aluminium FORZA Football Goal
This 4.9m x 1.2m freestanding FORZA Alu110 football goal is setting the benchmark as the very best 5-a-side goal on the market. This goal is the official size for 5-a-side matches and will guarantee a professional feel for the high paced small sided matches. The entirety of our FORZA Alu110 football goal range represent the goals of choice of Premier League, MLS & A-League teams worldwide. Guaranteeing high quality, this top of the range aluminium football goal hits the back of the net.
4.9m x 1.2m football goal which is perfectly sized for senior 5-a-side matches on indoor or outdoor pitches
Heavy duty goal posts which have been made from 110mm reinforced white powder coated and weatherproof aluminium
High strength football goal which is deceptively light in weight, making it portable when carried by two people
Optional lever type black rubber goal wheels which facilitate easy movement across any football playing surface
Optional internal counterbalance weights which have been expertly designed to fit within the inner profile of the goal
This freestanding aluminium football goal has been designed to perform on all playing surfaces, from soft grass pitches to 4G. This gives the goal a real sense of versatility as even though 5-a-side is mostly played indoors you can be rest assured that the goals will stand the test of time outside on the Astroturf too. Manufactured from ultra-durable 110mm diameter reinforced aluminium this football goal provides fantastic protection against rust and corrosion. As well as this, the strong frame combined with the UV treated, heavy-duty 5mm HDPE braided net makes this FORZA aluminium goal 100% weatherproof. So whether it's the gruelling task of taking on a hot summers day or you're doing battle in a blizzard, this FORZA football goal will stand up to the task.
Freestanding and self-weighted, this high quality aluminium football goal retains portability in spite of its heavy-duty design. The goal frame is light in weight, allowing it to be moved with ease. This is perfect for those who require a versatile goal for training and matches as it can be manoeuvred between pitches. To take the mobility of your aluminium football goal to the next level, there is the option of adding heavy-duty, lever-lift wheels for optimum ease of movement.
Upgrade your goal:To optimise mobility further you can choose to add our revolutionary lever type puncture proof wheel system. This innovatively designed system lifts the goal onto the wheels by simply pulling on the lever. By being able to lift the goal off the ground onto the puncture resistant wheels, it allows you to simply manoeuvre the goal as you see fit on any football playing surface whilst removing the threat of injury by eliminating any manual lifting. Moving from the sports hall to the playing fields has never been so simple!
To receive the full football goal package, you can also add weights to your order. The internal counterbalance weights ensure that the match goes own safely, simply fitting into the goal to prevent overturning during use. The heavy-duty weights keep the goal standing stable from the first whistle to the last, and require filling with sand, stone, metal or water prior to use (not included).
All the goals in our premium-quality FORZA Alu110 freestanding football goal range conform to worldwide match regulations set by the FA, MLS, A-League, UEFA and FIFA. As well as this, all our football goals are independently tested to BS EN 748/8462 safety standards. If you wish to view to video of the testing process, then please click here.To download the safety certificate, please click here.
Net World Sports is proud to be recognised by the FA as a suitable supplier of football goals.
The FORZA Alu110 range has been designed with power, strength and precision in mind. The goal retains all the FORZA characteristics of being great value for money and ultra-reliable but now possesses the additional qualities of being bigger, stronger and better than ever!
Specifications
Dimensions:
FORZA Alu110 goal size (width/height) 4.9m x 1.2m (16ft x 4ft)
4.9m x 1.2m soccer goals are the official size goals for 5-a-side matches
Goal bottom depth: 132cm (approximately 4.3ft)
Goal top runback: 40cm (approximately 1.3ft)
Materials:
Club spec goal is manufactured from 110mm diameter reinforced aluminum and powder-coated white
Aluminum goal frame provides fantastic protection against rust and corrosion
Each goal includes a heavy duty and weatherproof white 5mm HDPE braided soccer net plus twist & lock-style net clips for easy attachment
Miscellaneous:
Each individual goal will be delivered in 3 boxes – (Wheels/Weights will come individually boxed)
Goals will be delivered in flat pack form and will require assembly
It is advised that the following tools would be useful to help with assembly: mallet, wrenches, ratchet with sockets
1 year guarantee as standard with all FORZA soccer goals
Conform to ASTM 2950-14, NCAA, NFSHA performance & safety requirements as well as English FA BS EN Safety Standards
Please Note: This goal has been independently tested to English FA BS EN 8462 safety standards. To view the video please click here.
You may also like
5m x 2m (16ft x 7ft) FORZA Alu110 Socketed Football Goal
SG$1,924.99
5.6m x 2m (18.5ft x 6.5ft) FORZA Alu110 Socketed Football Goal
SG$2,169.99
3.7m x 1.8m FORZA Alu110 Freestanding Football Goal
SG$3,299.99
5m x 2m FORZA Alu110 Freestanding Football Goal
SG$4,124.99