5.5m x 2.2m FORZA Alu110 Freestanding Beach Soccer Goal
5.5m x 2.2m FORZA Alu110 Freestanding Beach Soccer Goal

STURDY BEACH FOOTBALL GOALS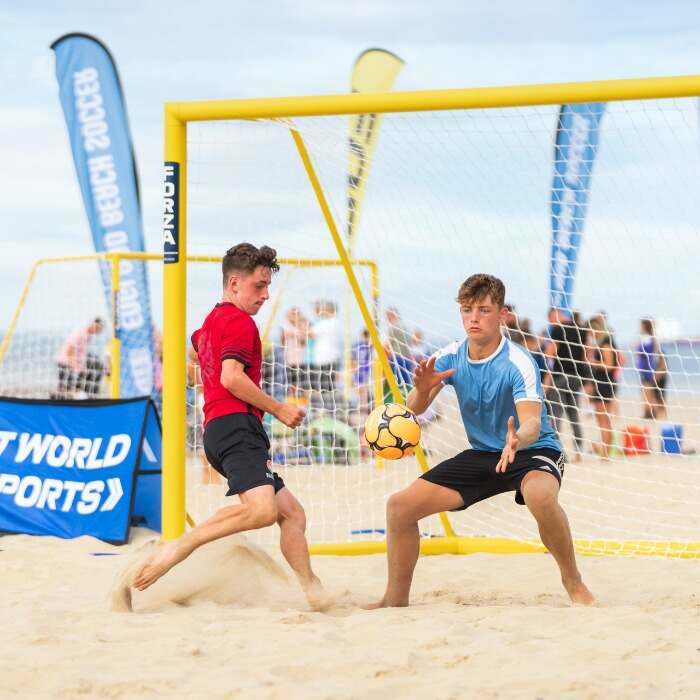 MULTI-USE BEACH FOOTBALL GOAL
The lightweight beach football goals are manufactured from a self-weighted freestanding frame, which allows the goals to be used on multiple surfaces with an easy assemble .
ALL-WEATHERPROOF ROBUST GOALS
Engineered from 3mm thick HDPE netting and 110mm corrosion-resistant posts, the robust beach goals are weatherproof and made to be used in all conditions.
PROFESSIONAL FIFA QUALITY
The 5.5m x 2.2m frame means that this beach football goal meets official FIFA regulations, ensuring a professional standard towards longevity in seasons to come.
Description
IMPROVE YOUR SHOOTING & GOALKEEPING – OFFICIAL FIFA REGULATION BEACH FOOTBALL GOALS
This 5.5m x 2.2m goal is perfect for both junior and senior football. The beach soccer goal size conforms to FIFA regulations, so you can play an official game of beach football or train with these full size goals. These goals aren't restricted to just beach football, thanks to its freestanding and self-weighted design, the multi-surface goal posts allow you to play on AstroTurf, 3G and more. Manufactured from powder coated yellow aluminium, the 110mm reinforced posts are scratch-resistant and protected from rust, as well as featuring welded corner joints for superior strength and durability. The high-quality goal posts and net are weatherproof, with a UV treated 3mm thick HDPE braided twine goal net included. Heavy-duty yet light enough in weight to retain its portability. Score your best beach football goals with this freestanding regulation beach soccer goal. Goals conform to FIFA & World Beach Soccer Regulations. Goal anchors available to suit here.
5.5m x 2.2m regulation size beach soccer goals for official beach football matches
Manufactured from powder coated yellow, 110mm diameter reinforced aluminium with welded corner joints
Heavy-duty yet lightweight football goal light enough to retain its portability
Weatherproof goal posts and net package with a UV treated 5mm thick HDPE braided twine goal net included
Optional internal counterbalance weights which securely fit within the profile of the goal frame
Easy assembly and dismantle process
PROUD SUPPLIER OF BALLS & GOALS TO ENGLAND BEACH SOCCER.
Specifications
FORZA Freestanding Alu110 Beach Football Goal 5.5m x 2.2m Specifications
DIMENSIONS:
Goal Size: 5.5m (18ft) W x 2.2m (7.3ft) H
Goal Top Runback: 0.9m (35in, approximately 2ft 11in)
110mm diameter reinforced aluminium
MATERIALS:
Club spec goal is manufactured from 110mm diameter reinforced aluminium
Powder coated yellow aluminium goal frame is rust free and scratch resistant
Includes a heavy duty and weatherproof white 5mm HDPE braided football net
MISCELLANEOUS:
Made to BS EN 748 safety standards when securely anchored
Cam plates are precision cut via laser to ensure smooth flowing operation system
Extendable non-trap lever handles for easy lifting
Easy-to-operate securing pin
Heavy duty extra thick steel brackets for long lasting reliability
All steelwork is zinc plate treated to protect against corrosion for long life
Complete with high tensile stainless nuts, bolts and washers to bolt wheel brackets to the goal's internal channel
Goals will be delivered in flat pack form and will require assembly
It is advised that the following tools would be useful to help with assembly: mallet, wrenches, ratchet with sockets
1 year guarantee as standard with all FORZA football goals