Vermont Fence Mounted Tennis Scoreboard [3 Sizes]
Vermont Fence Mounted Tennis Scoreboard [3 Sizes]

Professional Tennis Scoreboard For Your Tennis Court
High Visibility Discs
These Fence Mounted Tennis Scoreboards offer exceptional visibility to players & spectators. The easy-to-use, double-sided discs feature bold black numbering on an optic white background.
3 Sizes & Colours Available
With 3 different sizes & colours available, you'll be able to have the perfect scorer for your tennis court. The small version is ideal for tennis nets whereas the larger scorers will easily hang on fences.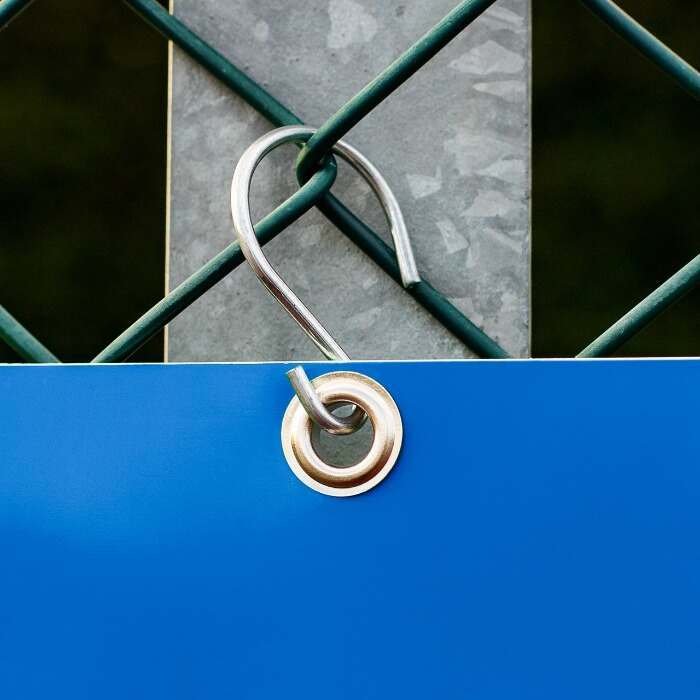 Year Round Use
Guaranteed to deliver exceptional durability, this tennis scoreboard features ultra-durable, UV stabilised plastic which prevents the numbers fading over time. Suitable for indoor & outdoor use.
Description
Professional Quality Double-Sided Match Pointer Tennis Scoreboard
Maintaining the score holds significant importance within any tennis match, & with the addition of the Vermont Fence Mounted Tennis Scoreboard to your tennis court, this task becomes remarkably straightforward. The innovatively crafted Vermont scoring device showcases sizable score discs, visible from a distance, & reversible to provide both players & onlookers with a clear score display. Lightweight & conveniently portable, these scoreboards are available in three sizes & three colours. Sizes are Small, Medium & Large with colours being Green, Blue or Black. The design facilitates easy score adjustments during end changes. Constructed using UV treated materials, these scoreboards have been purposefully engineered to sustain exceptional visibility over an extended duration. Applicable for both indoor & outdoor settings, the scoreboards are equipped with four brass eyelets resistant to corrosion, along with an anti-rust metal hook, streamlining the process of securing them to tennis nets and fences. These remarkable tennis scoreboards enable players to monitor the progress of up to 3 sets, making them perfectly suited to oversee intense battles on the tennis court.
Match Pointer Fence Mounted Tennis Scoreboard – 3 Sizes Available
UV stabilised materials to prevent scoreboard from fading over time
Features an anti-rust metal hook for easy hanging & security
Suitable for indoor & outdoor use - Lightweight & portable
Suitable for schools, leisure centres, tennis clubs & more
Specifications
Match Pointer Tennis Scoreboard Specifications
Sizes Available:
Small: 14in x 20in | 35cm x 50cm
Medium: 18in x 26in | 46cm x 65cm
Large: 22in x 31in | 56cm x 80cm
Colours: Green, Blue & Black
Materials:
Scoreboards feature UV stabilised plastic to prevent numbers from fading over time
Eyelets: corrosion-resistant metal
Hanging Hook: anti-rust metal
Miscellaneous:
Colours - green, blue & black
Scoreboard is double sided
Features high-visibility number discs
Can score up to 3 sets
100% weatherproof – suitable for indoor & outdoor use
Vermont Tennis Scoreboard is lightweight, fully portable & easy to assemble