Rugby Ball Passing Target Net
Rugby Ball Passing Target Net
Highly Durable Rugby Passing Target Net With Carry Bag
Heavy-Duty Netting
Equipped with a high-quality net which is manufactured from 30ply polyester with 45mm mesh, this rugby ball passing target net is more than capable of absorbing the force of a rugby ball, regardless of how hard it is thrown.
Accessories Included
This piece of rugby training equipment is supplied with a lightweight carry bag which allows you to effortlessly transport your rugby target net off the training fields. Four U-pegs are also supplied to keep your passing net upright throughout use.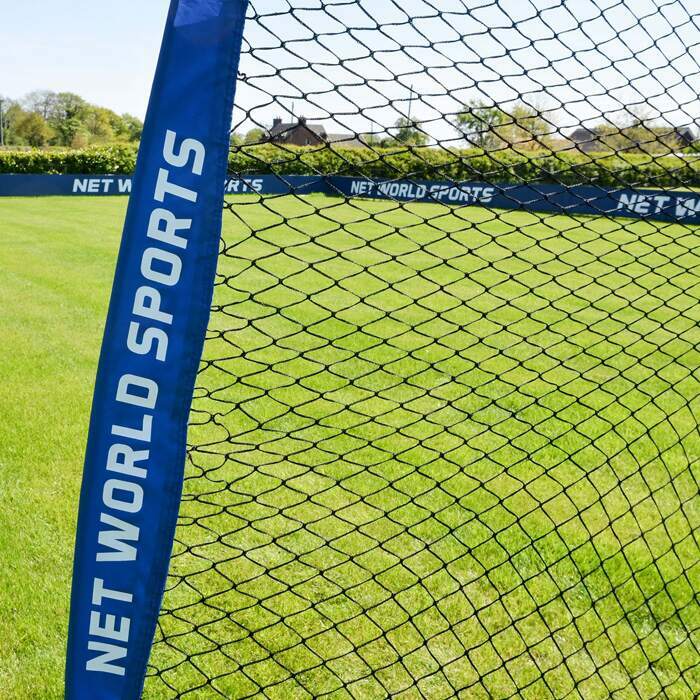 Ultra-Durable Frame
With a frame manufactured from 2cm thick powder coated steel and flexible 1.25cm thick fibreglass support poles, this heavy-duty rugby passing target will not break if it is struck by an inaccurately thrown rugby ball.
Description
Improve Your Scrum-half Passing With This Rugby Target Net
This 7ft x 7ft pop-up Rugby Ball Passing Target Net is the only training aid you'll need to get your scrum-half passing like Conor Murray. This portable passing target net is perfect for working on your passing accuracy on the training field or your back garden.
Sturdy steel base pole provides a heavyweight foundation for your rugby passing net
Lightweight fibreglass support poles are highly durable
Knotless 30ply poly netting has a 45mm mesh size – perfect for catching rugby balls
4 steel U-pegs included to fix firmly to grass surfaces
Carry bag included for easy storage and transportation
Easy to assemble, this target net incorporates a heavy duty steel powder coated pole base, with a strong 1.8in mesh net, ensuring that any misplaced passes have no effect on the passing target. The rugby ball target net also comes with a useful carry bag as standard, enabling you to take the passing target net with you for every training session.
One of the most important positions in rugby, the scrum-half is the vital link between defence and attack, distributing the ball for the full 80 minutes. Ensure your scrum-half is the most accurate in the league with this rugby passing target net and your other players will reap the rewards.
Specifications
Dimensions
Materials
Black, knotless polyester 45mm Mesh
0.9in Thick metal base poles which are powder coated steel
0.5in Thick fibreglass poles
Miscellaneous
Carry bag comes as standard
4 U-Pegs to anchor the net to grass surfaces
Colour: Blue
You may also like
Speed & Agility Rugby Training Ladder
SG$24.99
FORZA Rugby Tackle Tubes [Pro Model]
SG$499.99
FORZA Full-Height Rugby Tackle Bag [Pro Model]
SG$289.99
FORZA Rugby Curved Hit Shield [Pro Model]
SG$229.99
FORZA Pro Rugby Training Bibs/Vests
SG$24.99
Recently Viewed
Captains Armbands
SG$7.99
FORZA 5-Star International Match Hockey Balls
SG$29.99
FORZA Portable Team Shelter
SG$519.99
FORZA POD Aluminium Folding Football Goal
SG$479.99
FORZA Alu Mini Target Football Goal
SG$699.99