Paceman Pitching Machine 2018 [Original S2]
Paceman Pitching Machine 2018 [Original S2]
Let The Paceman Unleash Your Potential & Fast-Track Your MLB Career
Fully Adjustable Deliveries
Never miss another fastball, changeup or breaking ball with fully adjustable pitching. Vary speed and curve to push your batting boundaries.
Optional Battery Kit
Practice your pile-drivers wherever, whenever. The optional 12V deep cycle battery kit will power your Original S2 Paceman for 2 to 3 hours.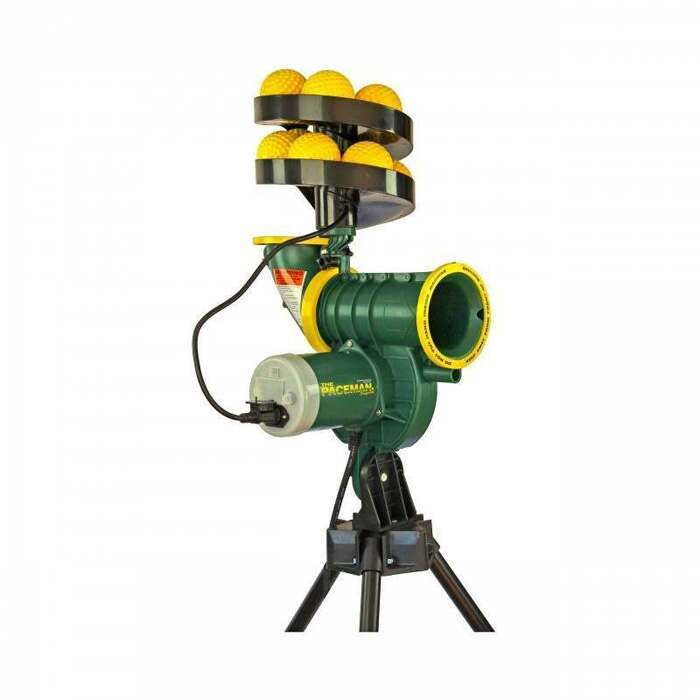 Your Own Personal Trainer
The Paceman S2 will become your own personal coach. Use with the FORTRESS Ultimate Batting Cage and transform your garden into a baseball arena.
Description
The Benchmark Pitching Machine – Elite Kit at an Unbeatable Price
Fast-track your batting game and evolve from little league beginner to MLB superstar with this sensational pitching machine. The Paceman Original S2 is a sure-fire way to drastically enhance your batting ability as you practice like a pro from the comfort of your own garden!
The Paceman is the benchmark for all pitching machines, offering outstanding features and quality at a snippet of the price of expensive club exclusive machines. The Paceman Original delivers consistent accuracy meaning you can rely on it for effective baseball and softball practice both at home and in club training sessions. Take advantage of the optional battery kit and enjoy use of your Paceman baseball pitching machine in a multitude of environments, such as grass fields, concrete or tarmac surfaces or on Astro Turf. Practice makes perfect, and with the second generation Paceman Pitching Machine you won't miss an opportunity to train again!
Whether you're a seasoned pro or just starting your baseball career, the fully adjustable speed of up to 90kph (over 55mph) means the Paceman Pitching Machine can be the catalyst to your improvement. For coaches and trainers at schools, baseball and softball clubs, this is a fantastic feature to step up training for batters of the appropriate age or level.
As well as adjustable speed, the Paceman S2 Original can vary pitch length and curve. This means you can perfect your batting and become fully prepared for any type of fastball or breaking balls the pitcher can throw at you!
Included in this fantastic package is the Automatic Spiral Ball Feeder especially made for the Original S2 Pitching Machine. This feeder holds 12 balls to save you time loading the machine, leaving you free to perfect your batting technique. The Original S2 also comes with one Paceman ball to get you started instantly, and to add an additional 12 pack of light Paceman balls simply select the option from the drop-down menu above. These balls are specially crafted for the Original S2 to ensure optimum effectiveness and accuracy of various pitch types to suit your needs in your quest to become the next Jose Altuve. Moreover, the design of the Paceman balls ensures maximum safety with a softer touch, without compromising on performance levels.
Please Note: The Paceman Original S2 Pitching Machine should be used only with Paceman Light, Junior or LTD balls.
---
| | | | | | | | |
| --- | --- | --- | --- | --- | --- | --- | --- |
| | Housing | Motor | Speed | Ball Feeder | Drive Wheel | Adjustment | Ball Compatibility |
| Pitch Attack | Plastic | AC | Up to 80kph | 6 ball feeder included | PU | Pitch & Swing | Light, LTD & Mixed |
| Original S2 | Plastic | AC | Up to 90kph | 12 ball feeder included | PU | Pitch & Swing | Light, LTD & Mixed |
| Strike | Metal | DC | Up to 110kph | 12 ball feeder included | Concave TPR | Pitch | Light, LTD, Mixed & Reg |
| Pro X2 | Metal | DC | Up to 110kph | 12 ball feeder optional | Concave TPR | Pitch, Swing & Spin | Light, LTD, Mixed & Reg |
Specifications
Features
Built-in 3G (Third Generation) Paceman Drive Mechanism
Speed of pitch can be adjusted using dial, up to speeds of 90kph (over 55mph)
Package includes 12-capacity automatic ball feeder
Inside breaking ball and outside breaking ball delivery function
MISCELLANEOUS
Paceman S2 Pitching Machine is fitted with a UK standard 3 pin plug, with UK mains powered (220-240v). For countries outside the UK, Ireland or Australia, a step up/down voltage converter may be needed to run the machine correctly on your local mains power supply.
Alternatively, the optional battery kit comprised of a 300W pure sine wave inverter and a 12v (22amp/hr) deep cycle lead-acid battery will provide enough power for around 2-3 hours of use. Please note the battery charger is not included.
Package includes 1 Paceman ball (additional balls can be purchased from Net World Sports).
You may also like
FORTRESS Ultimate Baseball Batting Cage & Poles
SG$1,399.99
Recently Viewed
2.4m x 1.5m FORZA GAA Goal Posts | Net World Sports
SG$299.99
Rugby Corner Flags & Poles Set
SG$59.99
Adjustable Training Hurdles [1.2m/1.5m]
SG$179.99
Cricket Net Vermin Skirt (Standard Sizes)
SG$74.99
Replacement Parts for FORZA Steel42 Goals
SG$34.99