ULTRA-DURABLE GROUND SCREW – TIME SAVING ANCHORING TOOL
EASY INSTALLATION
No heavy machinery is needed to install the ground screws. The steel ground screw can be inserted into most soils by hand. The best time saving alternative to a concrete base.
PLASTIC COLLARS
Thanks to a range of plastic collars, the ground screw is designed to accept different OD tubing. Sizes available: 27mm, 34mm, 42mm & 48mm. Perfect for any project you're working on.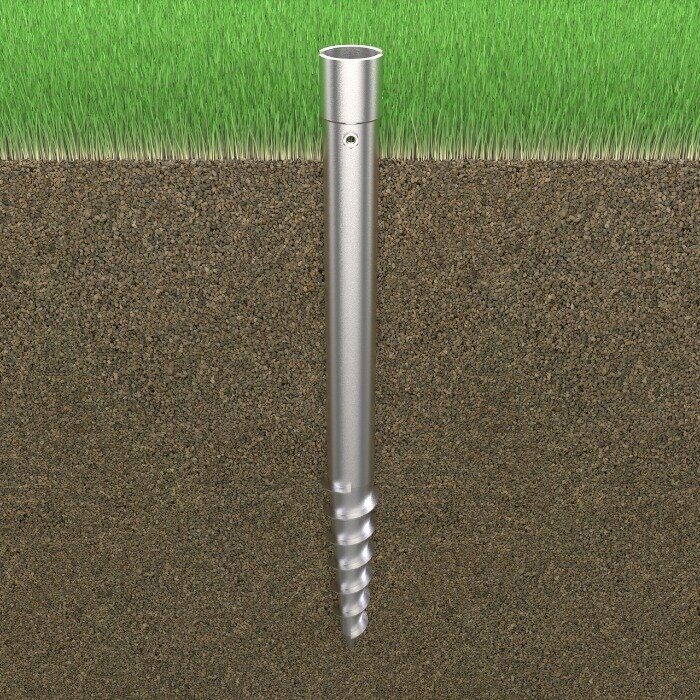 SIMPLE REMOVAL & RELOCATION
The ground screw is very easy to remove from the ground and relocate elsewhere. This makes the versatile tool extremely efficient & climate friendly compared to other processes.
Description
GALVANISED STEEL GROUND SCREW – TIME SAVING FOUNDATION TOOL
The multi-use ground screw is a climate-friendly option when it comes to foundations compared to other anchoring options. Plastic collars enable the ground screw to accept different OD tubing (27mm, 34mm, 42mm & 48mm). Made with galvanised steel, the ground screws are extremely durable & long-lasting in all-weather all year round. Install the multi-use ground screw by hand without the need for heavy machinery, no groundworks are required making it a fantastic time saving solution to ground anchoring.
Perfectly designed for ball stop nets
Manufactured from ultra-strong galvanised steel
Climate friendly alternative to concrete based foundations
Install in all weather – Rain won't halt installation
100% reusable – Once done, simply remove from the ground
Plastic collars enable OD tubing (27mm, 34mm, 42mm & 48mm)
Specifications
MULTI-USE GROUD SCREW SPECIFICATIONS
Dimensions
Ground Screw Length: 800mm Long | 31.5in
Plastic Collars: 27mm, 34mm, 42mm & 48mm | 1in, 1.3in, 1.6in & 1.9in
Material
Galvanised Steel
Plastic collars
Miscellaneous
No groundwork tools required
Sold individually
Recently Viewed
Vermont Tennis Court Drag Brush
SG$499.99
FORTRESS Cricket Bowling Machine Balls [12 Pack]
SG$74.99
Pro Street Hockey Goal
SG$539.99
FORTRESS Vulcan Cricket Cage
SG$1,724.99
GAA Pro Corner Pole & Flags With Ground Sleeves
SG$334.99