METIS Hex Dumbbells [2.5kg-30kg] - Pair
METIS Hex Dumbbells [2.5kg-30kg] - Pair

METIS HEX DUMBBELLS - BUILD YOUR STRENGTH AND TONE YOUR MUSCLES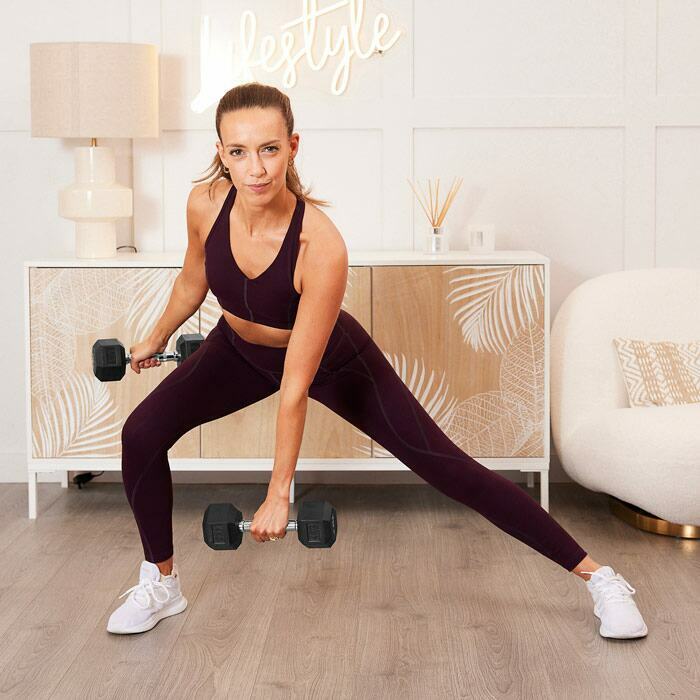 TONE YOUR MUSCLES
The pair of dumbbells are designed to work all major muscle groups and suited to a range of exercises to transform your body. Perfect for gyms & home workouts.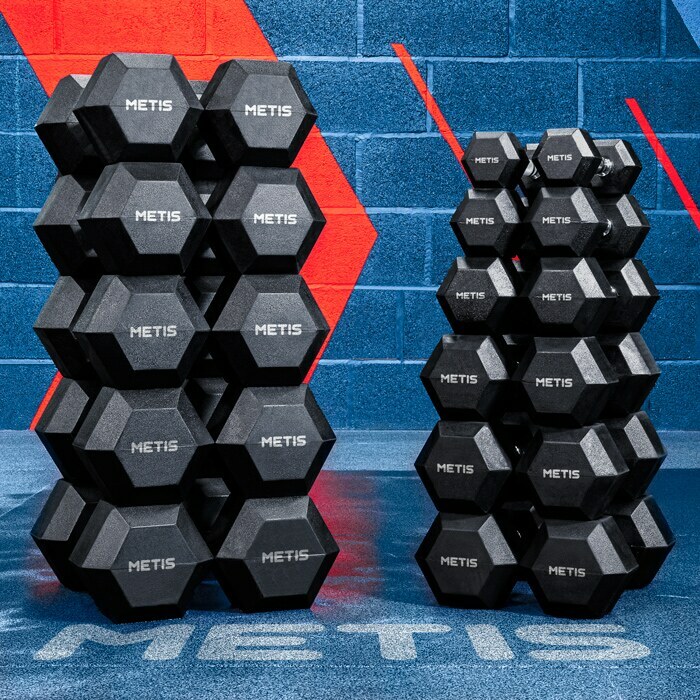 RANGE OF WEIGHTS
Ranging from 2.5kg - 30kg, the METIS Hex Dumbbells has a large variety, so you can find a pair of dumbbells that will take you to your limit. Suitable for all strength levels & abilities.
EXPLORE THE METIS RANGE
Set your goals & achieve them with the dynamic METIS fitness range. A range that covers all types of fitness & exercise, METIS is a brand that delivers professional quality for everyone.
Description
METIS Hex Dumbbells – Ideal For Gyms & Home Workouts
Transform your workouts with these professional quality Metis Hex Dumbbells. Expertly designed with supreme longevity in mind, these dumbbells feature an ergonomic contoured chrome grip handle with premium rubber ends – well equipped to cope with rigorous exercise sessions. Sold in pairs, these METIS free weights can be used for all major muscle groups, making them the perfect choice for all types of workouts. The hex dumbbells' innovative design prevents weights rolling when on the floor, whilst the high-quality rubber protects floor surfaces from damage when weights are dropped. Suited to all different exercises, these METIS Hex Dumbbells are available in weights ranging from 2.5kg-30kg.
METIS Hex Dumbbells [2.5kg-30kg] – Premium free weights for gyms & home workouts
Suited to all major muscle groups – ideal for chest, bicep, triceps & back muscle exercises
Dumbbells feature ergonomically designed chrome handle for excellent grip & comfort
Premium rubber ends are crack-resistant & protect surfaces against damage when dropped
Hexagonal design prevents dumbbells from rolling when on the floor
Dumbbells are easy to wipe to ensure excellent hygiene can always be maintained
UPGRADE YOUR PACKAGE - Complete the ultimate gym set-up by adding a professional-grade METIS Dumbbell Rack to your package. To purchase, please see the essentials above.
Specifications
METIS Hex Dumbbells Specifications:
Weights Available:
2.5kg (5.5lbs) | 5kg (11lbs) | 7.5kg (16.5lbs) | 10kg (22lbs) | 12.5kg (27.5lbs) | 15kg (33lbs) | 17.5kg (38.5lbs) | 20kg (44lbs) | 22.5kg (50lbs) | 25kg (55lbs) | 27.5kg (61lbs) | 30kg (66lbs)
Complete Set: 1x pair of each weight, 12x pairs in total
Complete Set + Rack: 1x pair of each weight, 12x pairs in total + 400kg capacity dumbbell rack
Materials:
Handle: Contoured chrome
Ends: Premium rubber – supreme durability guaranteed
Miscellaneous:
Ergonomically designed handle provides supreme user comfort & excellent grip
Rubber ends protect floor from damage whilst reducing noise upon impact
Hexagonal design prevents weights from rolling
Weights are easy to clean to ensure excellent hygiene is maintained
PLEASE NOTE: This product is non-returnable due to hygiene reasons, this does not affect your statutory rights