FORZA 1.5ft Mini Slalom Poles - 4x Colours [25mm/34mm] - Pack Of 8
FORZA 1.5ft Mini Slalom Poles - 4x Colours [25mm/34mm] - Pack Of 8

FORZA AGILITY POLES FOR ALL TRAINING SESSIONS – STEP UP YOUR GAME
SMALL & PORTABLE
Mini agility poles are smaller than regular sized training slalom poles making them easier to store & transport to sessions. Although smaller, these are just as effective in all training exercises.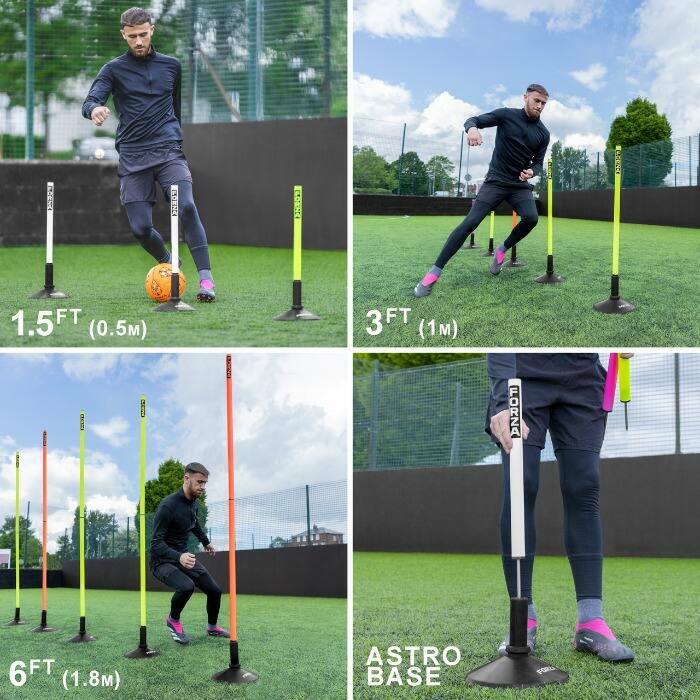 FORZA RANGE
Our FORZA 1.5ft Mini Slalom Poles are perfect for speed & agility training sessions & drills. Suitable for players of all skill levels. For larger sizes such as our 3ft & 6ft slalom poles click here
OPTIONAL BASES
The premium slalom poles have ground spikes that are ideal for soft surfaces. Rubber bases ensure the slalom poles can be used on hard & synthetic surfaces for training sessions anywhere.
Description
FORZA 1.5FT MINI SLALOM POLES - SPEED & AGILITY TRAINING FOR ALL PLAYERS
Diversify your training sessions with these 1.5ft mini slalom poles. The shorter style poles are excellent for a wide range of speed & agility training exercises to improve your game on & off the ball. Choose from 25mm or 34mm thicknesses. Take your sessions to the next level with the versatile training equipment. Manufactured from ultra-durable PVC, this material is weatherproof & shatterproof ensuring long-lasting use all year round. The agility training slalom poles are available in four highly visible & vibrant colours, yellow, fluro pink, fluro orange & white. The brightly coloured poles are easy to see during training sessions, additionally these are excellent in low light & poor weather. Complete with a spiked base which ensures maximum stability when inserted into the ground. Our mini slalom poles are perfect for grass surfaces but for hard & synthetic surfaces the rubber bases will be required to keep the slalom poles stable & secured upright, an essential upgrade to conduct your training sessions on all surfaces. Slalom poles & bases available in packs of 8.
FORZA 1.5ft Mini Slalom Poles (25mm or 34mm) – Available in 4 highly visible & vibrant colours
Speed & agility slalom training poles ideal for both juniors & seniors in all training sessions
Manufactured from ultra-durable shatterproof PVC for long-lasting use all year round
Rubber bases provide the option to use slalom poles on any flat surface to take your training anywhere
Suitable training equipment for schools, leisure centres, sports clubs, sports teams & home use
Specifications
FORZA 1.5ft Mini Slalom Poles Specification
DIMENSIONS
Height: 1.5ft
Thickness: 25mm or 34mm
MATERIALS
Weatherproof & shatterproof PVC
Stainless steel spikes
Premium rubber bases
MISCELLANEOUS
Available in packs of 8
Colours: Yellow, Fluro Pink, Fluro Orange & White