FORZA Goal Storage Trolley [Indoor/Outdoor]
FORZA Goal Storage Trolley [Indoor/Outdoor]

ADJUSTABLE FUTSAL & HANDBALL STORAGE GOAL TROLLEY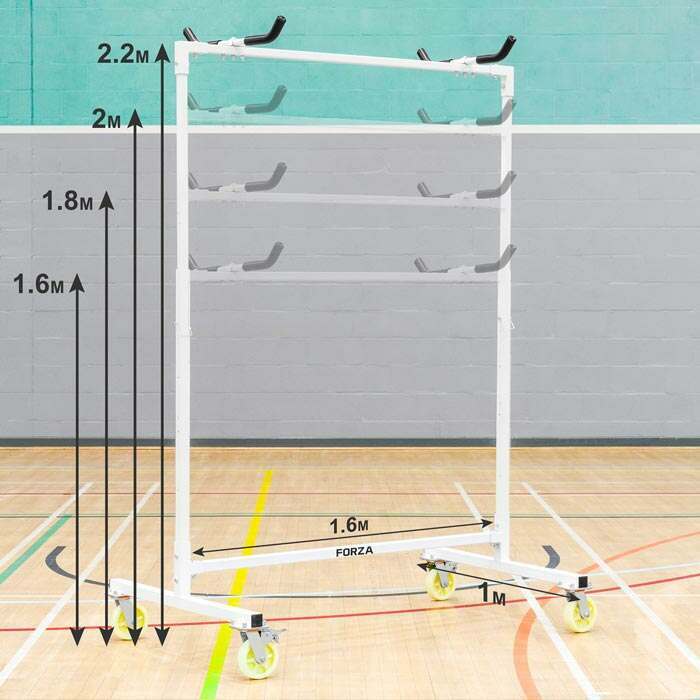 ADJUSTABLE HEIGHT
Innovative design allows for easy height adjustment between 6ft & 7.2ft. This trolley is perfect for handball, 5-a-side, mini soccer & futsal goal posts.
4x GOALS AT A TIME
The heavy-duty galvanised steel structure can easily store 4x goals on the scratch-free hangers. Whilst the rigid stable base is designed for complete safe mobility.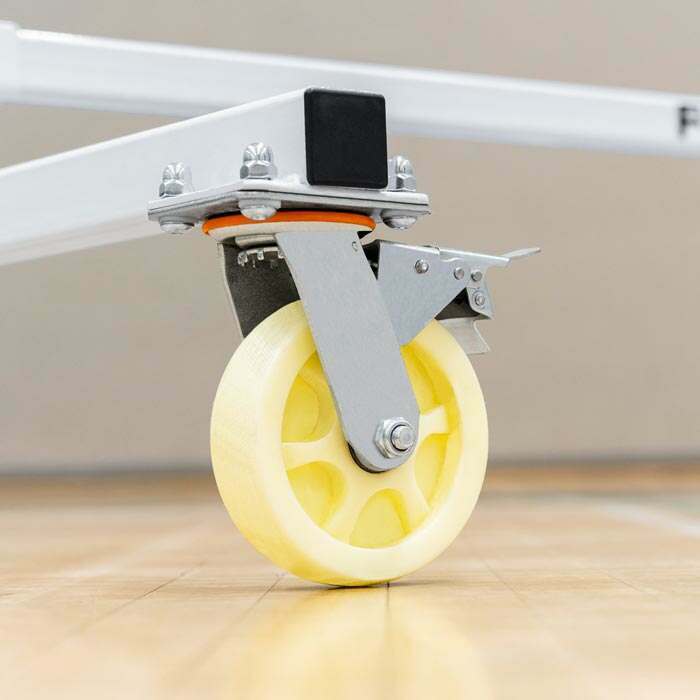 SAFE WHEEL BRAKES
The break wheels ensure safety for bystanders when transporting folding goals with simple stop action. Wheels are non-marking for surface protection.
Description
MANOEUVRABLE STORAGE TROLLEY FOR FUTSAL & HANDBALL GOALS
Manufactured with adjustable heights for a variety of goals, the easily adjusted goal post trolley can transport 5-a-side, mini soccer, futsal, 9v9 football goals, hockey & handball goals. The durable hangers, which sit either side, are designed with rubber sleeves to prevent scratching & marks occurring onto the goals. The handball goal trolley is manufactured with non-mark wheels & breaks, which increases safety for bystanders and guarantees safe storage to minimise accidents. Layered with a powder coated galvanised frame to prevent corrosion, the heavy-duty futsal goal trolley is manufactured from durable steel which provides stability for hanging goals. Engineered with a wide base for steady & rigid manoeuvrability, the heavy-duty FORZA Indoor Goal Trolley can provide maximum control when being steered.
Adjustable goal trolley height to fit futsal & handball goals
Rubber hangers sit either side to store a pair of goals
Complete control when manoeuvring due to a wide frame
Wheels have a braking feature for increased safety when transporting goals
Manufactured with heavy duty steel for a stable frame when storing goals
Net World Sports offers a variety of goal storage equipment. For more, please browse the Futsal category.
Specifications
FORZA INDOOR GOAL TROLLEY SPECIFICATIONS
DIMENSIONS:
Goal trolley (L x W x H): 1.6m x 1 x 1.8m - 2.2m | 5.2ft x 3.2ft x 5.9ft – 7.2ft
Hangers (L x W): 110cm x 65cm
Steel box wall thickness: 2mm | 0.08in
MATERIALS:
Castor wheels
Rubber sleeve on hangers
Galvanised heavy-duty steel construction throughout
Powder coated finish
MISCELLANEOUS:
Ideal for football, hockey & handball goals
Fits 8 x 4, 12 x 4, 16 x 4 & 16 x 7 folding sports goals
Provides easy manoeuvrability
Can store a maximum of 4 goals