FORZA Icon+ Official Match Footballs [FIFA Quality Pro]
FORZA Icon+ Official Match Footballs [FIFA Quality Pro]
FIFA Quality Pro Certified Match Football - Suitable for All Ages
FIFA QUALITY PRO MATCH BALL
Put through testing in the manufacturing process, this match ball possesses first-class performance, accuracy & safety. Evidence of its optimal performance for use at the highest level.
PINNACLE FEEL & PERFORMANCE
Expertly designed from hybrid construction and an unrilvalled butyl bladder, this pinnacle match ball maintains a consistent & professional level of performance on every match day.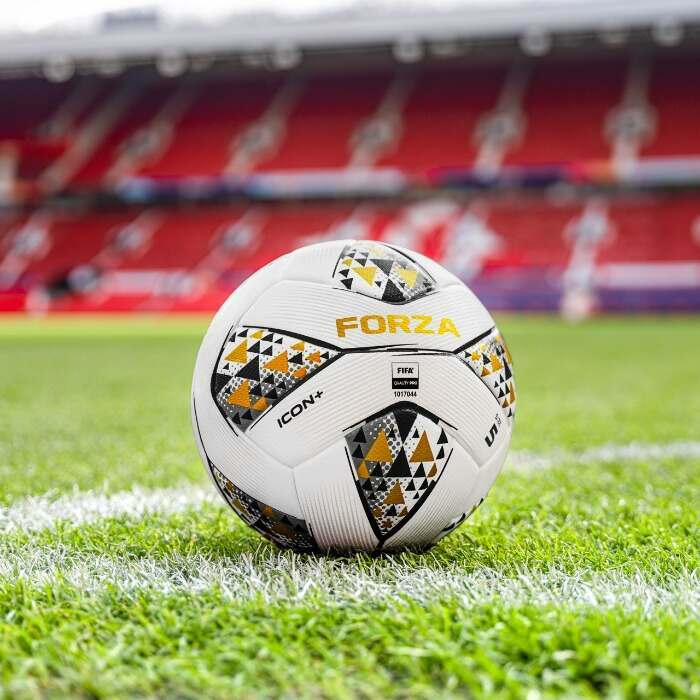 OFFICIAL FORZA PRO MATCH BALL
Meticulously crafted to deliver the perfect blend of quality, durability, & performance. With its 1.2mm leather outer material, this ball offers players unparalleled control for optimum results.
Description
FORZA Icon+ Official Match Football - Official FIFA Quality Pro Certified
Introducing the FORZA Icon+ Football. Flawlessly designed & manufactured to a world-class standard, gracefully boasting Official FIFA Quality Pro certification. This football stands strong in the highest tier of football testing, undergoing stringent evaluations & the harshest conditions to guarantee its performance reaches the pinnacle of the sport. The first-choice match ball for elite clubs internationally. Available in packs of 1, 3, & 12, these footballs are an essential addition to enhance performance for football clubs of all standards. Size 3, 4 & 5 footballs are available in each pack size providing a match ball for all players, ranging from young children all the way up to professional senior football teams.
FORZA Icon+ Official Match Football - Official FIFA Quality Pro Certified
Manufactured with industry leading materials providing incomparable quality & results
FIFA certified football available in sizes 3, 4, & 5 with pack options of 1, 3 & 12
Thermal bonded 24 panel design provides a stitch-less construction from panel to panel
Constructed with exceptional quality, durability & outstanding performance all year round
Suitable for all age groups from grassroots to professional football clubs internationally
Manufactured using industry leading materials, the construction of the FORZA Icon+ Football is unmatched, second to none. Combining top-quality materials with an expert 24 panel design, the match ball is in a league of its own, a cut above the rest. See below for the construction breakdown that makes this Official FIFA Quality Pro certified football the number one choice by elite clubs.
Thermal Bonded Panels - Experience a cutting-edge design with 24 panels, expertly thermally heat bonded for a seamless, stitch-less construction. Renowned for enhancing accuracy & durability, this technology ensures that your ball lasts longer. The thermo-bonded structure also minimizes water absorption, maintaining its shape, & delivering peak performance throughout the year, on all playing surfaces.
Butyl Bladder - Featuring a premium butyl bladder for exceptional air retention aimed at unlocking superior performance. Reinforced with a latex outer layer, this not only ensures longevity but also provides a slightly lighter touch compared to butyl alone. This innovative design guarantees a high-performing bladder, striking the perfect balance for a match football.
Premium PU Leather Surface - Crafted from polyurethane, this ball boasts exceptional flexibility & durability. It seamlessly adapts upon impact, swiftly regaining its original shape. The material is not only highly water-resistant but also scratch-resistant, ensuring a long-lasting & world-class quality football. 3D Icon Technology surface indentations offer unmatched grip for ultimate enhanced performance. Coupled with a 3.5mm foam layer, this ball delivers an optimal air cushion, elevating ball feel & control to the highest level.
Specifications
FORZA Icon+ Football Specifications
ICON+ SIZES:
Size 3 - Kids
Size 4 - Juniors
Size 5 - Adults
BALL CONSTRUCTION
Outer Layer: Hi Abrasion PU
Surface: 3D Icon Technology Indentations
Lining: 3.5mm EVA Foam layer
Surface Layer Thickness: 1.2mm
Bladder: Butyl Bladder
Panels: 24 thermally bonded
Casing Material: Premium PU Leather
Lining Adhesive: Natural Latex
Surface layer adapts upon impact
MISCELLANEOUS
Ball colour: White, Black & Gold
Available in sizes 3, 4, & 5
Available in packs of 1, 3 or 12
Official FIFA Quality Pro Certified
Requires inflation before use
Inflate with between 8.5 & 15.6 PSI
Pump not included