FORZA GK Hockey Deflection Ramp [30"]
FORZA GK Hockey Deflection Ramp [30"]
DUAL ANGLED RAMP FOR DIVERSE HOCKEY GK TRAINING
BALL MOVEMENT
Hitting the hockey ball at the ramp changes the direction of the ball. With the ramp placed in front of the goal, the goalkeeper will have to stay on their toes to watch the ball.
DURABLE & LONG-LASTING
The hockey deflection ramp is manufactured from durable rubber. The material ensures the ramp can withstand impact from high velocity hockey balls during training sessions.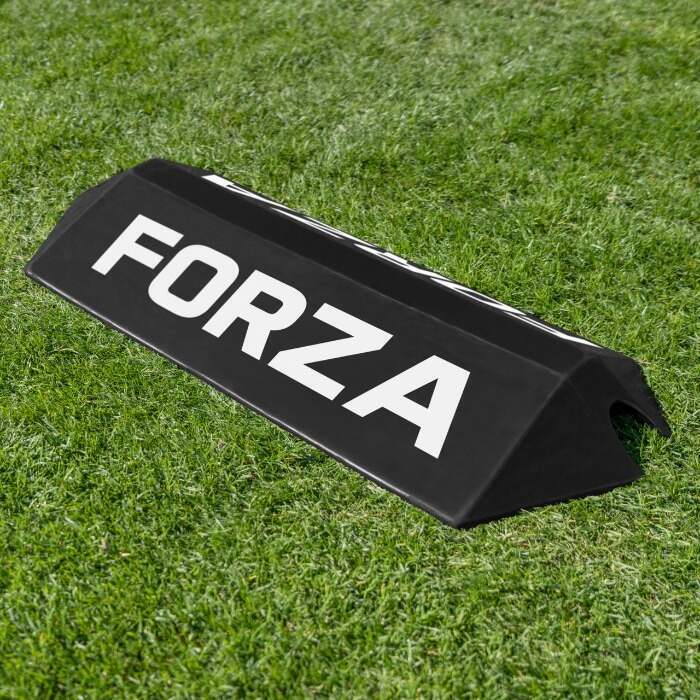 DUAL SIDED RAMP
The dual-sided hockey deflection ramp has 2 angles: 20° and 35° to add a wide variety and diversity in hockey goalkeeper training sessions. Can be used for a multitude shooting drills
Description
Generate unpredictable deflections for hockey goalkeeping training
An essential addition to your hockey goalkeeping training equipment. The deflection ramp is the perfect tool to test your abilities. Hitting the hockey ball at the ramp will force the goalkeeper to have to adjust their positioning & focus due to the change of direction to the ball. The ramp benefits from 2 angled sides, 20° and 35° for an unlimited number of different shots.
Ideal training equipment for hockey clubs of all sizes & schools
Allows hockey balls to change direction to catch goalkeepers off guard
Manufactured from ultra-durable & hard-wearing for long-lasting use
Ramp measures 79cm L x 31cm W x 7cm H | 31in L x 12in W x 3in H
Specifications
FORZA GK HOCKEY DEFLECTION RAMP SPECIFICATIONS
Dimensions
Ramp: 79cm L x 31cm W x 7cm H | 31in L x 12in W x 3in H
Angles: 20° and 35°
Materials
Manufactured from durable rubber
Miscellaneous
Ramp has 2 sides with different angles for variety in training drills
Recently Viewed
METIS Medicine Balls [1-10kg]
SG$44.99
FORB Home Golf Putting Mat
SG$139.99
FORZA Floor-Fixed Basketball Unit [1.5m]
SG$2,474.99
3m x 1.8m FORZA Steel42 American Football/Football Combination Goal Posts
SG$599.99
FORZA 48mm/4mm Aluminium D-Bracket Net Supports [Pack of 2]
SG$289.99