FORZA Footballs & Carry Bag [12 Pack]
FORZA Footballs & Carry Bag [12 Pack]
High Performance Footballs & Carry Bag Sets For Schools & Coaches
Top-Quality Footballs
All the FORZA footballs are constructed using premium-grade materials with reinforced bladders to ensure they maintain a spherical shape. Guaranteed long-lasting use & a consistent performance.
Secure Drawstring Closure
The secure drawstring opening & closing mechanism on the durable mesh carry bag ensures a quick set up & clear away of all sessions. An excellent option for schools & coaches training large groups.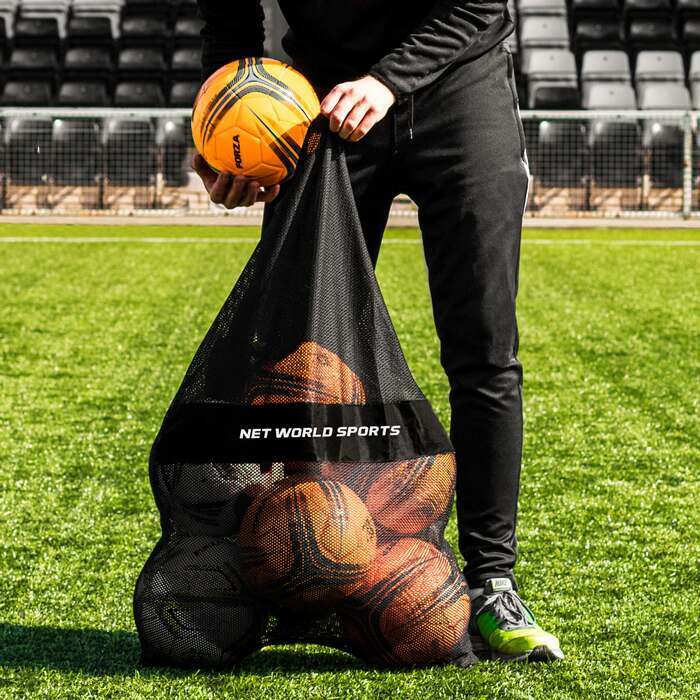 Football & Bag Set
Choose from a variety of FORZA footballs to suit all age & ability requirements. 12 pack of footballs comfortably fit within the carry bag for easy transportation & storage to the field, hall or astro pitch.
Description
High-Quality FORZA Footballs With Ball Bag For Easy Transportation
The 12 packs of footballs with an included carry bag are perfect for schools & football coaches for training & tournaments. All FORZA footballs are ultra-durable for long-lasting use & include reinforced materials to maintain a spherical shape. The sets include a spacious black mesh bag with a secure drawstring closure for easy transportation & storage of up to 12 size 5 footballs. Options available to suit all ages & abilities whether you require balls for training, a friendly game or professional tournament. Upgrade the quality & efficiency of your football sessions with these sets for swift set-ups & rapid clearing before & after every session.
12 pack of footballs are perfect for team training in clubs or schools
Superior FORZA footballs offer an optimum performance for enhanced play
Ultra-durable mesh carry bag included for easy transportation & storage
Choose the premium football option to suit the surface & game being played
FORZA footballs available are match, training, futsal, indoor, astro & beach
PLEASE NOTE- The football carry bag can also be used to transport various other sports balls including basketballs, netballs, Gaelic footballs & rugby balls.
Specifications
Forza Training Footballs & Carry Bag Specifications
FORZA Pro Match Fusion Football
Available in size 3 (kids), size 4 (juniors) & size 5 (seniors)
Hybrid-Fusion technology for combined power & consistency
12 panel double layered exterior with a strengthened inner bladder
Specifically developed groves enhance the aero dynamic performance
Designed to FIFA Quality Pro specifications
Colour: White with cool grey, red & black pattern
FORZA Training Football
Available in size 3 (kids), size 4 (juniors) & size 5 (seniors)
EvoGlide surface for optimum consistency
32 panel durable exterior with a reinforced inner bladder
Cushioned foam layer for optimum control
Designed to FIFA IMS specifications
Colour: Orange with black & blue design
FORZA Pro Futsal Football
Size 4 futsal footballs – official regulation size & weight
Hybrid-Fusion technology - Dual bonded design for combined power & consistency
32 panel exterior with a foam layer for enhanced control
Reinforced & interlaced bladder with core dampener for bounce reduction
Designed to FIFA Quality Pro specifications
Colour: White with yellow, green & black gradient pattern
FORZA Indoor Football
Size 5 indoor footballs – official regulation size & weight
Super Airtech bladder with a polynylon material exterior
Hand-stitched football for long lasting use & for superior durability
Specifically designed for use on indoor surfaces
Colour: Fluorescent yellow with a black pattern
FORZA Fusion Astro Football
Available in size 4 (juniors) & size 5 (seniors)
Hybrid-Fusion technology - Dual bonded design for combined power & consistency
32 panel exterior with embossed layer for reliability on artificial surfaces
Reinforced & interlaced inner bladder to maintain the spherical shape
Designed to FIFA IMS specifications
Colour: White with yellow, cyan, blue, black & grey pattern
FORZA Beach Football
Available in size 3 (kids), size 4 (juniors) & size 5 (seniors)
Advanced thermobonded technology offers a true flight
14 panel PU exterior with a high density non-woven backing
Inner butyl moulded double sheeted bladder
Designed to FIFA Pro standard
Colour: Orange with a black & white design
Mesh Carry Bag
Constructed using knotted mesh material
Maximum capacity to fit 12x size 5 footballs
Supplied in black with Net World Sports branding detail
Recently Viewed
FORZA ASTRO Slalom Poles With Bases [1.5m or 1.8m High]
SG$249.99
FORZA Multi-Sport Superdome Training Marker Cones
SG$64.99
FORZA Futsal Footballs
SG$29.99
5m x 2m FORZA Match Football Goal Post
SG$399.99
3.7m x 1.8m FORZA Steel42 Football Goal
SG$499.99