FORTRESS Plastic Garden Cricket Bat [3 Sizes]
FORTRESS Plastic Garden Cricket Bat [3 Sizes]
LIGHTWEIGHT & ULTRA-DURABLE FORTRESS CRICKET BAT
SUPREME DURABILITY
The cricket bats are manufactured with superior Fluro Yellow moulded plastic, which provides maximum longevity indoors & outdoors all year round.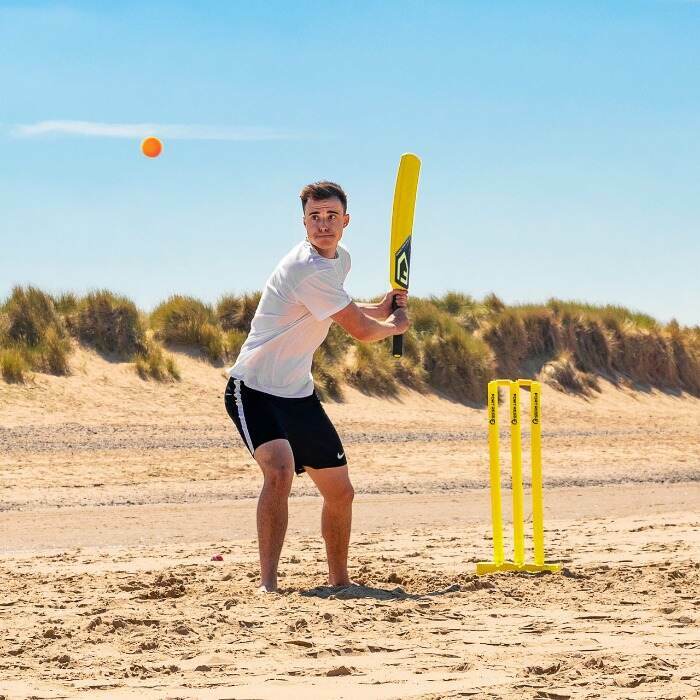 BAT SIZE FOR EVERYONE
Available in three sizes, the FORTRESS Garden Cricket Bat has an option to suit the entire family. Choose between Mini, Junior, or Senior sizes.
HIGHLY VISIBLE
Featuring a highly visible & vibrant Fluro Yellow colour, the lightweight cricket bat is easily visible even in low light making it ideal for winter sessions.
Description
FORTRESS Garden Cricket Bat for indoor & outdoor use
Designed for optimum playability & performance, this cricket bat is available in three sizes – mini, junior & senior. Manufactured from ultra-durable plastic, the long-lasting bat features an ergonomic rubber handle providing maximum grip when batting. Boasting a solid lightweight construction, the moulded plastic cricket bat can be used in all weathers. An excellent alternative to traditional cricket bats, materials & design ensure a much safer experience for families playing with children. Available in a highly visible & vibrant Fluro Yellow, the bat can be used in low light conditions as well as in the winter months thanks to its excellent visibility.
FORTRESS Garden Cricket Bat – All in one family friendly cricket bat
Available in three different sizes for all players – Mini, Junior & Senior
Manufactured from ultra-durable & lightweight moulded plastic
Finished in a highly visible & vibrant Fluro Yellow colour
Ideal for schools, youth clubs, leisure centres & home use for all of the family
Specifications
FORTRESS Garden Cricket Bat Specifications
DIMENSIONS
Kids Cricket Bat: 28in | 71cm (Size 2)
Junior Cricket Bat: 28in | 30.5in | 77cm (Size 5)
Senior Cricket Bat: 33in | 84cm (Full Size)
MATERIALS
Ultra-durable moulded plastic
Ergonomic handle with rubber grip
MISCELLANEOUS
Lightweight & 100% portable
Perfect for kids, juniors & seniors
Cricket bat only
Stumps & Ball not included
Recently Viewed
Vermont ProCourt Mini Badminton Net & Racket Set
SG$259.99
FORZA Plastic Shelter & Stadium Sports Seats
SG$79.99
Tennis Court Privacy Screen Nets
SG$169.99
10 Ice Hockey Water Bottles (750ml) & Foldable Carrier
SG$69.99
Roll Down Cricket Matting - 2m Wide (Indoor/Outdoor)
SG$259.99