FORTRESS County Match Crown Cricket Balls [Red/White/Pink]
FORTRESS County Match Crown Cricket Balls [Red/White/Pink]
COUNTY MATCH BALL - FOR AN ULTIMATE FEEL & PERFORMANCE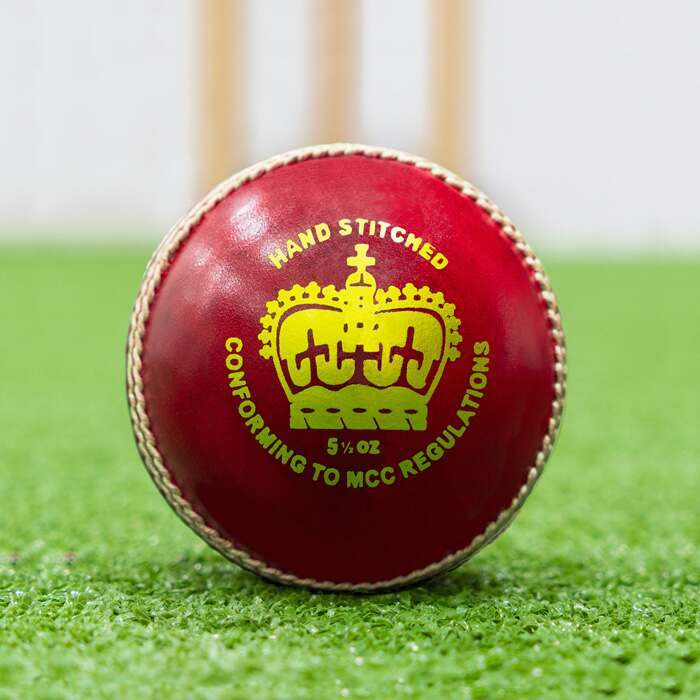 MCC CONFORMED OFFICIAL BALL
The professional cricket ball is used at the highest of match levels for maximum performance levels. Each ball is conformed to MCC Match Regulations for competitive/official matches.
VARIOUS BALL OPTIONS
Multiple ball choices are available in sizes for all ages with various colours. Red is traditional & used for day games, pink ensures high visibility for night & white is used for short day games.
PREMIUM BALL CONSTRUCTION
The hand-stitched cricket ball is manufactured from grade 1 3.7mm cow hide-leather, Portuguese cork & a waxed finish for extreme longevity & ball performance at the professional level.
Description
PROFESSIONAL TEST MATCH CRICKET BALL – MCC REGULATED FOR OFFICIAL GAMES
The elite level, MCC Regulated County Match Crown Cricket Ball is designed with maximum performance in mind for local, County & professional test cricket matches. Built to last 70-80 overs, the high-performance cricket ball is constructed from test grade Portuguese cork, twine & a rubber centre for ideal shape retention & durability when being used for maximum performance. Being hand-stitched & engineered from grade 1 alum-tanned cow-hide leather, the match ball provides bowlers with an enhanced grip to spin the ball with clear direction & accuracy. The high-grade test match cricket ball is built with a 4-piece construction to increase ball life, which is used at the top county level & test match balls. Thanks to the thicker leather & polish finish, our match cricket balls can be used during wet weather & prevent high water absorption which increases ball lifespan.
Match cricket ball is match grade whilst offering optimum balance & performance
Constructed from Portuguese cork & thick cow-hide leather for ball retention & durability
4-piece ball construction extends ball life & meets the specifications of elite-level balls
The thick leather & wax/polish finish prevents water absorption for increased ball longevity
Available in multiple colours for Men's, Women's & Junior sizes in packs of 1, 6 or 24
Ball Construction:
| | | | | | | |
| --- | --- | --- | --- | --- | --- | --- |
| Ball Type | Leather | Seam | Stitiching method | Core | Lifespan | Quality |
| Match Crown | Grade 1 Alum Tanned Cow-Hide Leather – 3.7mm Thick | A large, firm, and pronounced seam, with between 70-78 stitches | A carefully hand stitched, 4-piece cricket ball using 6 rows of premium quality thread | A test grade cork and rubber composition core, offering a high performing, durable ball | 70-80 overs | Test/County Grade Cricket Ball |
| Club Crown | Grade 3 Alum Tanned Cow-Hide Leather – 3mm Thick | A strong and durable seam with between 60-66 stitches | A carefully hand stitched, 4-piece cricket ball using 6 rows of club quality thread | A club grade cork and rubber composition core, offering good performance and durability | 30-40 overs | Local Cricket/School Grade Cricket Ball |
Specifications
MATCH CROWN CRICKET BALL SPECIFICATIONS
DIMENSIONS:
Ball Diameter (Men's, Women's, Junior): 7.1cm, 6.7cm, 6.5cm | 2.8in, 2.6in, 2.5
Ball Circumference (Men's, Women's, Junior): 22.4cm, 21cm, 20.5cm | 8.8in, 8.3in, 8in
Ball Weight (Men's, Women's, Junior): 5 1/2 oz, 5 oz, 4 3/4 oz | 156g, 142g, 133g
MATERIALS:
Grade 1, 3.7mm alum-tanned cow-hide leather
Test grade Portuguese cork & rubber composition
4-piece construction with 70-78 stitches
Waxed/polish/glossed finish
MISCELLANEOUS:
Perfect for County or test matches
MCC Conformed
Lifespan 70-78 overs
Men's, Women's & Junior sizes available
Colours available: Red (day games), Pink (day/night games) & White (short day games)