AQUATEC Women's Shorty Wetsuits [2mm | 3/2mm]
AQUATEC Women's Shorty Wetsuits [2mm | 3/2mm]

AquaTec Women's Shorty Wetsuits – Designed For Flexibility & Comfort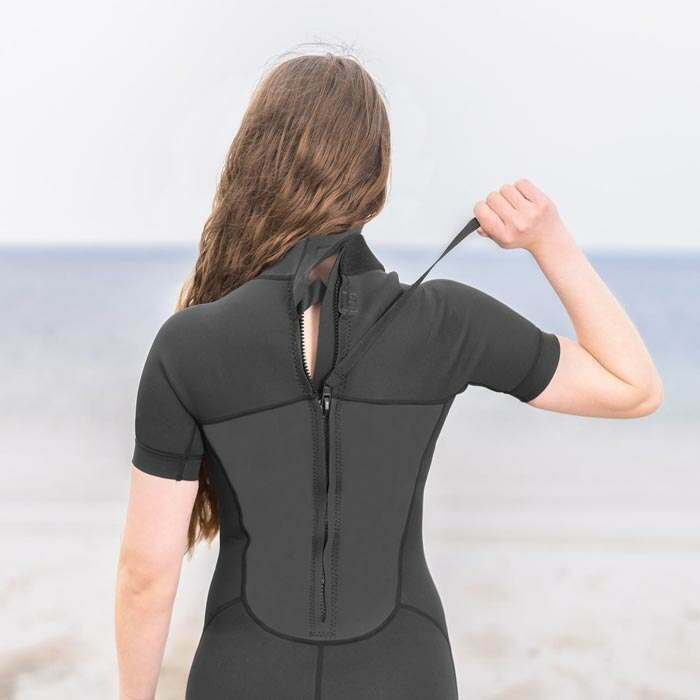 High-Quality Zip
Strong YKK zip seamlessly runs down the back of the wetsuit for high levels of comfort when lying on your front. Featuring an extended cord allowing you to easily dress yourself without assistance.
Women's Shorty Range
The AquaTec Shorty Wetsuits for women are available in 2x thickness options: 2mm & 3/2mm - Perfect for warm water temperatures. Choose from 5x size options - See our size guide HERE.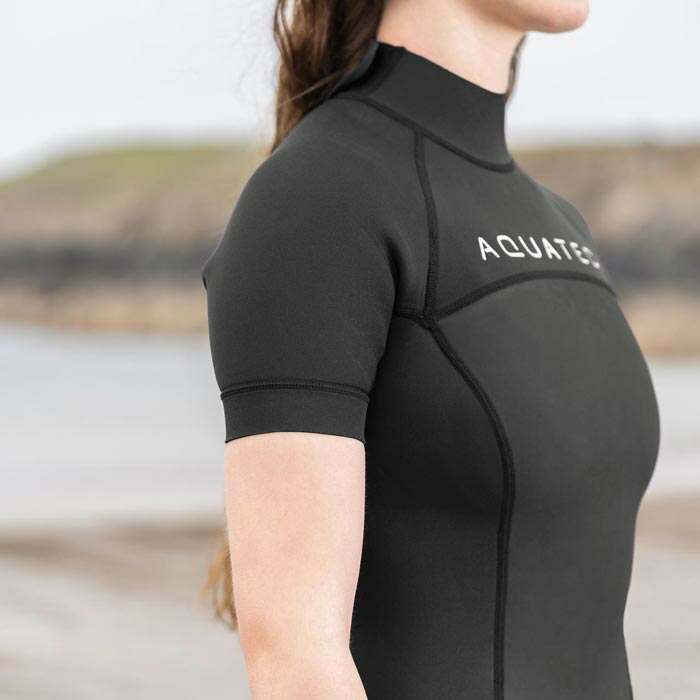 Unrestrictive Design
The high-grade shorty wetsuit is designed for those who prefer more freedom to move whilst in the water. An excellent option for spring/summer waters for all water sport activities & swimming.
Description
AquaTec Women's Shorty Wetsuit – Excellent Option For The Summer Months
Premium wetsuits for adults are a must have for open water swimming & water sports adventures. These AquaTec Ladies' Shorty Wetsuits are an excellent option for the summer months as the suits feature capped sleeves & shorts. Manufactured using high-grade neoprene material with an inner nylon lining which ensures long lasting wear & high levels of user comfort. A YKK zipper features on the back of the wetsuit which ensures it does not dig into the body whilst lying on your front on a surf board or paddle board. The zip features a long cord for user convenience as you can secure the wetsuit without any assistance. Available in 2x neoprene thicknesses: 2mm & 3/2mm.
What Thickness Wetsuit Do I Need?
2mm Wetsuit = above 20°C water temperatures (summer months)
3/2mm Wetsuit = above 18°C water temperatures (summer months)
Key Features:
Excellent wetsuit for water sports activities, open water swimming & more
Shorty wetsuit is designed for increased freedom of movement in the water
Ultra-stretch neoprene wetsuit with a nylon lining for excellent user comfort
YKK rear zip with long cord allows you to easily get in & out of the wetsuit
For more information on finding the correct wetsuit fit, please refer to our detailed size guides HERE.
Specifications
AquaTec Women's Shorty Wetsuits Specifications
Available Options:
2mm Neoprene Thickness (AquaTec Beginner Wetsuit Range)
3/2mm Neoprene Thickness (AquaTec Intermediate Wetsuit Range)
Wetsuit Size Guides:
| | | |
| --- | --- | --- |
| AquaTec Wetsuit Range | Size Options | Size Guide |
| Beginner - 2mm Neoprene | XS, S, M, L, XL & XXL | Click Here |
| Intermediate - 3/2mm Neoprene | XS, S, M, L, XL & XXL | Click Here |
Size & Fit:
Model's Rash Vest Size: M
Model's Height: 177cm | 5ft 10in
Model's Clothing Size (Top): UK 8 | EU 36 | US 4
Model's Clothing Size (Bottom): UK 8 | EU 36 | US 4

Materials:

90% Neoprene & 10% Nylon – High stretch design for user comfort & a good range of movement
2mm Neoprene Thickness: 2mm thickness on the full wetsuit
3/2mm Neoprene Thickness: 3mm thickness on the core where warmth is most important & 2mm thickness used around the arms & legs
Flatlock stitched seams ensures the wetsuit only lets in minimal amounts of water
YKK back zipper ensures user comfort as you are often positioned on your front whilst surfing or SUP boarding
AquaTec Intermediate Wetsuits Range (3/2mm) feature a smooth skin material design on the neck, wrists & ankles for additional comfort

Miscellaneous:

AquaTec Beginner Wetsuits Range are suitable for around 1 hour of activities per session
AquaTec Intermediate Wetsuits Range are suitable for around 2 hour of activities per session
Wetsuits are designed to be a very tight fit but once submerged in the water, the fabric properties will stretch to your body. It can take a couple of uses in the water before you feel comfortable in it
Please Note: Wetsuits are a tight fit - Previous customers have recommended sizing up.

Returns/Exchanges:

AquaTec Wetsuits are only returnable or exchangeable providing the wetsuit tag has not been removed & it is in a new condition with original packaging. We understand your wetsuit may not fit as desired & we can exchange your order for a different size if the above conditions are met. For advice please contact our Customer Service team who will help arrange this for you. Please also refer to our full returns policy.

Washing/Care Instructions:

Hand Wash Only
Do not bleach
Do not tumble dry
Do not iron
Do not dry clean
Do not leave your wetsuit exposed to sun for long periods of time
To dry, we recommend turning inside out and hanging out of direct sunlight, in a shaded spot. We also recommend to hang the wetsuit by the waist rather than the shoulders.