3.66m x 1.83m FORZA Alu60 Folding Beach Soccer Goal
3.66m x 1.83m FORZA Alu60 Folding Beach Soccer Goal

LIGHTWEIGHT, ROBUST BEACH FOOTBALL GOAL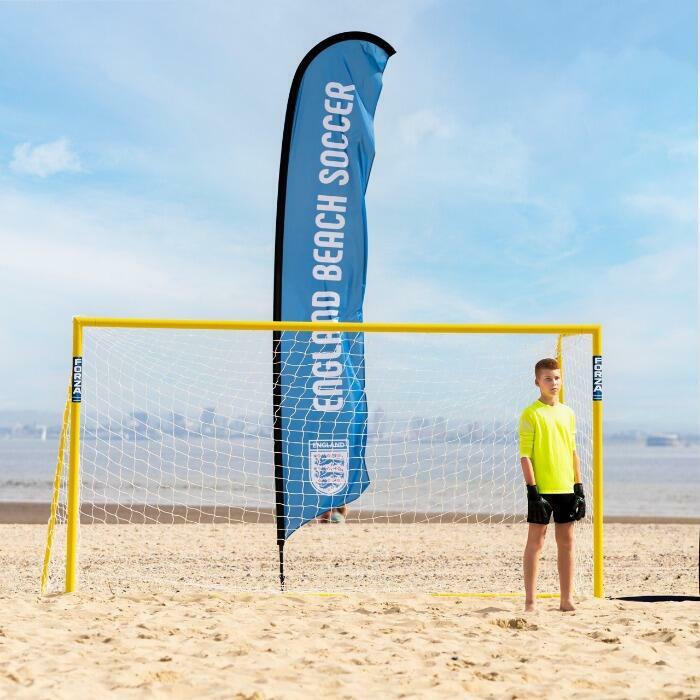 CONVENIENT TRANSPORTABILITY
The lightweight beach goals can be easily transported by two people, which can then be conveniently folded away when on the go to new locations.
DURABLE WOODWORK
Manufactured from an aluminium frame, the football beach goals provide a robust free-standing structure to withstand ball and weather impact for years to come.
FIFA QUALITY BEACH GOALS
The durable beach football goals meet official FIFA regulations, which means you receive a top-quality senior training session or FIFA certified junior match.
Description
FREESTANDING & MULTI-SURFACE FORZA BEACH SOCCER GOALS
Innovative beach football goals designed with easy assembly and storage in mind. Thanks to its detachable back bar and foldaway side frames that allows the goal to fold into itself, this compact beach football goal is ideal for those who have limited storage space. The beach soccer goals can be manually transported by only two people thanks to its lightweight nature. The freestanding beach soccer goal boasts superior strength due to the welded corner joints, which can take regular punishment from footballs, and the powder coated yellow 60mm aluminium posts, which provides scratch-resistance and protection against rust. The beach soccer goal size is perfect for senior training sessions and/or junior matches. Providing professional quality without taking up too much storage space, these truly are one of the best beach football goals you will find. Goals conform to FIFA & World Beach Soccer Regulations. Goal anchors available to suit here.
3.66m x 1.83m multi-surface football goals for junior matches and training sessions
Manufactured from powder coated yellow 60mm diameter reinforced aluminium with welded corner joints
Heavy-duty, yet lightweight football goal that can be transported manually by two people
Galvanised steel foldaway side frames and detachable back bar for easy storage
Weatherproof goal posts and net package with a UV treated 3mm thick HDPE braided twine goal net included
Freestanding goals with a self-weighted design that provides natural stability and strength
PROUD SUPPLIER OF BALLS & GOALS TO ENGLAND BEACH SOCCER.
Specifications
FORZA ALU60 Beach Goal 3.66m x 1.83m Specifications
DIMENSIONS:
Goal Size: 3.66m (12ft) W x 1.83m (6ft) H
Goal Weight: 15kg (33lbs)
Goal Top Runback: 90cm (35in, approximately 2ft 11in)
Goal Bottom Depth: 175cm (69in, approximately 5ft 7in)
60mm diameter reinforced aluminium
MATERIALS:
Manufactured from powder coated yellow 60mm aluminium, which is smooth, scratch-resistant and rust proof
Galvanised steel detachable back bar
Heavy weight 30mm OD steel folding side frames
UV treated 3mm thick HDPE braided twine goal net
Welded corner joints provide superior strength and long-lasting durability
Twist & lock-style safety net clips made from nylon attaches the nets neatly to the goalposts
Goal nets and safety net clips are UV treated and weatherproof
Complete with high tensile stainless steel nuts, bolts, washers and zinc plated brackets
MISCELLANEOUS:
Made to BS EN 8462 safety standards when securely anchored
Heavy-duty yet lightweight football goal that can be transported manually by two people
Foldaway side frames and a detachable back bar allows for easy storage
Weatherproof goal posts and net package
Easy assembly