Wooden Tennis Scoreboard [Freestanding]
Wooden Tennis Scoreboard [Freestanding]
High-Visibility Wooden Tennis Scoreboard – Freestanding & Portable
Completely Freestanding
Suitable for any tennis court surface, this tennis scoreboard is completely freestanding, allowing you to transport it with ease. The impressive scorer will look the part next to any tennis net.
Easy Fold Design
The traditional green tennis court scoreboard features an innovative easy-fold design which aids storage and transportation exceptionally well. The lightweight board can be folded completely flat.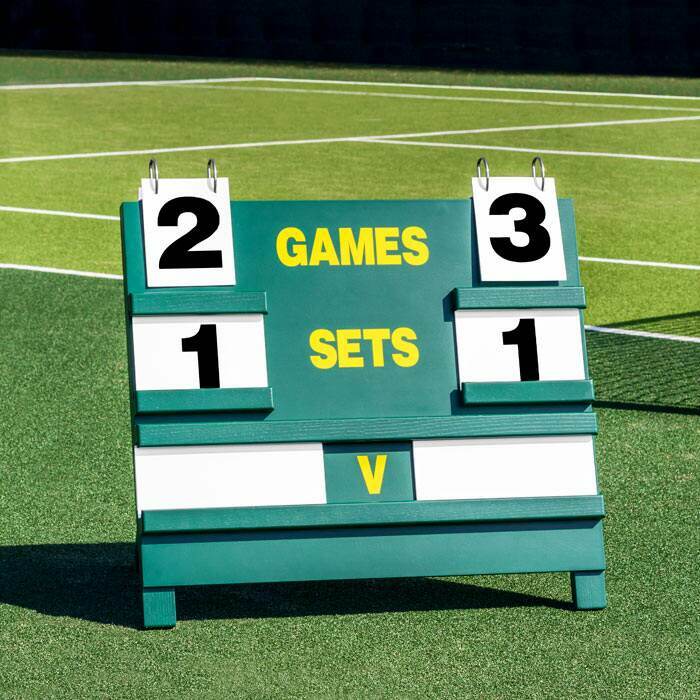 Excellent Visibility
With this scoreboard on your tennis court, spectators will be left in no doubt as to what the score is thanks its high-vis numbers. Features bold, black numbers on an optic white background.
Description
High-Visibility Traditional Wooden Tennis Scoreboard
Keeping score during a tennis match should never be a difficult task and with this wooden tennis scoreboard, losing track will never be the case. The impressive scorer allows players to simply keep track of games and sets using the high-visibility number cards, leaving on-lookers in no doubt as to which way the match is going. Completely freestanding, this tennis court scoreboard features an easy-fold design, which allows users to store and transport it with exceptional ease.
Freestanding Wooden Tennis Scoreboard – 25in x 20in
Allows players to score games & sets with ease
Features blank cards for players names
Manufactured from high-quality treated wood for supreme durability
Easy-fold design allows for simple storage & transportation
Expertly crafted, this tennis scoreboard guarantees outstanding durability. An excellent choice for clubs, academies & tournaments, the impressive construction has been created using treated wood and finished with a traditional green coating, giving it a world-class appearance on any tennis court. The high-vis game, set & name cards feature a heavy-duty plastic, allowing them to cope with the demands of regular competitive tennis activity.
PLEASE NOTE: For maximum longevity, we recommend storing the Traditional Wooden Tennis Scoreboards indoors when not in use.
Specifications
Freestanding Wooden Tennis Scoreboard Specifications
Materials:
Scoreboard: Treated Wood
Number Cards: Heavy Duty Plastic
Fixings: Premium Metal
Dimensions:
Size: 64cm x 52cm | 25in x 20in
Miscellaneous:
Scoreboard features an easy-fold design for simple storage & transportation
Completely freestanding – suitable for any tennis court surface
Flip numbers (games), number cards (sets), blank name cards & marker pen included
Heavy duty metal fixings included
For maximum longevity we recommend storing indoors when not in use
You may also like
Tennis Score Tube
SG$129.99
Tennis Post Scoreboard
SG$159.99
Recently Viewed
FORZA Plastic Shelter & Stadium Sports Seats
SG$79.99
FORZA Hurdle/Agility Poles & Clips
SG$29.99
FORZA Corner Flags & Poles [Pack of 4]
SG$59.99
Coloured Corner Flags (4 Pack) [8x Colours]
SG$34.99
METIS Pro Cast Iron Kettlebells [4kg – 40kg]
SG$34.99