Home to an ice rink, indoor skate park, fitness suite, two sports halls, four squash courts, six 3G football pitches and a grass pitch, Aura Leisure's Deeside Leisure Centre attracts a range of sports fanatics from across Flintshire in North Wales. With the new season looming, Deeside Leisure Centre's Development Officer, Lee Breeze, looked to Net World Sports to kit out their grass pitch with top of the range full size FORZA Alu110 Freestanding Stadium Box Football Goals.
The summer break gives sports centres, schools, colleges and universities time to plan, prepare and purchase equipment ready for August and as Deeside Leisure Centre were looking to reintroduce football to their grass pitch ahead of the new season, they needed new state of the art goals to look the part and fit their purpose. "I wanted roll on, roll off, football goals for the grass pitch", Centre Development Officer, Lee Breeze, comments. "We already have rugby posts permanently fixed in the pitch, so we needed football goals that were easy to manoeuvre depending on fixtures and training."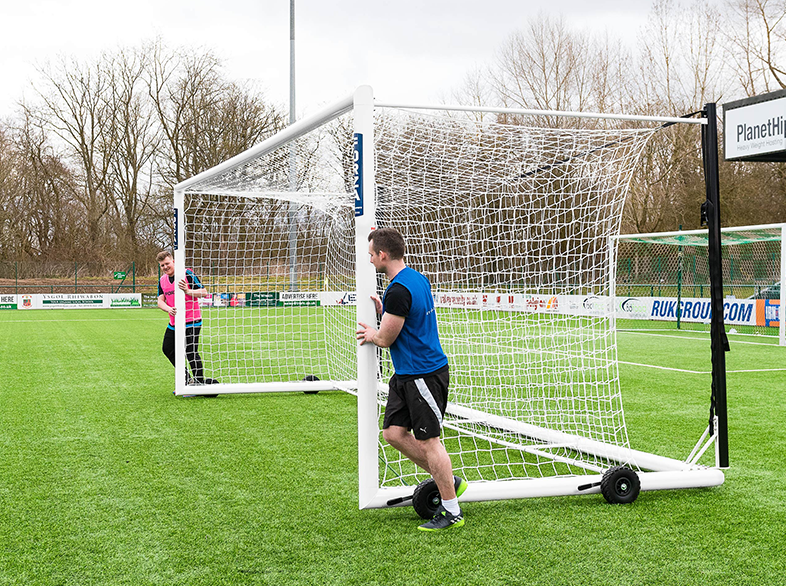 All the FORZA Alu110 Freestanding Football Goals are available with optional, extra wide, Lever Type Wheels, which offer the ultimate goal mobility! The rubber wheels are puncture proof with a deep diamond tread allowing you to easily move the goals on / off pitches and you don't have to worry about marking the grass as they raise the goals 100mm off the ground!
Easy To Navigate Website
Having ordered a range of football training equipment from us before, including Marker Cones, Speed & Agility Ladders, Evasion Training Agility Belts and FORZA Match Footballs, Lee was already familiar with our team and the products we offer so when the time came to look for new football goals he got in touch! "I originally looked at the different football goals available on the Net World Sports website which was really easy to use, and then got in touch with enquiries with a few follow up questions that were answered quickly and efficiently."
"I was really happy with the whole process, from ordering to using the products – as soon as we had set the goals up we tried them out and they're a really good standard, we couldn't be more pleased!" Lee Breeze, Centre Development Officer at Aura Leisure
Really Good Standard Of Goals
The 7.3M x 2.4M FORZA Alu110 Freestanding Stadium Box Goals are now in use at Deeside Leisure Centre and are being used with the Aura Football Coaching Programme for players looking to perfect their prowess within the beautiful game.