Vermont Deluxe Racket Backpack
Vermont Deluxe Racket Backpack
VERMONT RACKET BACKPACKS FEATURING PREMIUM ADJUSTABLE SHOULDER STRAPS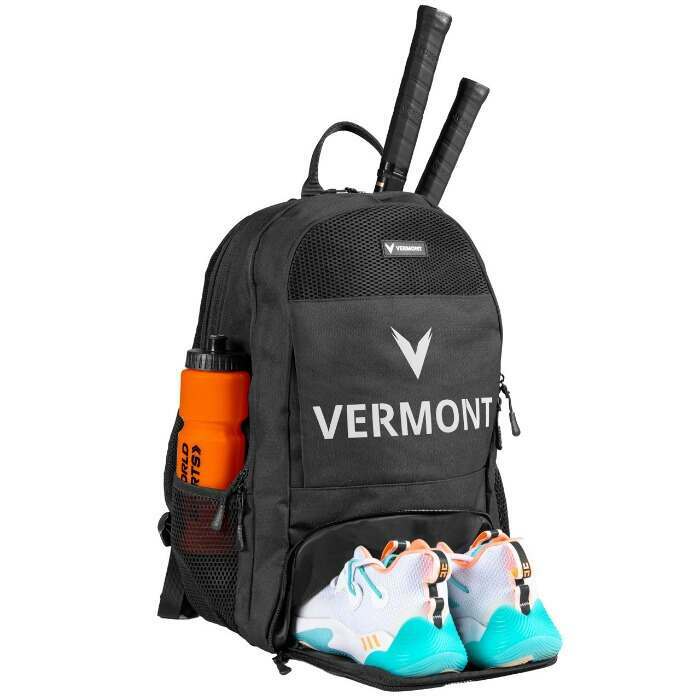 VERSATILE BACKPACKS
Expertly manufactured to seamlessly adjust to your daily needs, featuring three distinct compartments tailored to accommodate all your essentials items, including two sports rackets, shoes, and water bottles.
RACKET COMPARTMENT
Rear compartment, exclusively designed for your preferred racket, is strategically located at the back of the bag, offering a secure space for accommodating one or two standard-sized tennis rackets.
PREMIUM MATERIALS
Manufactured using a combination of premium polyester resulting in maximum strength & durability. Deluxe backpack straps are manufactured using sustainably sourced, recycled and reused materials.
Description
VERMONT RACKET BACKPACKS FOR ALL RACKET SPORTS PLAYERS TO STORE & CARRY RACKETS
Introducing Vermont Racket Backpacks, a combination of durability & practicality that caters to the diverse needs of racket sports enthusiasts. Available in two sizes, the standard racket backpack measures 30cm x 17cm x 42cm with a volume capacity of 20L while the deluxe backpack boasts a larger 31cm x 23cm x 49cm with a volume capacity of 28L. These large backpacks contain three main compartments tailored to fulfill all your requirements, including a rear compartment fitted with secure straps to store one or two full sized tennis rackets, a large middle segment for your gear, clothing, or everyday essentials, and a front ventilated pocket specially designed for your shoes. Both backpack sizes also include two side mesh pockets providing storage for your water bottles, a spacious front pocket for your valuables, with a handle that can serve as a convenient hanger. Expertly manufactured from a combination of durable 210D & 900D polyester with sustainably sourced materials, this eco-conscious, premium tennis backpack incorporates recycled materials, lessening its environmental footprint. Perfect for any racket sports enthusiast of all ages.
Vermont Racket Backpacks – Standard or Deluxe rucksacks for all racket sports
Generously spacious racket backpacks with volume capacities of 20L or 28L
Features three main compartments for your everyday essentials, sports gear, & valuables
Expertly manufactured using a blend of durable polyester with sustainably sourced materials
Suitable for anybody looking for a stylish & secure storage solution for a range of sports rackets
Specifications
Vermont Racket Backpacks Specifications
DIMENSIONS
Standard Racket Backpack
Size: 30cm x 17cm x 42cm | 12in x 7in x 17in
Volume: 20L | 4.3gal
Deluxe Racket Backpack
Size: 31cm x 23cm x 49cm | 12in x 9in x 19in
Volume: 28L | 7.3gal
MATERIALS
Manufactured using ultra-durable 900D polyester
Inner lining made with 210D polyester
Deluxe shoulder straps feature eco-friendly & sustainably sourced materials
MISCELLANEOUS
Standard rucksack holds one full sized racket
Deluxe rucksack holds two full sized rackets
When cleaning, hand wash only
Rackets and other contents not included
PLEASE NOTE: Do Not Bleach, Tumble Dry, Iron, or Dry Clean