METIS Aluminium Locking Barbell Collars [Pair]
METIS Aluminium Locking Barbell Collars [Pair]
SECURE FITTING BARBELL CLIPS – RELIABLE RUBBER INSERT
EASY LOCK & SLIDE SYSTEM
Thanks to the modern clasp design, the barbell locks ensure you with a convenient opening & closing system with rubber inserts for enhanced weightlifting security, preventing any slippage.
LONG-LASTING COLLARS
Constructed from robust aluminium, the weight clips feature a zinc outer layer to combat wear & tear from continuous use. As well as, preventing rust for long-lasting professional look.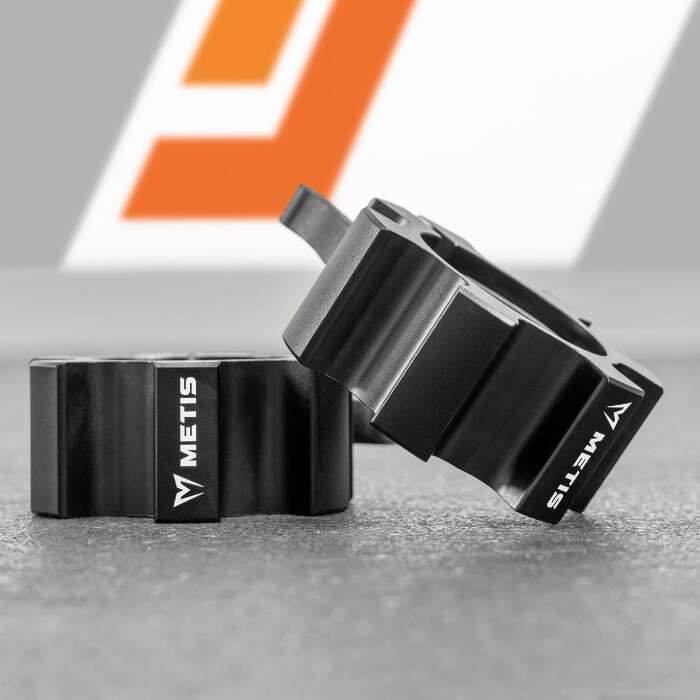 MODERN GYM DESIGN
The weight barbell clips are ideal for commercial & gym use, which boast a modern design for a seamless look. Packaged as a pair & suited to 50mm (1.97in) bar sleeves for a reliable fit.
Description
LONG-LASTING BARBELL CLIPS – QUICK & EASY LOCKING SYSTEM
The METIS Aluminium Locking Collars provide a fast closing & opening mechanism to barbells, increasing weight plate security on the bar. Thanks to the rubber insert, the durable barbell collars prevent sliding when being securely locked onto the bar sleeve for safety. Constructed with a black zinc e-coated outer layer, our Olympic bar collars prevent rust/corrosion from occurring whilst combatting wear & tear for essential long-lasting use. The unique barbell clamps feature a professional & durable aluminium finish, which is suited to modern commercial gyms or home gyms a like for a sleek look. Supplied as a pair, the weight collars is compatible with our METIS Olympic/Hex Bar & suited to bar sleeves which are 50mm (1.97in) in diameter.
Barbell clips ensures quick & easy barbell security with safety when working out
Manufactured from a zinc e-coated outer layer to combat rust & corrosion
Barbell locking collars can withstand consistent wear & tear for continuous use
Best suited to bar sleeves with a 50mm (1.97in) diameter – packaged as a pair
Feature a professional black finish for a modern gym environment & aesthetic
Net World Sports offers a wide range of METIS Gym Equipment. For more, please browse the Gym category.
Specifications
METIS ALUMINIUM LOCKING BARBELL COLLARS SPECIFICATIONS
DIMENSIONS:
Barbell collar diameter: 50mm | 1.97in
MATERIALS:
Durable aluminium
Rubber inserts
Black zinc e-coating finish
MISCELLANEOUS:
Quick fitting & removal
Supplied as a pair
Ideal for replacing spring locking collars
PLEASE NOTE: Not compatible with 1in (25mm) bars.
Recently Viewed
VICI Skateboard/Scooter Helmets
SG$74.99