METIS 6ft Freestanding Punch Bag
METIS 6ft Freestanding Punch Bag
METIS FREESTANDING PUNCH BAG – BOXING, KICKBOXING, MMA & MORE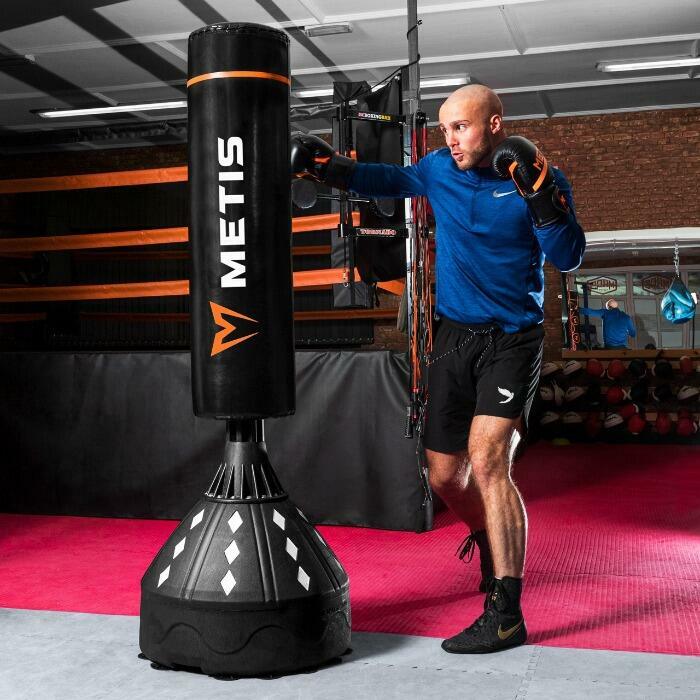 RANGE OF COMBAT SPORTS
An excellent addition to any gym or home training set-up, the portable & freestanding punch bag is ideal for a range of combat sports including boxing, kickboxing, MMA & more.
STABLE WEIGHTED BASE
Despite its freestanding nature, this METIS Punch Bag maintains exceptional stability, even when facing the most ferocious of punches & kicks. For optimal stability, fill with sand.
EXPLORE THE METIS RANGE
Set your goals & achieve them with the dynamic METIS fitness range. A range that covers all types of fitness & exercise, METIS is a brand that delivers professional quality for everyone.
Description
BEST FREE STANDING PUNCHING BAG FOR ALL COMBAT SPORTS
The 1.85m/6ft punching bag is suitable for a range of combat sports training, including boxing, kickboxing & MMA. The freestanding punch bag is manufactured from high-quality microfibre leather that is double stitched ensuring the strongest quality. The leather of the stand up punching bag is easy to wipe down after use to maintain cleanliness. Free standing boxing bag has triple layered EPE foam padding to absorb every strike and limit any damage to the product. Stand alone punching bag features suction cups on the base to ensure it doesn't move around when training. The base of the free standing heavy bag can be filled with roughly 80Ltr of water, which would make the punching bag and stand weigh approximately 100kg (220lb), or 130kg (287lb) of sand, with which the body punching bag would then weigh 150kg (333lb). Professional punching bag base designed so it doesn't obstruct athlete, so they can still get close to the bag and practice combinations.
METIS Freestanding Punchbag – Punching bag for sale comes in two packages: base & bag
Punching bag stand & base stands 1.85m (6.1ft) tall, suitable for all combat sports training
Free standing kickboxing bag should be put into position before filling the base due to weight
Free standing punchbag features triple layered EPE foam padding to absorb every punch, kick and strike
Floor standing punch bag is quick and easy to install and set up and remains portable
Net World Sports offers a wide range of boxing equipment. For METIS Boxing Gloves, METIS Training Sticks and more, please see the essentials above.
Specifications
METIS FREESTANDING PUNCHBAG SPECIFICATIONS
DIMENSIONS:
1.85m (6.1ft) in height
0.3m (1ft) diameter bag and 0.63m (2.1ft) diameter base
Freestanding punchbag weights 25kg before filling base
MATERIALS:
Free standing boxing punch bag made from high-quality microfibre leather that is double stitched
Manufactured from leather, which is easy to wipe down after use to maintain cleanliness
Triple layered EPE Foam padding to absorb every strike and limit damage to the product
Self standing punching bag base features suction cups to ensure this doesn't move around
MISCELLANEOUS:
Base can hold roughly 80Ltr of water, making a total bag weight of approximately 100kg
Base can alternatively hold 130kg of sand, making a total bag weight of approximately 151kg
Sand and water NOT included with product
Suitable for use in gyms, boxing gyms or at home – the best freestanding punch bag
Comes in two packages – base and bag (bag features free standing kicking targets)
Please Note: Never punch the punchbag with your bare hands, as it poses a big injury risk