FORZA Tennis Training Marker Cones [Pink]
FORZA Tennis Training Marker Cones [Pink]
FORZA Tennis Training Marker Cones [Pink]
Cone Stand Included
Each pack of highly visible pink cones include a handy cone stand, ideal for transporting and storing your tennis cones.
Hi-Vis Pink Cones
These bright pink cones are highly visible across the tennis court and even in low light conditions as they stand out.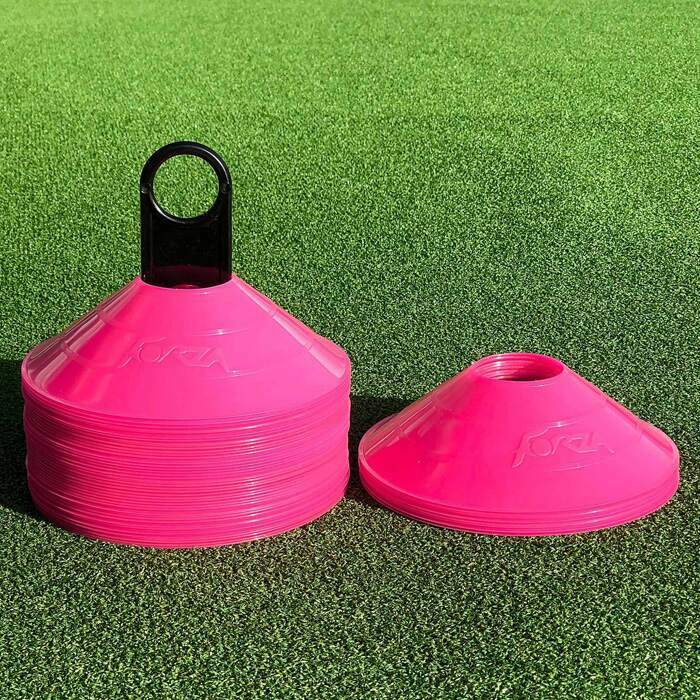 Completely Weatherproof
Your tennis training practice doesn't have to end when the heavens open because our pink cones are weatherproof!
Description
Make Your Training Drills Stand Out With Our Pink Training Cones
No tennis training session is complete without a pack of durable, weatherproof cones, so why not grab a pack of our FORZA Tennis Training Marker Cones! With these pink cones you can organise your tennis training sessions by clearly marking out training drill lines and boundaries for your tennis sessions.
Designed in a highly visible pink colour, these space cones can be seen across all tennis courts and in evening light conditions. So, whether you're laying out a temporary tennis court with cones or laying out fitness drills for your tennis players, you can guarantee that your cones will stand out against the crowd.
Our pink tennis training cones are 33% heavier than previous designs, which means you don't need to worry about wind catching your cones and moving them around, they will stay firmly in place for the whole training session.
Our bright pink space cones are available in packs of 50 cones or a jumbo pack of 1000 cones, so no matter how many durable cones you require, Net World Sports can provide! Each pack of marker cones include a handy cone stand which ideal for transporting your cones to and from the tennis court, whilst providing storage to keep your training cones safe and tidy.
When your tennis training drills are over, why not save yourself some time and invest in our incredible FORZA Training Cones Pick-Up Tool to make clean up easy!
Specifications
Dimensions:
20.5cm (8in) wide
5cm (2in) high
28kg (1oz) weight
Colour:
Misc:
Available in packs of 50 or 1000
Ideal for training drills and tennis court markings
Cone stand included for easy transportation and storage
You may also like
FORZA ASTRO Slalom Poles With Bases [1.5m or 1.8m High]
SG$309.99
FORZA Slalom Training Pole Carry Bag
SG$44.99
FORZA Resistance Speed Chute
SG$29.99
FORZA Pop-Up Target Goals
SG$54.99
Recently Viewed
Whiteboard Marker Pens [Multi-Coloured Packs]
SG$11.99
FORZA Ash Hurling (GAA) Stick [5 Sizes]
SG$54.99
Wire & Rigging Assembly Components For Hanging Netting
SG$19.99
METIS EZ Curl Bar [9kg]
SG$139.99
FORTRESS Hanging Wicket Target
SG$34.99