3m x 2m FORZA Alu110 Freestanding Futsal Football Goal
3m x 2m FORZA Alu110 Freestanding Futsal Football Goal

Regulation Size Futsal Football Goal Made From Premium Aluminium
High Lift Football Goal Wheels
Add lever type or 360° wheels to your futsal goal and move it with the greatest of the ease. Features innovative mechanisms to negate the need to manually lift the goal.
Optional Counterbalance Weights
To keep your goal securely rooted to the ground, simply fill the optional internal weights with sand, water, metal or stones for enhanced stability.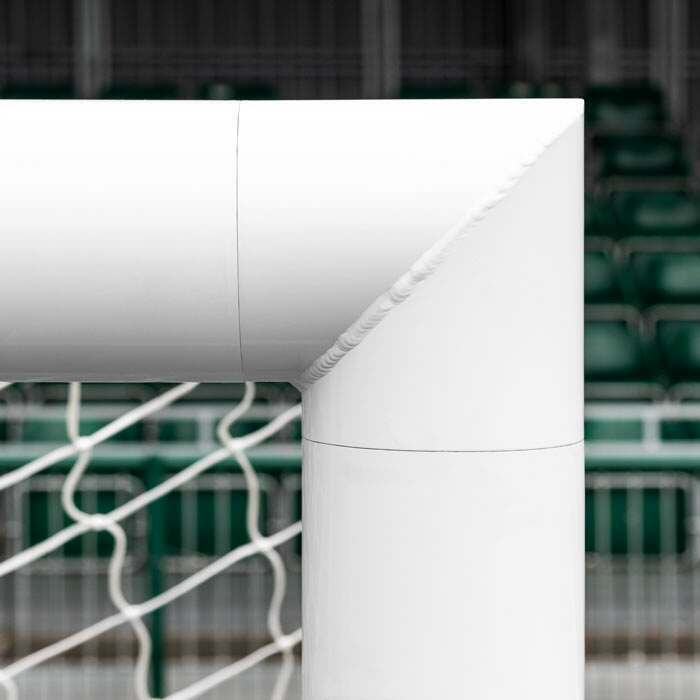 Durable Welded Corner Joints
The incredibly durable framework of the goal is bolstered by welded corner joints which provide higher strength in comparison with mitred corners



Description
Deliver Fast Paced Futsal Fun With This Aluminium FORZA Football Goal
This 3m x 2m freestanding FORZA Alu110 football goal is the official size for futsal football matches. Futsal is the latest football craze sweeping the globe and this goal is perfect to introduce the fast paced and frenetic samba game to the masses!
This aluminium football goal is 100% weatherproof. The 5mm HDPE braided net that comes as standard is also rot proof and ultra-durable.

Futsal is a game that is played both indoors and outdoors and this goal is fully versatile for use on any surface!
Official regulation size 3m x 2m football goal designed specifically for use in futsal matches and tournaments
110mm reinforced aluminium futsal goal posts, powder coated white for year round performance indoors and outdoors
Heavy duty design which is also light in weight in order to retain portability, perfect for multi-surface use
Option to add black lever type durable rubber football goal wheels to easily move the futsal goal on any surface
Also an option to include internal counterbalance weights which fit within the goals profile for enhanced stability
The FORZA Alu110 range has been designed with power, strength and precision in mind. The goal retains all the FORZA characteristics of being great value for money and ultra-reliable but now possesses the additional qualities of being bigger, stronger and better than ever!
Further customise your goal package with the inclusion of wheels and additional weights. The wheels will aid ease of transportation making your FORZA futsal goal fully mobile between a variety of different surfaces whilst the counter weights will further anchor the goals to the ground to maximise safety and security.
Specifications
Dimensions:
FORZA Alu110 goal size (width x height): 3m x 2m (10ft x 6.5ft)
Goal bottom depth: 210cm (6.9ft)
Goal top runback: 71cm (2.3ft)
3m x 2m football goals are the internationally recognised sized goals for Futsal matches
Materials:
Goal frame is manufactured from heavy duty 100mm x 110mm elliptical aluminium with reinforced ribs inside for additional strength
Fully welded corner joints throughout ensures maximum strength and durability
Internal connector joints add strength and long-lasting reliability
Tough, scratch resistant powder coated paint finish in white to protect goal from rust and corrosion
Heavy duty diagonal net supports bars, made from extra thick tubular aluminium with support stay for extra bracing
Solid steel support plates are precision cut via laser for an exact fit and are zinc plated to protect against corrosion for long life
High tensile stainless nuts, bolts and washers throughout
World Cup quality goal nets are specially tailored to overall goalpost shape for best fit
Goal nets are constructed from a 5mm OD braided HDPE twine with 100mm knotted mesh size in white
Twist & lock-style safety net clips securely attach goal nets into the goal's internal channel.
Both the goals nets and safety net clips are UV treated to protect against sunlight
Entire goal frame, net and all fixtures/fittings are weather resistant
Miscellaneous
Goals require assembly as they are delivered in flat pack form
For more information on the setup and tools required, please click here to download our assembly instructions 1 year guarantee as standard with all FORZA Football goals
Upgrading your goal
Our revolutionary lever type puncture proof wheels will optimise the mobility of the goals
Lever type wheels can lift the goal up to 100mm off the ground to avoid frame catching the ground when moving
Cam plates are precision cut via laser to ensure smooth flowing operation system
Revolutionary 360° football goal wheels for movement in all directions
60mm box section T6 aerospace grade aluminium
Extendable non-trap lever handles for easy lifting
Heavy-duty 55mm axle with steel hubs
Easy-to-operate securing pin
360° rotational wheel allows the goal to spin around and move backwards, forwards and sideways
Lever system lifts goals up to 10 inches off the ground (3 x the height of other goal wheels)
Can be moved by one person, although it is recommended that 2 people move the goal for optimal mobility
The micro-cellular polyurethane tyre on polypropylene wheel is puncture proof & UV stable
Each wheel measures 260mm in diameter x 85mm wide
The extra wide tyres with deep diamond patterned tread stop the wheels from sinking in wet muddy ground, optimising mobility
Wheels have greased internal bearings for smooth rotational operation
Heavy duty extra thick steel brackets for long lasting reliability
All steelwork is zinc plate treated to protect against corrosion for long life
Complete with high tensile stainless nuts, bolts and washers to bolt wheel brackets to the goal's internal channel
For added health and safety, internal counterbalance weights can be added inside the goal to prevent overturning.
The internal counterbalance weights simply slide inside the goal's 100mm x 110mm bottom framework
Manufactured from extra thick, UV stable HDPP special moulded to goal's profile shape for a secure fit
Weights require filling with sand, stone, metal or water (not included)
You may also like
3.7m x 1.2m FORZA Alu110 Freestanding Football Goal
SG$2,749.99
3.7m x 1.8m FORZA Alu110 Freestanding Football Goal
SG$3,299.99
3m x 2m FORZA Alu60 Futsal Goal
SG$1,014.99
3m x 2m (10ft x 6.5ft) FORZA Alu110 Socketed Futsal Football Goal
SG$1,619.99