FORTRESS Original Cricket Players Set
FORTRESS Original Cricket Players Set
CRICKET BATTERS KIT FOR PLAYERS OF ALL AGES
FULL CRICKET KIT INCLUDED
All your matchday gear in one place. The player set packages are fully equipped with a bat, pads, gloves, adbo guard, duffle bag and optional helmet.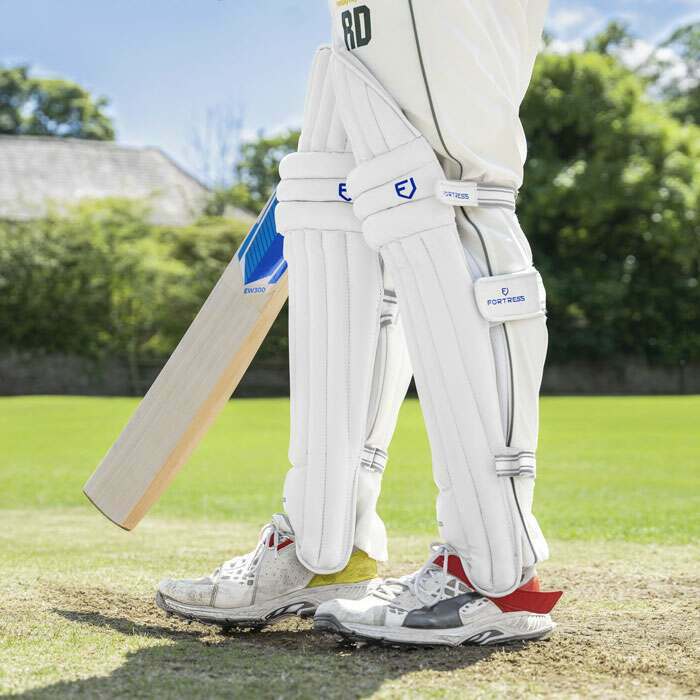 SUITABLE FOR ALL AGES
Available in a range of different sizes, with all sizes offered for both left and right-handers. The cricket set is suitable for players at any level.
DEVELOP YOUR GAME
Stay organised and improve your game with the high quality protective cricket equipment, which contains everything you need for matchday.
Description
CRICKET MATCHDAY EQUIPMENT SET – ALL YOUR CRICKET GEAR IN ONE PLACE
Boasting a range of matchday equipment, the FORTRESS Cricket Players Set is perfect for cricketers of any age looking to improve their game and keep their kit organised. The FORTRESS Original Duffle Bag is designed to store two bats on each side with external zippers and a main compartment for all soft goods, like your batting pads and gloves. The Junior Players Set comes with the FORTRESS Kashmir bat, which is ideal for new players looking to develop their skills. The Youth/Adult Players Set comes with the FORTRESS English Willow bat, which provides optimum performance in both training and matches thanks to its professional construction. The FORTRESS Original 300 Batting Pads are essential for all club level batters to combat venomous ball impact whilst allowing a full range of movement in the crease. The pads feature 3 adjustable straps and a traditional cane and foam construction for ultimate protection. The FORTRESS Original 300 Batting Gloves are designed to provide long lasting protection whilst remaining comfortable to wear. The abdo guard is a vital piece of protective equipment for any cricketer, as it protects the groin/pelvic region from any unfortunate blows. Optional helmet upgrade available that provides full face protection thanks to the steel grill, which has an optimum gap between peak and grill for maximum visibility.
FORTRESS Original Cricket Players Set – Includes a bat, pads, gloves, abdo guard, duffle bag and optional helmet
Batting Gloves designed for long lasting hand protection and comfort whilst wearing
Batting Pads equipped with 3 adjustable straps and a traditional cane and foam construction for high grade protection
Cricket Bat included will give you the cutting edge for run scoring during the game
Duffle Bag designed to hold two bats on each side with external zipper pockets and a main compartment
Optional helmet upgrade available with all packages
Specifications
FORTRESS Original Cricket Players Set Specifications
WHAT YOU GET
1x FORTRESS Kashmir/English Willow Cricket Bat
1x Pair of FORTRESS Original 300 Batting Pads
1x Pair of FORTRESS Original 300 Batting Gloves
1x FORTRESS Abdo Guard
1x FORTRESS Original Cricket Duffle Bag
1x Optional FORTRESS Cricket Helmet
DIMENSIONS:
Kashmir Cricket Bat – Harrow, Size 6, Size 5, Size 4 & Size 3 available
English Willow Cricket Bat – Short Handle, Harrow & Size 6 available
Batting Pads – Junior (21in | 53.3cm), Youth (23.5in | 59.7cm) & Adult (25in | 63.5cm)
Batting Gloves – Junior (middle finger to strap base): 9.1in (23cm)
Batting Gloves – Youth (tip of the longest finger to wrist): 11in (27.9cm)
Batting Gloves – Adult (tip of the longest finger to wrist): 11.5in (29.2cm)
Abdo Guard – Available in 3 sizes: Junior, Youth & Adult
Duffle Bag – Available in 2 sizes: Junior (80L capacity) & Youth/Senior (120L capacity)
Small Helmet Head Circumference: 54-56cm (21.3-22in)
Medium Helmet Head Circumference: 56-59cm (22-23.2in)
Large Helmet Head Circumference: 59-62cm (23.2-24.4in)
MATERIALS:
Kashmir Cricket Bat – 100% handcrafted using wood grown in the Kashmir region of India
English Willow Bat – Made from top grade English Willow with a traditional Singapore cane handle
Batting Pads – Made from a PU leather outer layer with cashmilon cotton interior
Batting Gloves – Made from a leather pal, meshed ventilation, elasticated touch fastening wrist strap
Abdo Guard – Made from durable ABS plastic with padded outer lining for ultimate protection
Duffle Bag – Manufactured from water-resistant, durable 1600D polyester with two padded & adjustable shoulder straps
Helmet – Manufactured using a singled shelled polymer outer case for unrivalled protection
MISCELLANEOUS:
Cricket Bats – We advise this bat is regularly treated to prolong its life cycle and avoid any cracks or splits
Batting Pads – Ambidextrous for both right & left-handers with a lightweight design for free movement
Batting Gloves – Ventilated gloves with a lightweight construction for breathability, preventing sweat
Abdo Guard – Easy to slip into your batting shorts and designed to have a secure fit
Duffle Bag – Features an internal pocket for storing valuables and an integrated shoe pocket
Helmet – Contours to your head shape the more it is worn and conforms to British Safety Standards BS 7828:2013 + A1:2019
Recently Viewed
Removable Anti-Litter Net System
SG$699.99
VICI Skateboard/Scooter Helmets
SG$74.99
Replacement FORZA Ice Hockey Net [5mm Ultra Heavy Duty]
SG$99.99
FORTRESS Cricket Wind Balls [Box of 6]
SG$44.99
TITAN Poly Rope [Premium Grade] All Sizes & Lengths - Blue Or Black
SG$11.99