FORB Driving Range Golf Practice Mat [1.5m x 1.5m]
FORB Driving Range Golf Practice Mat [1.5m x 1.5m]
Professional Golf Hitting Mat – Fairway Conditions All Year Round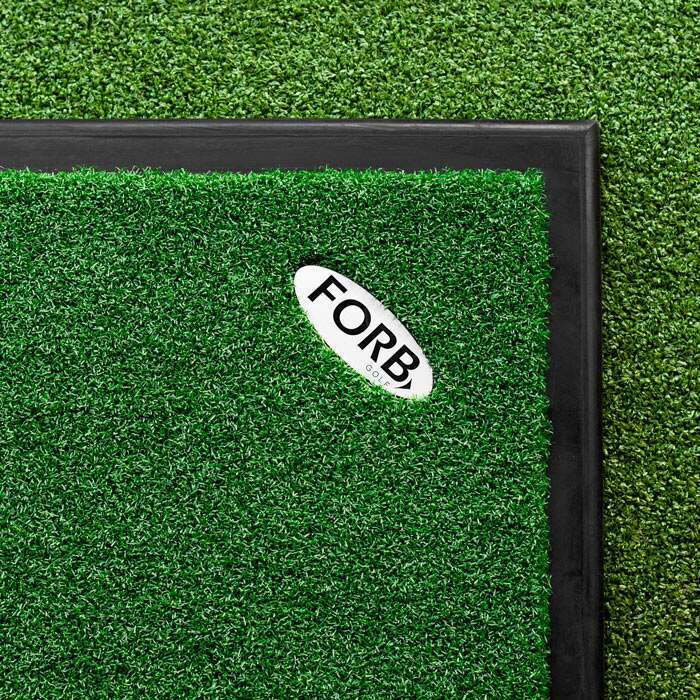 ALL WEATHER PERFORMANCE
Manufactured exclusively from premium-grade materials, the FORB Golf Driving Range Practice Mat allows players to practice in all conditions. The 30mm artificial turf offers excellent durability.
FAIRWAY CHARACTERISTICS
Expertly designed, this FORB Golf Hitting Mat will replicate fairway-like conditions on a consistent basis. The artificial turf allows the club to glide through the ball for a guaranteed clean contact.
OPTIONAL EXTRAS
Complete the ultimate golf mat set-up with a heavy-duty rubber base (anti-skid) and/or a rubber golf ball tray holder. The rubber base allows for exceptional stability on all surfaces & features holes for drainage.
Description
Ideal Golf Shot Conditions Guaranteed With This FORB Golf Hitting Mat
An excellent choice for golf clubs & driving ranges, the professional FORB Golf Hitting Mat allows players to experience perfect playing conditions with every shot. Expertly designed to recreate realistic fairway characteristics, this driving range practice mat will also protect your real turf from divots & give your course greater longevity. Manufactured exclusively using the highest-grade materials available, this FORB practice golf hitting mat can deliver an elite performance in all weather conditions. For the ultimate golf mat package, you can add an anti-skid rubber base and/or a golf ball tray to your package as optional extras (see above).
FORB Driving Range Golf Practice Mat – Recreate professional fairway hitting conditions
Golf Hitting Mat measures 1.5m x 1.5m to give golfers excellent room for full swing motion
Surface features 30mm artificial turf to replicate fairway characteristics (tees included)
Driving Range Mat is 100% weatherproof & will deliver elite performance all year round
OPTIONAL EXTRA: Heavy duty rubber base (anti-skid) – exceptional stability on all surfaces
OPTIONAL EXTRA: FORB Rubber Golf Ball Tray Holder – simply attaches to hitting mat
Guaranteeing exceptional quality in all weather conditions, the FORB Golf Hitting Mat allows you to practice all year round. The surface has been innovatively created using 30mm artificial turf to replicate the same characteristics as a regular fairway. The impressive surface allows the club blade to glide effortlessly through the ball uninterrupted, giving players a consistently clean ball strike. The anti-skid rubber base (optional) features a hole-infused base, giving the mat excellent drainage during wet conditions. Also available as an optional extra is the high-quality rubber golf ball tray, which has been designed specifically for this golf mat & allows you to practice with high volumes of balls.
Recognised by people involved at the top level, top 100 PGA Tour Golf Coaching Professional Jason Davies said "This is a great quality golf mat, it feels like a tight turf so it responds like as if you're coming off a really nice fairway. It's soft, the club glides through it, it's a fantastic surface to hit off. It's almost like playing off real grass, that's how close this mat is."
Specifications
FORB Driving Range Golf Practice Mat Specifications
Dimensions:
Golf Hitting Mat: 1.5m x 1.5m | 5ft x 5ft
Golf Hitting Mat Thickness: 30mm (without rubber base)
Golf Tees (Included): 35mm, 45mm, & 55mm
Rubber Base (OPTIONAL): 1.6m x 1.6m | 5.1ft x 5.1ft
Golf Ball Holder Tray (OPTIONAL): 1.2m x 0.3m x 0.1m | 4ft x 1ft x 0.3ft
Materials:
Golf Mat: 30mm artificial turf – will replicate fairway characteristics
Golf Tees (included): premium rubber
Base (OPTIONAL): heavy-duty rubber (anti-skid) with holes for water drainage
Golf Ball Tray (OPTIONAL): ultra-durable rubber
Miscellaneous:
Driving Range Mat is 100% weatherproof & suitable for year-round use (indoors & outdoors)
Golf mat comes with heavy-duty rubber golf tees included (mixed sizes)
Anti-Skid Rubber Base & Golf Ball Tray Holder available as OPTIONAL EXTRAS (select above)