6.4m x 2.1m FORZA Alu110 Freestanding Football Goal
6.4m x 2.1m FORZA Alu110 Freestanding Football Goal

The Best Football Goals For Junior Training Sessions And Senior Matches!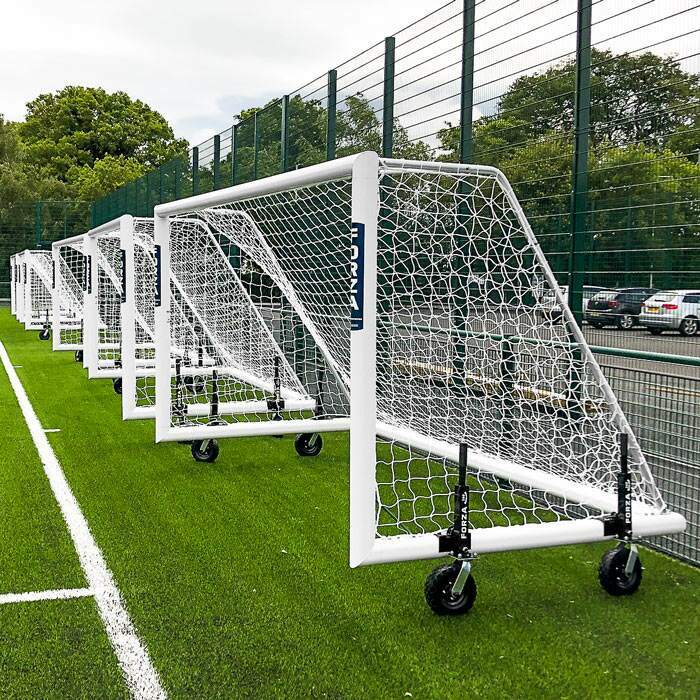 Upgrade To 360° Wheels
Add our revolutionary 360 degree wheels and move your football goal into any direction with ease. Developed alongside Manchester United, the wheels are a must-have for any football groundsman.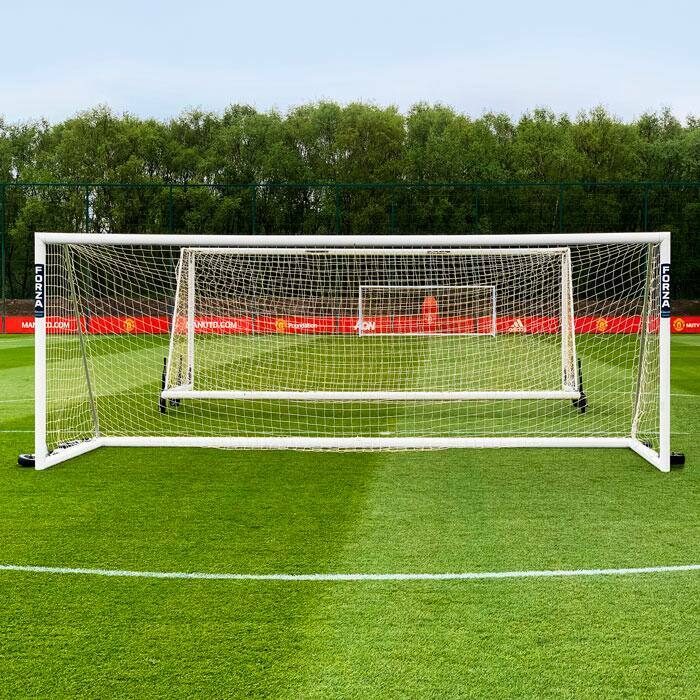 Professional Junior 5-A-Side Goal
As seen on Manchester United's training ground, the top of the range alu110 football goals are made from the finest materials for optimal football performance.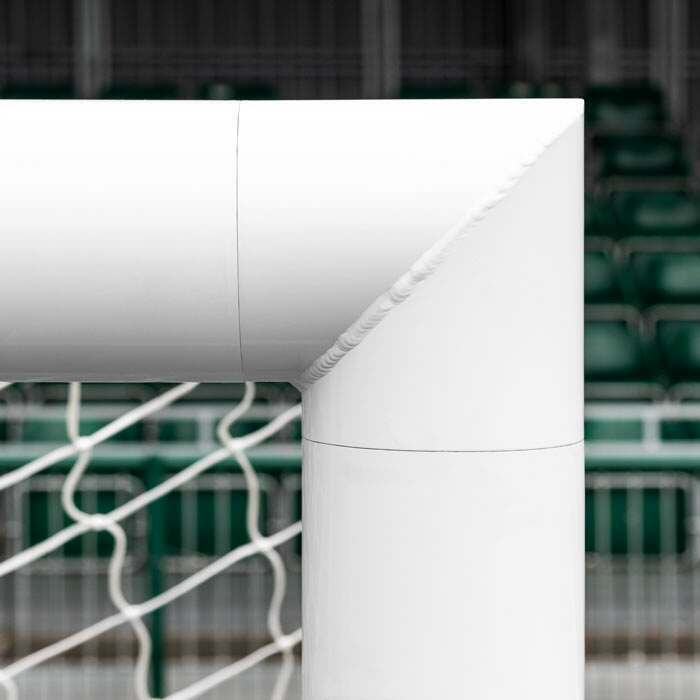 Premium Welded Corners
The freestanding goal provides undeniable strength and durability with welded corner joints which perform to higher levels than mitered corners.



Description
Set The Highest Standards With This Freestanding FORZA Classic!
This 6.4m x 2.1m freestanding FORZA Alu110 football goal is perfect for those clubs looking to train like the A-League stars do! Manufactured from reinforced 110mm aluminium this goal has the strength and power to allow for countless hours of on field practice sessions to take place!
6.4m x 2.1m football goal designed for junior matchdays and senior club training on indoor and outdoor playing surfaces
The goal posts have been manufactured from 110mm reinforced aluminium, powder coated white for weather resistance
Comes equipped with a Uv treatetd HDPE braided football net which can be left outdoors in all conditions
Optional black rubber heavy duty lever-type wheels which can lift the goal up to 100mm off the ground for easy portability
Optional internal counterbalance which provide exceptional stability when placed within thr profile of the goal
This powder coated football goal is 100% weatherproof and rust proof allowing for year round football action to take place regardless of the weather.
The addition of the 5mm HDPE braided net means each and every time your star player scores a goal the net will remain as strong and intact as the goal is.
The FORZA Alu110 range has been designed with power, strength and precision in mind. The goal retains all the FORZA characteristics of being great value for money and ultra-reliable but now possesses the additional qualities of being bigger, stronger and better than ever!
Further customise your goal package with the addition of wheels and weights. The wheels will aid ease of transportation making your FORZA goal fully mobile between a variety of different surfaces whilst the added internal weights will further anchor the goals to the ground to maximise safety and security.
Specifications
Dimensions:
FORZA Alu110 goal size (width/height) 6.4m x 2.1m (21ft x 7ft)
6.4m x 2.1m football goal is the recommended size for use as an 11-a-side goal in the under 13/14 age group. It is also suitable as a senior training goal
Goal bottom depth: 223cm (approximately 7.3ft)
Goal top runback: 76cm (approximately 2.5ft)
Materials:
Club spec goal is manufactured from 110mm diameter reinforced aluminium and powder-coated white
Aluminium goal frame provides fantastic protection against rust and corrosion
Each goal includes a heavy duty and weatherproof white 5mm HDPE braided football net plus twist & lock-style net clips for easy attachment
Miscellaneous:
Each individual goal will be delivered in 4 boxes – (Wheels/Weights will come individually boxed)
Goals will be delivered in flat pack form and will require assembly
It is advised that the following tools would be useful to help with assembly: mallet, wrenches, ratchet with sockets
1 year guarantee as standard with all FORZA football goals
Please Note: This goal has been independently tested to BS EN 8462 safety standards. To view the video please click here.
Goals conform to FA Match standards. Net World Sports is recognised by the FA as a suitable supplier of football goals
You may also like
6.4m x 2.1m FORZA Alu60 Football Goal
SG$1,924.99
6.4m x 2.1m (21ft x 7ft) FORZA Alu110 Socketed Football Goal
SG$2,299.99
3.7m x 1.2m FORZA Alu110 Freestanding Football Goal
SG$2,749.99
5.6m x 2m FORZA Alu110 Freestanding Football Goal
SG$4,399.99
7.3m x 2.4m FORZA Alu110 Freestanding Football Goal
SG$4,949.99