2.4m x 1.2m FORZA Match Football Goal Post
2.4m x 1.2m FORZA Match Football Goal Post

2.4m x 1.2m FORZA Match Football Goal - PVC Football Goal For Kids
Junior Football Goals
The high-quality 2.4m x 1.2m football goal be used for junior tournaments & matches. The goal is also an excellent option for the garden allowing kids to practice at home.
Essential Locking System
Every FORZA football garden goal has an innovative essential locking system which keeps the frame strong & secure, absorbing impact from the hardest of shots.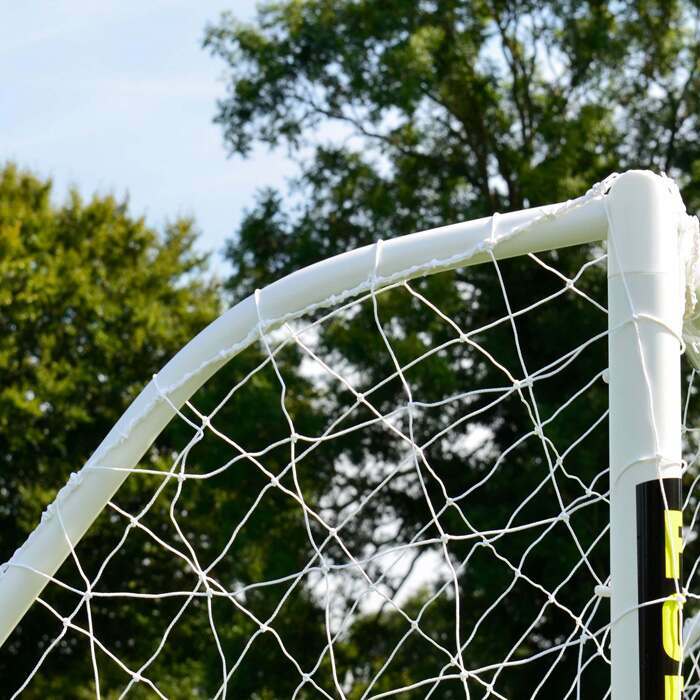 Simple Assembly
The FORZA Match Football Goals can easily be assembled in minutes, & once they are built they can be left up on matchdays in all weather conditions.
Description
2.4m x 1.2m FORZA Match Football Goal – High-Quality Goal with Essential Locking System
The 2.4m x 1.2m football goal is an excellent option for the back garden, schools & leisure centre. Made using high-quality materials to offer durability, precision & exceptional weatherproof performance, the long-lasting yet lightweight garden goal is perfect for kids. The posts are manufactured from sturdy PVC which can withstand impact from footballs. A 2mm UV stabilised HDPE twisted goal net is included, offering high levels of protection against rot & fraying commonly incurred during bad periods of weather. For stability, these goals feature an essential locking system to ensure it remains upright throughout the game. The PVC goal posts slot into place with ease for simple assembly in minutes.
2.4m x 1.2m FORZA Match Football Goal suitable for kids matches, training & gardens
Quick & easy to assemble in a matter of minutes which connect with ease
Essential locking system bonds the goal frame together for excellent stability
Weatherproof PVC goal frame which features top depth for increased levels of solidity
Included is a 2mm HDPE UV treated goal net with strong net clips & U-peg ground anchors
Specifications
2.4m x 1.2m FORZA Match Football Goal Post Specifications
Dimensions:
8ft x 6ft | 2.4m x 1.8m
Bottom depth: 4ft | 1.2m
Material:
Made from uPVC with enhanced back profile
2mm UV stabilised HDPE net supplied with every goal
Net has reinforced edges
Miscellaneous:
Goal can be left outdoors all year round
Simple assembly required
1 year warranty